Well, the Arizona Coyotes' longest winning streak in over five years came to an end last week, but there are still plenty of reasons to feel good about this team going forward as they begin a four-game road trip through the Eastern Conference..
They've won six of their last eight, they're third in the NHL in goals against per game at 2.23, and they boast the league's best penalty-kill unit at 90.2%.
And, most importantly, they're still within reach of the playoffs. After last season's dreadful start, that's progress.
Coyotes Week in Review
After a big 5-1 victory over the Ottawa Senators back on Oct. 30, Rick Tocchet's Coyotes were back in action on Friday night at Gila River Arena when they hosted Rod Brind'Amour's Carolina Hurricanes. Arizona jumped out to a quick 3-0 lead on the strength of a Brad Richardson shorthanded goal, a Brendan Perlini power-play goal, and a Nick Cousins even-strength goal, but Carolina pushed back hard during the game's final 40 minutes. They outshot the Coyotes 41-12 during the second and third periods and outscored Arizona 3-0 to send the game to overtime. Having been outplayed badly during the better part of the previous two hours, things weren't looking good for the 'Yotes entering the three-on-three overtime period, but Clayton Keller rescued his team as he set up Michael Grabner for a thrilling game-winning goal:
After their fifth-consecutive victory on Friday, Arizona attempted to extend the streak to six games when the Philadelphia Flyers came to town on Monday night. Despite starting a third-string goaltender (Calvin Pickard) due to injuries to Brian Elliott and Michal Neuvirth, the Flyers came out strong and took a 2-0 lead after the first period. Alex Galchenyuk scored a power-play goal early in the second period, but that's as close as the Coyotes came as Philadelphia pulled away and picked up a 5-2 victory at Gila River Arena.
A Look Ahead
Following their disappointing home loss to the Flyers, the 'Yotes won't have to wait long for a chance at revenge – the same two teams will be facing off again on Thursday evening, this time at Philadelphia's Wells Fargo Center. After some rough stuff late in the third period in Glendale on Monday, we could see some fireworks in this one – puck drop is scheduled for 7:00 P.M. local time (5:00 P.M. in Arizona) on Broad Street.
The Coyotes will then make the short flight west to Pittsburgh for a Saturday night tilt against Sidney Crosby and the Penguins. The Pens are off to an uncharacteristically bad start on home ice in 2018-19 – their 2-4-1 home record is among the worst in the league this year. Will the Coyotes be able to take advantage of Pittsburgh's slow start at PPG Paints Arena? We'll find out at 7:00 P.M. local time (5:00 P.M. in Arizona) in the Steel City.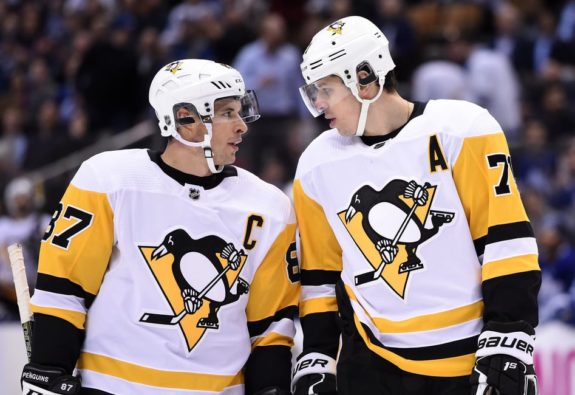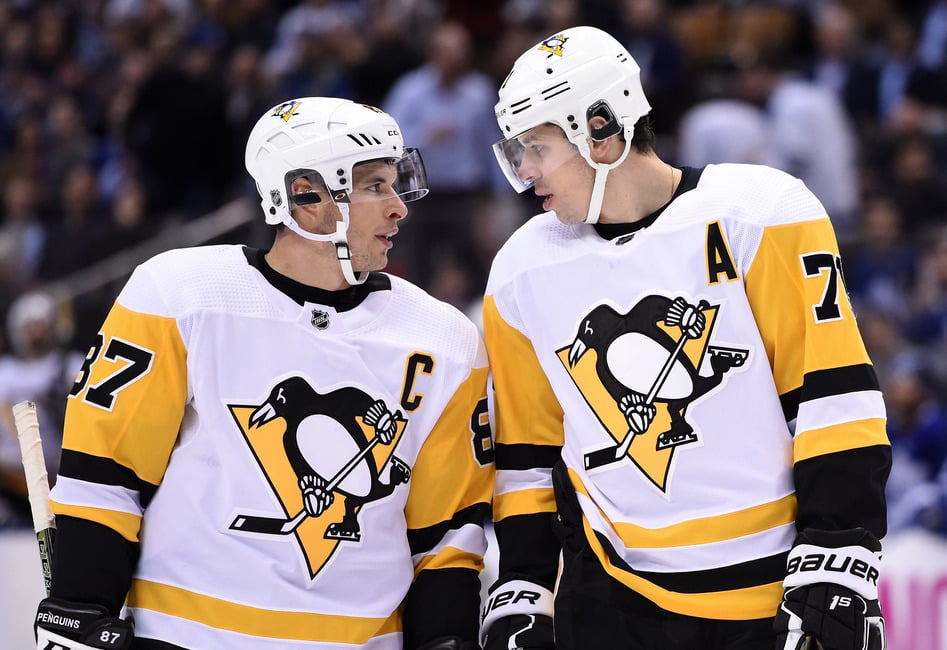 The first back-to-back this season for the Coyotes will take place on Sunday in Washington against Alex Ovechkin and the defending Stanley Cup champion Capitals. Washington, D.C. has been a tough place to play in recent years for the 'Yotes – they're 1-5-1 in their last seven visits to our nation's capital. However, this year's team is not the one we've seen in years past. Tocchet will have his guys ready to play as they'll face a stiff test against the defending champs in a game that could be used a measuring stick for the Coyotes. Puck drop is scheduled for 5:00 P.M. local time (3:00 P.M. in Arizona) from Washington.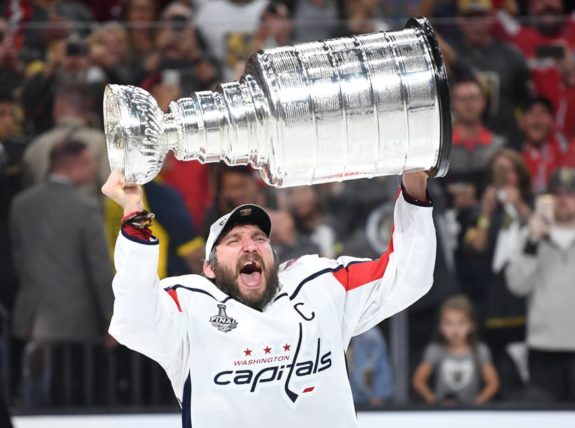 Arizona's four-game roadie will then come to an end on Tuesday night in the Motor City against the Detroit Red Wings. The Coyotes lost in their first visit to Little Caesars Arena last season, so they'll undoubtedly be looking to not only finish their trip strong, but they'll also be looking to get a win in a building where they haven't yet picked up a victory. This one will get started at 7:30 P.M. local time (5:30 P.M. in Arizona) in Detroit.
Pacific Division Roundup
With exactly five months to go in the 2018-19 regular season, we have a three-way tie out in the Pacific Division. Will one team begin to separate itself from the crowd, or will we see a tight race all the way to the end of the season?
Anaheim Ducks (6-7-3, 15 points)
Last week: 1-1-1 (3-2 SOL vs NYR, 3-2 OTW vs CBJ, 4-1 L at LA)
Analysis: The Ducks continue to hang around the .500 mark, but, with a 1-6-2 record since Oct. 17, they don't appear to be a threat to climb any higher in the standings. With Joel Quenneville now available after his ouster in Chicago, could Randy Carlyle's job security be in question?
Player of the week: Cam Fowler – 3 goals, assist, +1
This week: Wed vs CGY, Fri vs MIN, Mon vs NSH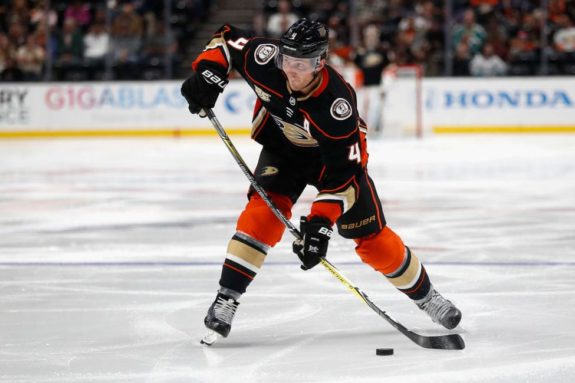 Calgary Flames (9-5-1, 19 points)
Last week: 2-0-0 (6-5 W vs COL, 5-3 W vs CHI)
Analysis: Give Calgary some credit – after getting blown out 9-1 on home ice by the Penguins on Oct. 25, the Flames picked themselves up, dusted themselves off, and have earned nine of 10 possible points in five games since. If they can get some consistent goaltending, Calgary will be a threat out West this season.
Player of the week: Mark Giordano – Goal, 3 assists, +2, 13 shots
This week: Wed at ANA, Sat at LA, Sun at SJ
Edmonton Oilers (8-6-1, 17 points)
Last week: 2-2-0 (4-0 W vs CHI, 4-3 W at DET, 4-2 L at WSH, 5-2 L at TB)
Analysis: After picking up two wins over the Blackhawks and Red Wings in convincing fashion, Edmonton's offense suddenly went cold and they dropped the final two games of the week to the Capitals and Lightning by a combined score of 9-4. Being heavily reliant on one player can cause team offensive production to fluctuate wildly over the course of a season as that player goes through his hot and cold streaks, so, unless the Oilers can get some help for Connor McDavid at the trade deadline, inconsistency is something Edmonton will have to put up with for the next few months.
Player of the week: Connor McDavid – Goal, 3 assists, 12 shots
This week: Thu at FLA, Sun vs COL, Tue vs MTL
Los Angeles Kings (5-8-1, 11 points)
Last week: 2-1-0 (5-2 L vs PHI, 4-1 W vs CBJ, 4-1 W vs ANA)
Analysis: Last week in this space, we mentioned that John Stevens' job could be in danger due to his team's slow start to the 2018-19 campaign. Lo and behold, one week later, Stevens finds himself unemployed and Willie Desjardins finds himself behind the bench as Los Angeles' third coach in the last 19 months. Desjardins won his first game over the Ducks, 4-1, but how far can he really take this aging roster? Since winning their second Cup in 2014, the Kings have won exactly one playoff game. Changing coaches at this point might be like rearranging the deckchairs on the Titanic.
Player of the week: Ilya Kovalchuk – 2 goals, 4 assists
This week: Thu vs MIN, Sat vs CGY, Tue vs TOR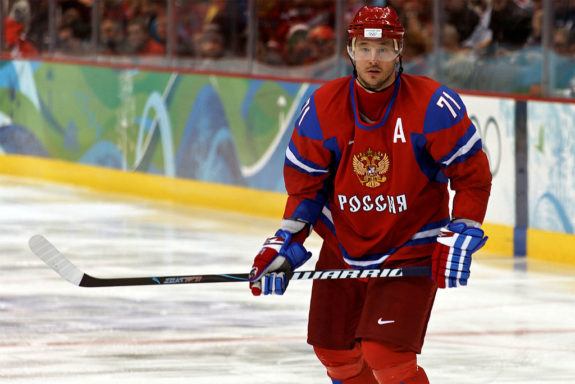 San Jose Sharks (8-4-3, 19 points)
Last week: 2-1-0 (4-1 L vs CBJ, 4-3 OTW vs PHI, 4-3 W vs MIN)
Analysis: After their well-documented slow start, the Sharks have been on a tear as of late. Since dropping a 3-2 decision to the New Jersey Devils back on Oct. 14, San Jose is 6-1-2 and has rocketed back up the standings in the Pacific Division into a tie for first place. Will they be able to consistently score enough to make up for their leaky defense and goaltending?
Player of the week: Marcus Sorensen – Goal, 2 assists, +3
This week: Thu at DAL, Fri at STL, Sun vs CGY, Tue vs NSH
Vancouver Canucks (9-6-1, 19 points)
Last week: 2-0-1 (4-2 W vs CHI, 7-6 OTW vs COL, 3-2 SOL at DET)
Analysis: Elias Pettersson continues to lead the charge for the surprising Canucks in 2018-19 – his 10 goals are double the amount of any other rookie in the NHL and his 16 points represent the only double-digit point total among first-year players. Just engrave the Calder Trophy and send it out now – this is the Year of Pettersson.
Player of the week: Elias Pettersson – 3 goals, 3 assists, +3
This week: Thu at BOS, Sat at BUF, Mon at NYR
This is some type of pass from Elias Pettersson to Brock Boeser pic.twitter.com/szD3e7aOkL

— Brady Trettenero (@BradyTrett) November 3, 2018
Vegas Golden Knights (6-8-1, 13 points)
Last week: 1-2-0 (5-3 L at STL, 3-0 W vs CAR, 3-1 L at TOR)
Analysis: The Golden Knights continue to struggle during their sophomore effort in the NHL – since winning three straight from Oct. 13 to Oct. 16, Vegas is just 2-4-1 and has looked nothing like the team that went all the way to the Stanley Cup Final just five months ago. Their ineffectiveness on the offensive end of the ice appears to be the main culprit – Gerard Gallant's squad has scored four or more goals in a game just twice in 15 games this season after doing so on 40 occasions in 2017-18.
Player of the week: Erik Haula – Goal, 2 assists, +3
This week: Thu at OTT, Sat at MTL, Sun at BOS