Wow.
What a week it was in Glendale, Arizona – 16 total goals (including five shorthanded tallies), just three total goals against, and, most importantly, three wins in the bank.
With each dominating performance that this team puts up, one thing is starting to become abundantly clear – these aren't your father's Arizona Coyotes. They've now won four straight, five of their past six, and are a threat to score whenever they have the puck in the offensive zone. Oh, and they can defend and control possession, too – they have the NHL's No. 1 defense, the league's No. 2 penalty kill unit, and the fifth-best Corsi-For Percentage (CF%) in the circuit.
Keep an eye on this team, folks – they're going places this season.
Coyotes Week in Review
After wrapping up a four-game road trip with a 4-1 victory in Columbus back on Oct. 23, the 'Yotes returned home to the great state of Arizona and began a five-game homestand against a depleted Vancouver Canucks squad on Thursday night in Glendale. This game was a close one through two periods, but the Coyotes broke it open during the final 20 minutes. Clayton Keller scored to give Arizona the 2-1 lead after Alex Galchenyuk forced Vancouver into a defensive-zone turnover, and Brad Richardson doubled the lead with his second shorthanded goal of the season at 12:16 to make it 3-1. Lawson Crouse then added another shorthanded goal into the empty net to provide the final margin in an impressive 4-1 Coyotes victory.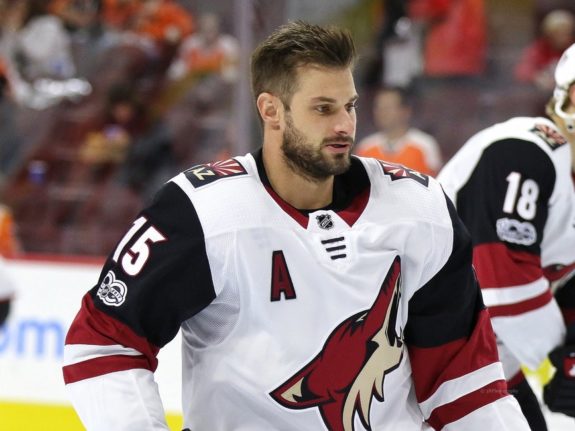 On Saturday, the Coyotes welcomed the 7-1-1 Tampa Bay Lightning to Gila River Arena. Former Arizona netminder Louis Domingue was in goal for the Bolts, but the Coyotes did not give him a warm welcome. They scored three goals in the first period to open up a big lead, and cruised from there – Vinnie Hinostroza scored at 8:26 of the second period to make the score 4-0, and Michael Grabner scored back-to-back shorthanded goals to give Arizona a 6-0 lead in a game they'd ultimately win by a commanding 7-1 margin.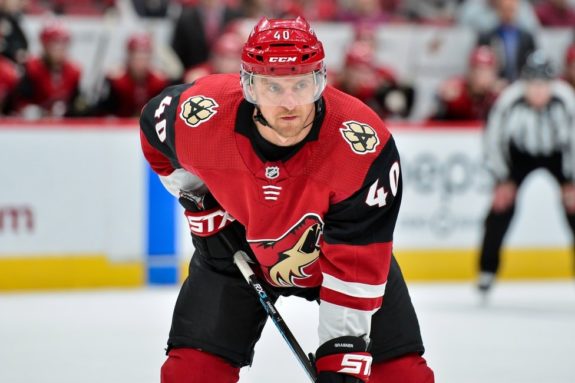 The 'Yotes then put their three-game winning streak on the line against the Senators on Tuesday evening, but it became clear early on that this would not be Ottawa's night. Alex Galchenyuk scored his first of the season at 4:09 of the first period, and Brad Richardson added his third of the year less than three minutes later. The nail in the coffin was Derek Stepan's 130-foot shorthanded goal – the veteran fired the puck down the ice on the penalty kill, but it somehow snuck through the pads of Ottawa goaltender Mike Condon and across the goal line to increase the lead to 3-0. With a big first-period lead, the 'Yotes cruised the rest of the way – Richard Panik and Oliver Ekman-Larsson added goals in the second and third periods, respectively, and Arizona won their fourth consecutive contest in easy fashion, 5-1.
A Look Ahead
The Coyotes will be back in action on Friday night, when they'll welcome the resurgent Carolina Hurricanes to Gila River Arena. New head coach Rod Brind'Amour has his team playing some good hockey – Carolina has a winning record at the end of October for the first time since the 2008-09 season and the team is working hard to make hockey fun again in Raleigh. This matchup between two hungry up-and-coming teams figures to be a great one – puck drop is scheduled for 7:00 P.M. in Glendale.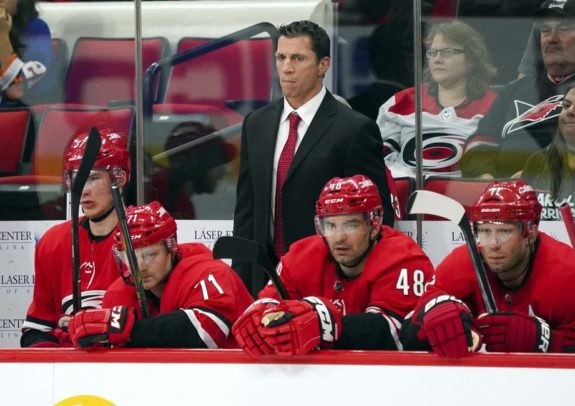 After having the weekend off, the Coyotes will play the finale of their lengthy homestand on Monday night against the Philadelphia Flyers. Dave Hakstol's squad is off to a brutal start – Philly's goaltending once again has been a huge issue as the Flyers currently sit dead last in the NHL in goals allowed. This one, which could be a high-scoring affair, will get started at 7:00 P.M. at Gila River Arena.
Pacific Division Roundup
At the end of the season's first month, the Coyotes find themselves just two points back of the Canucks for the No. 3 spot in the Pacific Division.
Anaheim Ducks (5-6-2, 12 points)
Last week: 0-2-1 (5-2 L at DAL, 4-3 OTL vs SJ, 3-2 L vs PHI)
Analysis: It would be inconceivable to think Anaheim would finish October with a losing record after a 5-1-1 start, but that's exactly where we stand after the season's first month. Their average shot differential is now at minus-14.3 per game, and their 41.42 CF% is the worst in the league. Believe it or not, the Ducks have actually been lucky this year – their 1.041 PDO is the third-highest in the league. PDO is the sum of a team's shooting percentage and save percentage, and the average in the NHL is typically 1.00 or close to it. Anything higher indicates a team has been a bit lucky, while anything lower than 1.0 indicates a team has had bad luck during the season. Their 1.041 PDO indicates that the Ducks are in for some significant regression to the mean, and, since things are already going badly, it looks like it's going to be a very, very long season out at the Pond.
Player of the week: Ryan Getzlaf – 2 goals, 3 assists, +1, 12 shots
This week: Thu vs NYR, Sun vs CBJ, Tue at LA
Calgary Flames (7-5-1, 15 points)
Last week: 2-1-1 (9-1 L vs PIT, 4-3 SOL vs WSH, 3-1 W at TOR, 2-1 OTW at BUF)
Analysis: A 9-1 loss to the Pittsburgh Penguins back on Thursday was brutal, but the Flames bounced back nicely from that evisceration at the hands of Sidney Crosby and Co. – Calgary picked up five of a possible six points in their other three games last week and are starting to emerge as a playoff contender in the Pacific.
Player of the week: Sean Monahan – Goal, 5 assists, +3, 14 shots
This week: Thu vs COL, Sat vs CHI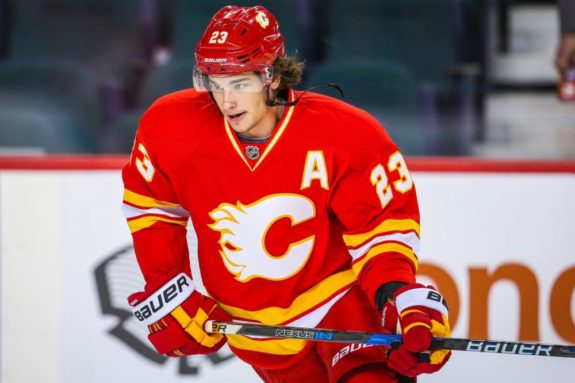 Edmonton Oilers (6-4-1, 13 points)
Last week: 3-1-0 (4-1 W vs WSH, 5-3 W at NSH, 2-1 OTW at CHI, 4-3 L vs MIN)
Analysis: Edmonton finally was able to get some scoring from someone not named Connor McDavid last week, and the results spoke for themselves – Tobias Rieder, Ryan Nugent-Hopkins, and Leon Draisaitl all joined McDavid in averaging a point-per-game or better, and the Oilers won three of four as a result. Secondary scoring is of the utmost importance for a top-heavy team like the Oilers, and, if they continue to get contributions from their entire lineup, good things will continue to happen.
Player of the week: Connor McDavid – 4 goals, assist, +3, 18 shots
This week: Thu vs CHI, Sat at DET, Mon at WSH, Tue at TB
Los Angeles Kings (3-7-1, 7 points)
Last week: 1-1-0 (4-1 L at MIN, 4-3 W vs NYR)
Analysis: The Kings' finally broke out of their six-game losing streak with an exciting 4-3 home victory over the New York Rangers on Saturday, but will they be able to climb out of this early-season hole with six more home games coming up? Only time will tell, but if their struggles continue, keep an eye on the job security of head coach John Stevens.
Player of the week: Ilya Kovalchuk – Goal, 2 assists
This week: Thu vs PHI, Sat vs CBJ, Tue vs ANA
San Jose Sharks (6-3-3, 15 points)
Last week: 1-0-2 (4-3 SOL at CAR, 4-3 OTW at ANA, 4-3 SOL vs NYR)
Analysis: Many wondered just how potent the Sharks offensive attack would be with Erik Karlsson added to the mix. Well, we have our answer – San Jose has scored 24 goals in their last six games en route to a 4-0-2 record over that span. They're struggling to defend at times, but who needs defense when you're scoring four goals a night?
Player of the week: Timo Meier – 4 goals, 2 assists, +3
This week: Thu vs CBJ, Sat vs PHI, Tue vs MIN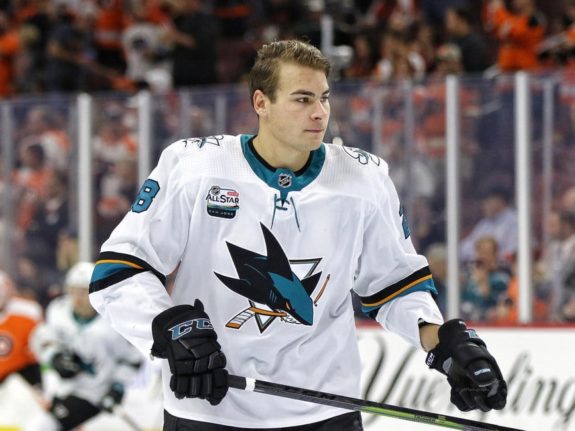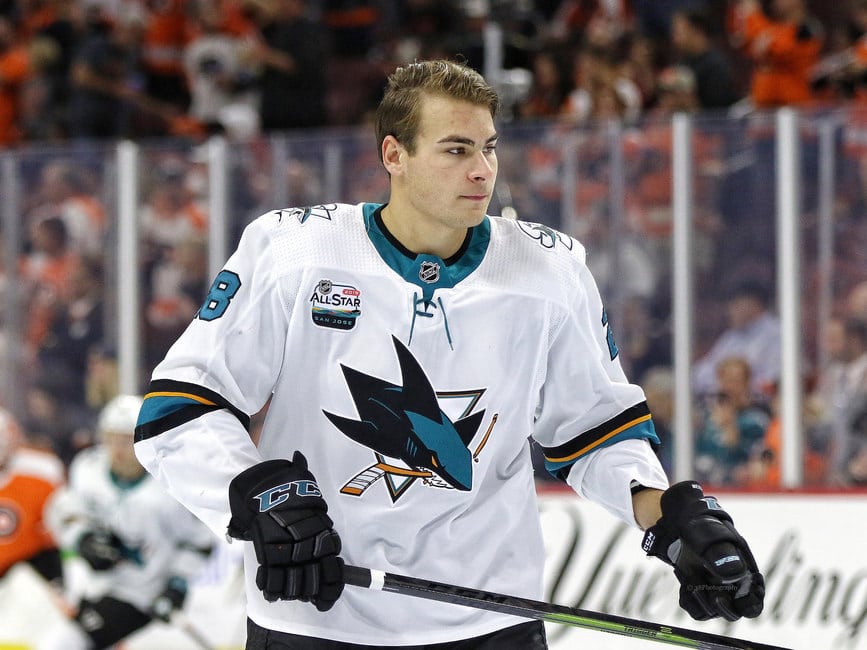 Vancouver Canucks (7-6-0, 14 points)
Last week: 2-2-0 (3-2 SOW at VGK, 4-1 L at AZ, 5-0 L vs PIT, 5-2 W vs MIN)
Analysis: The Canucks got rookie Elias Pettersson back last week, and he quickly proved why he's the frontrunner for the Calder Trophy despite missing time due to a concussion – he scored twice against the Minnesota Wild on Monday, and now has seven goals and three assists in seven games this season.
Player of the week: Elias Pettersson – 2 goals, +2
This week: Wed vs CHI, Fri vs COL, Tue at DET
Vegas Golden Knights (5-6-1, 11 points)
Last week: 1-2-1 (3-2 SOL vs VAN, 3-2 L vs TB, 4-3 OTW vs OTT, 4-1 L at NSH)
Analysis: Last week, we wrote that Vegas had turned a corner after three straight wins from Oct. 13 to Oct. 20, but it appears as if the Golden Knights still have some work to do to match last season's level of performance.
Player of the week: Alex Tuch – 2 goals, assist, +2, 19 shots
This week: Thu at STL, Sat vs CAR, Tue at TOR
A lifelong Phoenix resident, Louis has been following hockey since 2010, has covered the Arizona Coyotes since 2015, and has been playing hockey since 2020. So far, Louis has visited eight NHL cities, and one of his personal goals is to eventually make it to all 31 NHL arenas. For any questions or concerns, contact the writer via Twitter @LouisPannone.