The second half of the 2015-16 season is underway and the Arizona Coyotes are preparing to make a postseason push for the first time since their Western Conference Final run in 2012.
This year has already been quite the success for the Coyotes as they have rebounded from finishing the 2014-15 campaign with their worst record since arriving in the desert. However, there are still a number of challenges and several tough opponents to face before anyone starts thinking about playoff hockey in Arizona. Here are some key factors to watch as the Coyotes pursue a postseason berth in the next two months.
Key #1: Special Teams
The Coyotes have had some serious woes when it comes to special teams this season. On the penalty kill, Arizona is 28th in the league at 76.6%, better than only Calgary and Ottawa. The Coyotes have yielded a power-play goal in eight of their 12 games in January and 12 of their last 17 games overall. On the other side, Arizona's power play has surrendered nine shorthanded goals this season, two more than they gave up all last season. Their most recent one came in Winnipeg when Dustin Byfuglien scored shorthanded during an Arizona five-on-three advantage as the Coyotes stumbled into the All-Star break with a 5-2 loss to the Jets. Arizona needs to do a better job of limiting the amount of goals allowed on special teams, which unfortunately is a statement that has to be said about both power play and penalty killing.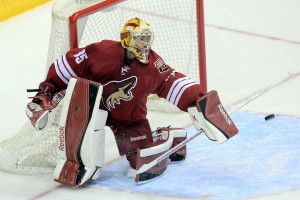 Key #2: Louis Domingue
Arizona would not still be in the hunt for a playoff spot without the outstanding work in net by Louis Domingue. The Coyotes goaltender is coming off of a January that landed him NHL Rookie of the Month honors on Monday.
He had a rough outing against Winnipeg to close out January, but it was just the second time in 15 starts that Domingue had allowed more than three goals in a game. As the Coyotes start their second-half playoff push, it will be up to Domingue to backstop this young team as games become more critical down the stretch. Perhaps the bigger question though is what will happen in net when Mike Smith returns from injury. Will Arizona stick with Domingue if he is still playing well or will they turn the reins over to Smith, who has not played since December 8 and is now expected to miss even more time?
Key #3: Staying Healthy
Smith's injury brings up another important key to Arizona's second half: staying healthy. This seems like a rather obvious point, but consider that last season the Coyotes were 16-25-5 going into the All-Star break. After the break, Arizona won just nine of their final 36 games to finish with the second-worst record in the league. Part of that downward spiral was because of season-ending injuries to Mikkel Boedker before the break and Martin Hanzal after the break..
This year, the Coyotes are currently eighth in the league with 181 man-games lost to injury (although a good portion of that number is attributed to Chris Pronger being under contract with the team). Arizona has already seen a number of veterans miss significant time this year, including Smith, Hanzal, Antoine Vermette and Zbynek Michalek. With a postseason berth still well within reach, Arizona hopes that the injury bug will not cause any issues during the stretch run.