The National Women's Hockey League announced Buffalo Beauts forward, Kelley Steadman, as their week 15 "Player of the Week".
Steadman has just come off of two weeks of phenomenal play.
The honor of MVP of the NWHL's Inaugural  All-Star game was given to Steadman after scoring two goals in the game. The first goal was scored on a breakaway within the first five minutes of the game. The second goal was scored with a little over two minutes left in the game.
The goal scoring didn't slow down for Steadman.
This past Sunday Steadman helped lead the Beauts to their first home win by scoring two goals and assisting one.
She now trails the league leader, Hilary Knight, by two goals. Steadman also leads the Buffalo Beauts in goals (11) and points (16). This is the second time this season Steadman has been named "Player of the Week".
There are definitely three little girls from Pittsburgh who approve of Steadman being named Player of the Week.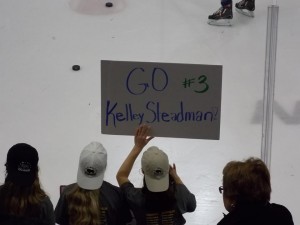 Past NWHL Players of the Week
Week 1 – Kelli Stack, Connecticut Whale
Week 2 – Zoe Hickel, Boston Pride
Week 3 – Brianna Decker, Boston Pride
Week 4 – Nana Fujimoto, New York Riveters
Week 5 – Kelley Steadman, Buffalo Beauts
Week 6 – Devon Skeats, Buffalo Beauts
Week 7 – Jillian Dempsey, Boston Pride
Week 8 – Shiann Darkangelo, Connecticut Whale
Week 9 – Hilary Knight, Boston Pride
Week 10 – Meghan Fadelmann, New York Riveters
Week 11 – Megan Bozek, Buffalo Beauts
Week 12 – Danielle Ward, Connecticut Whale
Week 13 – Brianne McLaughlin, Buffalo Beauts
Week 14 – n/a, All-Star Break (Steadman was named ASG MVP)