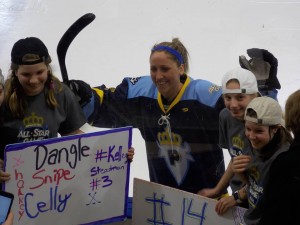 From the moment the HarborCenter doors opened, it was very clear January 24th was going to be an important day. This was going to be a day the hockey world would never forget.
Little girls held tight to their dad's hands. They both had extreme amounts of joy plastered upon their faces. Little boys came with their sisters and gushed over their favorite National Women's Hockey League player.
There were three girls standing along the glass with friends who came from Pittsburgh to display their unending fandom for Brianne McLaughlin and Kelley Steadman. Two players, they grew up watching play on the international and college stage.
For Buffalo native Emily Pfalzer this was a time to showcase her talents and the sport she loves in front of the hometown.
I'm from Buffalo so obviously I'm really happy the All-Star game is here. I think we have a great fanbase, a great community here in buffalo.

Emily Pfalzer – Buffalo Beauts
Skills Competition
Before the start of the Skills Competition, both teams were announced. Each girl made the best of the moment and laid it on thick for the crowd.
Blake Bolden posed for an invisible camera and Connecticut Whale players gave themselves fish tales with their sticks. All of Team Pfalzer bowed in the presence of their captain, Emily Pfalzer when her name was announced.
First up for fans was the Shooting Accuracy challenge. Three players from each team had 30 seconds to hit four sprinkled donut shaped targets. Team Pfalzer had Darkangelo, Decker, and Steadman going toe to toe with Team Knight's Bellamy, Packer, and Smelker.
The event was swept by Team Pfalzer. Darkangelo annihilated all four targets in 25 seconds. Decker managed to hit two targets before the buzzer sounded. However, Steadman destroyed the competition after hitting all four targets within 17.4 seconds.
Up next was the fastest skater competition which got a little intense when the goalie race between McLaughlin and Ott came around. Ott tried to give herself the leg up by throwing her stick at McLaughlin's feet. Unphased McLaughlin dove and slid across the finish line. She did the worm in celebration. Team Pfalzer went on to win the event.
https://twitter.com/TinySebnem/status/691342668924874752
The Breakaway Contest is where the fun really began. 
Announcer, Ryan Burgess, called Amanda Pelkey's name. 
"First up for Team Knight, Amanda Pelkey"
There was no sign of Pelkey. She wasn't on the ice or in the crowd. Where could Pelkey be?
Burgess tries again. 
"First up for Team Knight, Amanda Pelkey." 
Pelkey was still nowhere to be found. 
Knight, on the other hand, was spotted at center ice standing next to an equipment bag which she began to drag towards the net. Halfway down the ice Knight stopped, unzipped the bag, and out popped Pelkey.
According to Knight, the equipment bag idea was straight from the mind of Pelkey in an attempt to keep things fun and light.
"That was Pelkey's idea. Honestly, for the skills competition we wanted to make sure the fans were having fun."

Hilary Knight – Boston Pride Forward
The entertaining didn't stop there. Both Brickner and Stack pulled extra sticks and pucks out of their jerseys to try and score during the breakaway challenge. Decker drank from a Dunkin Donuts cup and knocked a box of Dunkin Donuts Munchkins off of the net. Fujimoto tossed her stick at Knight in an attempt to rattle her. Pfalzer threw it back to one of the best hockey movies of all time, The Mighty Ducks, and attempted the Knuckle Puck which sailed over the crossbar. As you can see the ladies definitely tried to keep it light and fun.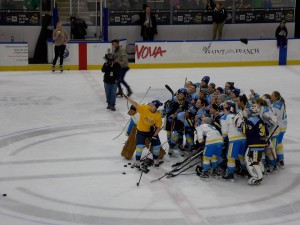 While there were many moments of hilarity during the Breakaway Challenge, Gigi Marvin provided us with a more serious moment. She skated towards center ice in her All-Star jersey. As Marvin reached center ice she peeled off her jersey to reveal a Denna Laing Boston Pride shirsey. Everyone skated to center ice and took a selfie on the GoPro extended a few feet in front of them to show support for their comrade. For Marvin, this hits closer to home than most everyone else. Marvin's cousin is Lisa Marvin who was hit by a car last year and skated for the first time in February. Marvin has seen first hand how much of a struggle the recovery period is going to be for Laing. She knows the ups and downs of the process.
Team Pfalzer would go on to win the Breakaway Challenge after the fan vote secured Decker the win.
Rounding out the skills competition was the Heaviest Shot Challenge. Team Pfalzer earned another point after Megan Bozek hit at a whopping speed of 88 mph. Afterward, she challenged Shea Weber (Nashville Predators) and Zdeno Chara (Boston Bruins) to a hardest shot competition.
.@meganebozek has a message for Weber and Chara after winning the hardest shot contest in the #NWHLAllStarGame… pic.twitter.com/lTyzDBek2S

— NWHL (@NWHL) January 24, 2016
Team Pfalzer swept the Skills Competition giving them the 4-0 lead heading into the All-Star Game.
The Game
The NWHL opted for a 2-period 4-on-4 format for the All-Star game which made many players, especially Knight, excited for the game.
When you drop a player there's more ice to move so you can get a little more creative. Especially being more of a finesse game, you're going to see more highly skilled and talented plays. I'm really happy it wasn't a 3-on-3, that's a lot of work.

Hilary Knight – Boston Pride
In under five minutes, Kelley Steadman (Team Pfalzer) broke away from the pack and scored the first NWHL ALL-Star goal in history. Thirteen minutes later Team Pfalzer would get on the board again when Emily Field scored.Afterward, Field threw her glove in the air like a grenade. When it dropped her teammates dropped.
https://twitter.com/NICK_WKBW/status/691377113547546624
Team Knight finally notched a point on the scoreboard during the second period when Hayley Williams scored off of a pass from Madison Packer. This would be the lone goal for Team Knight.
For the rest of the All-Star game, Team Pfalzer would dominate scoring three more goals to secure a 9-1 win over Team Knight. The final three goals came from Darkangelo, Skeats, and a second goal for Steadman.
Steadman's two goals earned her the honor of MVP.
The teams kept their tradition of shaking hands after every game. However, there was a twist this time or should I say there was a pie involved.
Now that's goalie love! #weirdos pic.twitter.com/niDC9BazNg

— Buffalo Beauts (@BuffaloBeauts) January 24, 2016
No one knew who the pie was intended for but once they saw the pie they stayed as far away from McLaughlin as possible.
I didn't know it was going to be her (Ott). I was staying away from Bri because I saw her with the pie. She's a trickster so when I shook her hand I was about a couple feet away from her.

Emily Pfalzer – Buffalo Beauts
As you can see the inaugural NWHL All-Star Game was a huge success full of many laughs and memories for all.
Elaine is in her first year writing for The Hockey Writers. She will mostly be covering the Columbus Blue Jackets, Lake Erie Monsters, NWHL, and the charitable works all hockey players partake in.
She just ended a two season internship with the Ohio AAA Blue Jackets.