The NHL All-Star festivities are now taking place, and Sidney Crosby will not be a part of them.
Many Pittsburgh Penguins fans see this as a huge slight, but it really should be seen as a blessing in disguise. If the Penguins are to have any real success down the stretch and into the playoffs, they need a healthy, rested, and motivated Crosby.
Not only should Crosby not go to the star-studded exhibition game for health reasons, but history tells us that he is simply not interested in participating. Nobody that follows the Penguins wants to disturb whatever mindset Crosby is in right now.
Marc-Andre Fleury could make a strong case that he belongs there as well, but the same concerns apply. Matt Murray was fun to watch while filling in, but like Crosby, the Penguins need a healthy Fleury to be on the top of his game for the duration of the season.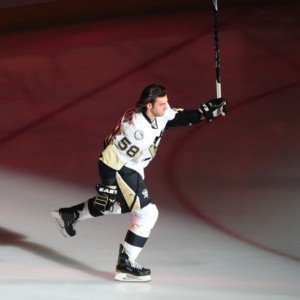 Then there is Kris Letang who is in Nashville, but really should not be. Letang has missed a fair amount of time this year, and very recently. He is another player that the Penguins cannot afford to be without, not only because of his elite talent, but because of the lack of depth at his position. Understanding could be given to Letang, oddly enough because of his medical history. He has had a stroke, and numerous concussions. He should enjoy every moment of his career, as the next hit or awkward fall could send him into early retirement.
Told Neal that Malkin was already chirping him. His response? "Oh yeah? I think that's just because he misses me." -MC

— Pens Inside Scoop (@PensInsideScoop) January 29, 2016
Evgeni Malkin has fun at these things, and the way he has had to carry the team he deserves it. He has already had some fun interactions with friend, and former teammate James Neal.
The End of #JagrWatch?
Typically for a month or so before each NHL trade deadline, the Twitter hashtag #JagrWatch begins trending in Pittsburgh. This is because Pittsburgh legend, and sometimes villain, Jaromir Jagr was playing on bad teams and being shopped on the trade block. This played on the hopes of nostalgic Penguins fans hoping for the return of the mullet.
Due to the success of Jagr's Florida Panthers this year, we may have seen the last hope of Jagr returning to Pittsburgh fade away.
The Panthers are a young, and very talented team that now sits at the top of their division. Not only has Jagr impacted the team on the score sheet, he has heavily impacted the young Panthers players such as Aleksander Barkov.
Fans-I was afraid,that 3on3 all-Star game may kill me,now,I am more afraid,fighting John Scott 6,8 300 during All-Star, kill me for sure

— Jaromir Jagr (@68Jagr) January 2, 2016
Oddly enough, at age 43 Jagr has become something of a wise sage. His social media posting and interactions with the media have been drawn rave reviews. In many ways, Jagr is more of a rock star now than he was when he was winning scoring titles. His value to the Panthers will not diminish any time soon, but lets face it, the guy can't play forever.
This is not to say that Jagr will never play for the Penguins again. It is just not very likely as he appears to be loving Florida.
Aren't you glad that the team made keeping Tyler Kennedy a priority?
Until next time.