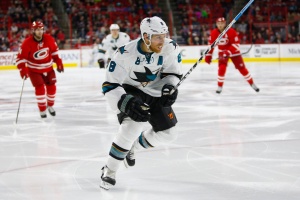 Before San Jose Sharks fans rip my head off, let me be clear that this isn't a recommendation that GM Doug Wilson trade Joe Pavelski. The Wisconsin native is a terrific player and one of my favorites, but if the Sharks truly want to commit to rebuilding, than nobody on their current roster would fetch a higher return than Pavelski. Unlike Joe Thornton and Patrick Marleau, Pavelski doesn't have a full no-movement clause and is four years younger. Pavelski still has considerably more miles left in the tank and is currently in the middle of back-to-back career goal scoring seasons.
The Sharks are an organization that keeps things close to the vest, so while the exact parameters aren't clear, Pavelski reportedly only has a limited no trade clause. Therefore, the Sharks should have a significantly easier time finding a trade partner and fetching fair value in any potential deal. It would no doubt be a blockbuster and these mega star deals are often reserved for the offseason. While the Sharks acquired Joe Thornton midseason 2005, trades for Dan Boyle (2008), Dany Heatley (2009) and Brent Burns (2011), were all made during the offseason. While it doesn't seem likely for the Sharks to move Pavelski, if they are going to go with a youth movement, Pavelski isn't exactly young (will be 31 this summer). Plus a team like Nashville could use an impact player at forward to really make a push at the Stanley Cup.
Cost for Pavelski
So what would a team like the Predators have to give up? Well, a player of Pavelski's super star status locked into a long-term contract would mean a hefty return. Likely that is a young established NHL player and a combination of either two first round picks or equivalent prospects. In terms of San Jose's needs, and what Nashville has the most of, any potential deal would likely center around Seth Jones.
After reacquiring pending unrestricted free agent defenseman Cody Franson, the Predators are incredibly deep on their blue-line and could afford moving a piece like Jones (at least in the short term). Yes, he has a great future ahead of him but the Predators are in a position where a forward like Pavelski would make their offense as dangerous as any in the league. The Chicago Blackhawks just lost Patrick Kane for six-eight weeks and while the Central is still a dogfight, the window for the Predators to make a deep run this season is wide open.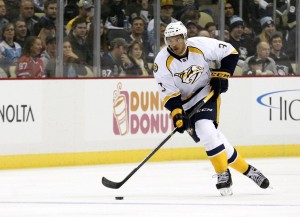 Giving up a future franchise defenseman would be tough for any team but if anybody can afford it, it would be Nashville. They are set for the forseeable future between the pipes with 32 year-old Pekka Rinne. At defense, franchise defenseman Shea Weber is far from old at 29, and the Predators also have young cogs Ryan Ellis, Roman Josi, and Mattias Ekholm as defensemen who can be around for years to come. Outside rookie phenom Filip Forsberg however, the Predators lack a point per game caliber offensive force that is reliable season by season. Former Penguins star James Neal only has 34 points on the season and center Mike Ribiero has had many ups and downs over his career. With Pavelski on Ribiero's wing though, those two could do a heck of a lot of damage on a second line. Now given that Jones is already a known commodity at his young age, he and just one other piece, either a prospect or first round pick would be an enticing return for San Jose. It would also push Nashville over the top.
Definition of Block Buster
This would be a huge splash for both teams. Keep in mind most of my colleagues think it would be silly for the Predators to give up on the 20-year-old Jones. At the same time, numerous Sharks fans are bound to rip me after reading this tomorrow. It is also not like the Predators are hurting for offense statistically this season being sixth in the league in goals per game. However, we often hear about teams adding pieces even when thing are seemingly going well. Adding Pavelski to the mix, and subtracting Jones, the Predators would still have a dynamite top four defense, arguably the best goaltender in the world but would get a huge boost to their power-play. Pavelski is a power-play goal scoring machine. Currently Nashville's power-play is in the bottom third in the league. With 16 power-play goals, Pavelski is second in the entire NHL behind Alex Ovechkin. Nashville's leading power-play goal scorer? Mike Fisher with six.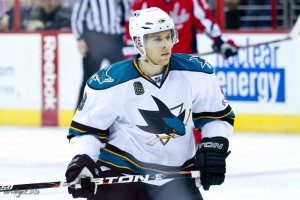 Giving up Jones may seem crazy but losing him will hardly hurt their ability to prevent goals this season. With Rinne, Weber, Josi, Franson, Ellis, and company, Nashville would still be one of the hardest teams to score against. Pavelski on the other hand would make their forwards vastly more daunting to opposing defenseman. With two of Nashville's top Western Conference competitors having played tons of hockey in recent years (Chicago and Los Angeles) and both Chicago and St. Louis with injury concerns, the Predators have a terrific shot at getting through the vaunted West and into the final. Without adding a forward of Pavelski's caliber though, Chicago, LA, and St. Louis stand a much better chance at shutting them down. With Pavelski, they become the clear cut favorite to win the Stanley Cup.
Losing Jones hurts long term, but with Weber and Rinne for the next 4-5 years at least, it is hard to envision them having any trouble preventing other teams from scoring in the near future. Pavelski on the other hand would change their fortunes from a mere playoff team to a Stanley Cup contender. Not to mention, Pavelski still has a handful of prime years left. They have plenty of cap space to add the veteran scorer.
By no means am I suggesting the Sharks should make this move. As a Sharks fan, it would be a true bummer to see one of the most beloved players move away. However, if the Sharks are going to actually rebuild, half-assing it would not be the way to go. If the Sharks are going to pull the plug on competing for the near term, really nobody sans Marc-Edouard Vlasic should be untouchable. Acquiring Jones would give the Sharks that true cornerstone two-way No. 1 guy that Brent Burns hasn't been and likely won't ever become. Vlasic and Jones as a top pair would be a terrific way to start re-tooling for the future.
To be clear this is just pure speculation. There is no inside information that makes me think either Doug Wilson nor Predators GM David Poile are looking to pull of this caliber of a block buster. However, it is merely a point to show that the Sharks should consider moving Pavelski if they are indeed going to rebuild. A goal scorer of his stature, contract, and age would fetch a handsome return. As for the Predators, with Weber, Josi, Jones, Franson, Ellis, and Ekholm, they arguably have six top-four caliber defenseman right now. That is what you call a surplus. If you ask me, they would be kicking themselves if it comes to the playoffs and the reason they don't advance is because their sixth ranked scoring dried up. After all, before this season they were far from an elite scoring team.
Andrew has been credentialed to cover the Sharks since 2010 and the 49ers since 2012. He graduated with his BA in Broadcast Electronic Communication Arts in 2013 from San Francisco State University.