by Shinny Baggataway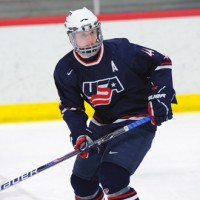 Happy Monday to everyone who is on Fall break or enjoying a day of school!   By the way, thanks to all of you who sent in questions!  I love reading them will try to get to as many as I can.
Some of you have written that you're missing your favorite players and last weekend was kind of a downer.  Some of you had planned hockey parties at home and other readers had every intention of being at the arena wearing your team's colors, ready to cheer.  As fun and exciting as it can be, there is a lot more to hockey than the NHL.  There are probably local minor league teams, college and rec league hockey games going on close by.  Ask around or check your local chamber of commerce web site to find out more. For additional information, here are some other good places on the web:  USA Hockey, Hockey Canada, USCHO (collegiate hockey),  AHL, ECHL, and the WHL.
And now let me answer this week's questions!
Shawna T. age 11 from Clovis, New Mexico, wants to know what is going on with all the jumping around at the faceoff circle.   
"Everyone gets in place and then the referee waves a player out and then another player out and it seems like it takes forever for the game to start!  Why do they do that?   
Seems kind of silly for hockey to become a game of musical chairs, doesn't it?   A player can be sent away from the faceoff if he moves his stick too quickly or changes his position or does anything that would give him an unfair advantage.  The rules seem pretty clear on paper, but  it's really up to the guys on the ice.  Officials are like teachers, some are stricter than others.  Some referees will eject a player for talking while others will do that only if a player is actually edging closer to the puck.
Now, on to our next question:
Dear Shinny,
Are you a boy or a girl?  I like the Winterhawks best.  I have a shirt with their symbol on it from the ice.  Is it painted
on?  It never scratches off when they skate on it. I like to skate in my socks in the hallway.  Your friend, 
Ryan M. age 7, Portland, Oregon 
Hi Ryan!
I am a girl and I like hockey very much.  The Winterhawks are pretty cool.  Ty Rattie has to be one of the greatest names ever for a player.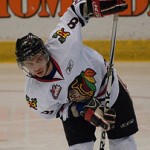 About that symbol…Sometimes it's called a logo.  When it's on the front of a jersey or sweater, it's called a crest.  What you see when you go to go to a game at Rose Garden Arena is a logo that is painted on the floor underneath the ice.  That is why those big guys can skate across the ice all night and the logo stays on.
And just to let you know, me and my dog love to play hallway hockey and he doesn't even need socks!
Go 'Hawks! (Winter- or Black-)
Shinny
One more before we go…
Dear Shinny,
People talk about making our hockey team move somewhere else. I love my Yotes and have gone to games with my family since I was a little kid.  My dad says that the Thrashers moving to Canada could mean people think the Coyotes will move there, too. Aren't a lot of people sad when teams move?  Do the players get mad? Someone needs to stop it.
Mad and Truly >:[
Jessica F, age 11 and a half, Scottsdale, Arizona 
Dear Jessica,

Teams move for different reasons.  Some of them make more sense than others.  Even when there is an arena full of people buying tickets and cheering, sometimes the owners decide it's time to get out of the hockey business.  Sometimes the cities just can't afford to keep the teams.  The league tries to find people who live in  the cities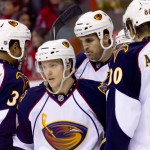 where the teams play and want to keep them there, but it's not always easy because hockey is an expensive sport, especially in cities where ice needs a lot of work and care.
The fans who liked the Thrashers were sad when their team moved to Winnipeg.  Some of them started cheering for other teams close by and many of them came to Nashville to see the Predators play their old team.  The people in Winnipeg have been very nice about it and said they felt bad about the people in Atlanta and hoped they would come up to visit sometime.  They knew how it felt because their team moved away seventeen years ago and they missed them very much.Where did their team go?
Phoenix!
Do the players ever get mad?  Most players move around to different teams during their careers, so they get used to it.  It's always hard to move away from friends but hockey players keep in touch with people their buddies  just like anyone else would.
Hang in there, Jessica.
Sincerely,
Shinny Baggataway
That'll do it for this week!  If you or your favorite kid has a question about hockey, send it to askshinny@gmail.com
Later, peeps!
Shinny B.
Jas Faulkner is a minimally socialised writer and artist who lives and works in Nashville, Tennessee. She hearts her attitude problem.