While the Flames were certainly looking to improve the quality of the team come July 1st, the numerous nay-sayers who have been calling for the team to aggressively rebuild cannot be happy with the numerous personnel decisions made since the Flames traded down to draft 17-year-old project Mark Jankowski at this past draft in Pittsburgh.  Since the controversial pick, the Flames have added two new members to the NHL team while committing to three of their free agents.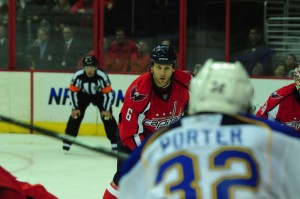 Furthermore, the youngest player of this group to receive a contract also received the shortest term, as 26-year-old Blake Comeau was signed to a 1-year, $1.25 million dollar deal.  Stay at home defenseman Cory Sarich (33 years old) and enigmatic winger Lee Stempniak (29) were both signed to 2-year deals, worth $2 million and $2.5 million dollars respectively.  While Stempniak and Sarich were certainly surprising returnees, the longest pacts doled out by the Flames thus far were given to their two newest acquisitions.  Defenseman Dennis Wideman (29), most recently of the Washington Capitals, was acquired by Calgary last week in exchange for a draft pick and a minor league defenseman and was promptly signed to a beefy 5-year, $5.25 million average annual value.  Wideman will be looked upon to be Calgary's premier offensive blueliner, particularly on the power play, as the failure of Jay Bouwmeester in Calgary has been well documented.  Rounding out the five most recent contracts is the signing today of another Czech centre, as Jiri Hudler (28) is now arguably a top-6 forward on the Calgary Flames for the next 4 years at $4million per season.
Before subjecting each deal to the critical lens, these deals once again collectively confirm that the Flames are solely interested in tweaking what they have in an effort to make the playoffs.  While the addition of Hudler and Wideman arguably serve as the clearest indication of that, what really cement this ideology are the 2 year commitments to Sarich and Stempniak.  Both players are older veterans with maxed potential and may even be on the decline.  Both players struggled at times last season with bouts of infrequent play.   Both players had spurts of fantastic niche play.  Ultimately, both players typify the team itself- aged, on the decline, and consistently inconsistent.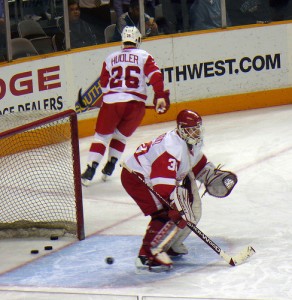 That being said, the Flames are at least attempting to tweak their roster with Wideman and Hudler.  While not the sexiest names, Wideman and Hudler will find immediate opportunities to seize.  The Flames power play walks the fine line of competently mediocre to infuriatingly bad, and the addition of Wideman will undoubtedly help that.  The offensive blueliner notched 20 points on the power play last year and put 175 shots on net.  The Flames current power play quarterback option, Jay Bouwmeester, managed 10 power play points and 107 shots.  Mark Giordano also managed 10 points with the extra man for the Flames last year, but Wideman had 50 more shots as Giordano directed 125.   Giordano was limited to just 61 games, so that obviously serves to reduce the quality of his stats, but Giordano is best served as Calgary's premier two-way defender and a move to the 2nd power play unit with increased penalty killing time would both maximize his game and allow for Wideman to get premier power play minutes.  Wideman must focus on this aspect of his game and observers must understand this.  Wideman is not being brought in for his defensive prowess and if he manages to make his way back to 60 point territory without becoming an egregious defensive liability the Flames should be content with his high cap hit.
Jiri Hudler (28), much like Roman Cervenka, is listed as a center and is expected to produce in a top-6 capacity.  Hudler scored 25 goals for the perennially potent Red Wings last season playing behind elite talents Pavel Datsyuk and Henrik Zetterberg.  Due to the limited special teams time afforded to him, the slippery Czech had to make hay with his even strength ice time.  He obviously performed in this capacity, which was not lost on Flames manager Jay Feaster who believes Hudler is "is one of the very best goal scorers in the NHL at even strength and he puts a very high percentage of his shots on net, generating scoring chances for himself and rebound opportunities for his teammates."  While unrealistically grandiose expectations are usually placed on free agent pickups, Hudler will have to cope with the immediate pressure of establishing himself as a top-6, perhaps even a top-3, forward who will see his power play time substantially increased and he will have to produce.  While there is no telling with whom Hudler will ultimately gel with as full time linemates the combinations are vast as Hudler spent just as much time, if not more, on the wing in Detroit last season.  An interesting option would be seeing Hudler and Iginla flanking Cervenka at centre, or even Hudler centering Iginla and Alex Tanguay.
New head coach Bob Hartley certainly has some interesting options to consider heading into training camp, as the Flames two newest acquisitions are not bit players expected to fill a checking role.  Wideman and Hudler are skilled offensively and it will be interesting to see just how Hartley incorporates them into an increasingly crowded roster.
Having just received a Bachelor of Arts in History (with a concentration in Canadian History) from the University of Calgary, Thomas Strangward is pursuing his passion of sports journalism and has recently accepted a seat in the renowned Radio, Television, and Broadcast News Program at SAIT in Calgary, Alberta.