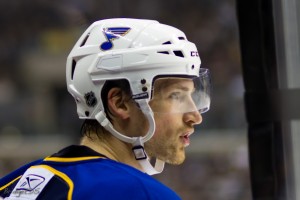 As we get ready to celebrate the 4th of July here on the Island the initial wave of free agency has come and went and while there is still plenty of time for Garth Snow to make some moves the initial returns are hardly encouraging.
The first day of free agent frenzy came on Sunday, and at the end the Islanders saw a few faces come and go but at the end they still look like the same team.  Day one saw P.A. Parenteau, Micheal Haley, and Dylan Reese leave while being replaced with Brad Boyes, Eric Boulton, and Matt Carkner.  The end result looks to be the Islanders merely addressing the holes that showed in free agency as opposed to making the team better.
Real loss is P.A. Parenteau who got a 4 year, 16 million dollar deal from the Colorado Avalanche, exactly the type of contract the Islanders don't hand out. To try to replace his scoring from the wing the Islanders handed out the type of low-risk deal that they have made a trademark in recent years by giving Brad Boyes a 1 year, 1 million dollar deal. It's a deal that could help both parties as Boyes once had two consecutive years of more than 30 goals (43 in 07-08 and 33 in 08-09), but hasn't topped 14 goals since then.  Maybe the Islanders can get a year of good play out of Boyes, but it you can't help but feel this could be the same story it was with Parenteau.  Player comes in on a one-year deal, player gets lots of playing time, reaps the rewards of playing on John Tavares' wing, and then bolts for a multi-year deal somewhere else.
The other two moves on Sunday are more of the toughness and grit variety. Haley, mainly just a goon but still young enough to have a little upside to the rest of his game, left to be signed to a 2-year deal by the rival New York Rangers. So the Islanders sign Eric Boulton from the Devils (1 year, terms not announced) , a 35 year old who at this point is strictly an enforcer, going without a point in 51 games last year.  Reese played in just 28 games for the Islanders as a depth defenseman and left to go play in his native Pittsburg for the Penguins  for a 1 year, two way deal. His defensive replacement is Matt Carkner (3 years, 4.5 mil) a big, tough, 31 year old defenseman.  This was the one deal that I saw as a bit of a head-scratcher, Carkner only played 29 games last year due to knee surgery, and was only being paid $700,000. So the fact the Islanders had to go all the way to three years at 1.5 million per year seems very odd.
After these deals, I think you can say that the Islanders got older and tougher, but I am not sure they got much better.  Monday and Tuesday saw the Islanders do nothing but make a couple of minor deals (forwards Colin McDonald and Brandon DeFazio, both 1 year ). So that leaves us with the question, where do the Islanders go from here? While the Islanders haven't done much, the rest of the league have snatched up most of the mid-tier veterans that could have made a difference for the Islanders. The  Islanders are still lacking some veteran scoring,  defense, and another goaltender (unless you believe this is the year for Rick DiPietro). The Islanders aren't going to spend the money on a top free agent, or give up the prospects necessary to land someone like a Bobby Ryan in a trade.  So where exactly is the help going to come from?
Once Ryan Suter and Zach Parise, the two big fish in the free agent pool are signed expect activity to start up again.  They now have a couple of veterans on defense and a lot of toughness to back up their young skill players but if Garth Snow is going to make this team a contender this year he needs to make something happen because the Islanders are still nearly identical to the team that finished 27th in the NHL last year.