Nothing that Martin Brodeur does on the ice is similar to another goalie in the National Hockey League today. The future Hall of Famer will be the last goalie to play a style other than the butterfly, his demeanor is much more relaxed than anybody else at his position, and so far, there aren't too many goalies (past or present) that have accomplished what Brodeur has over the last eighteen seasons.
However, the differences between Brodeur and other goalies on the ice pales in comparison to the differences between the Devils' goalie and most modern-day athletes. Despite playing in New Jersey for his entire career, Brodeur experienced being a free agent this off-season for the first time in his career. In the days leading up to free agency, Brodeur hired Pat Brisson as his agent, and created speculation that he was seriously considering leaving the Devils. However, Brodeur did return to New Jersey, as he signed a two-year deal worth $9 million.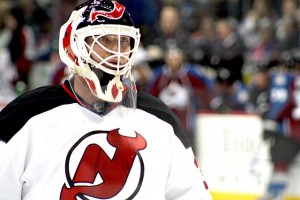 In the world of professional sports today, Brodeur's decision to remain with the Devils is a rarity. The first reason is because of the present financial state of the Devils. The Devils are in danger of having commissioner Gary Bettman take control of the team for the foreseeable future. The financial problems have also created uncertainty about the direction of the organization going forward, especially whether they could afford to re-sign Brodeur and team captain Zach Parise. In most circumstances, a player of Brodeur's stature would jump ship. The Hall of Famer has done everything that a hockey player could hope to accomplish in a career, and the only thing left would be to win another Stanley Cup. Despite the uncertainty, Brodeur not only chose to remain a Devil, but he took a pay cut to do so.
Brodeur's new deal will pay him $4.5 million a year for the next two years. While that contract might be at his market value at age 40, it certainly wasn't the highest offer available to him. Also, Brodeur's contracts with the Devils have been below market value for the majority of his career. The last contract the Hall of Famer had, which started in 2006-07, paid him $5.2 million annually over six years. At the same time, the New York Rangers' Henrik Lundqvist makes $6.5 million annually, and Carey Price signed a six-year, $39 million contract as well.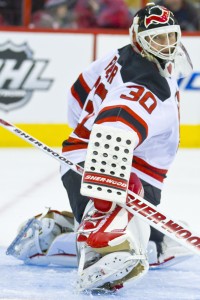 So why did Brodeur, a player who has been good to the Devils organization in terms of dollars and performance, agree to a new contract with New Jersey when the organization couldn't return the favor? One reason is that Brodeur has continuously put the success of the team over how big his bank account is. In his autobiography, Brodeur: Beyond the Crease, the Devils' goalie talked about the thought process that went behind his last contract. Brodeur said, "Locking the Devils into a contract that paid me a large salary would hinder the club, and I knew I would rather make less money and play on a good team than make more and risk playing on a weaker team. I valued the luxury of winning more than money."
While it is refreshing to hear a player caring more about the team than he does himself, it is even more refreshing to see a player value that concept throughout their entire career. In the world of free agency, it is a rarity now to see players spend their entire career with one team. With Brodeur's newest contract, it appears as if that will be the case for the NHL's all-time wins leader. In his autobiography, Brodeur said, "In the end, I guess I didn't want to know anything else. This is what I believe in. Being a Devil."
And it will remain that way.
Michael Rappaport is a junior at New York University majoring in Sports Management. He is one of the Featured Writers for the New York Rangers for The Hockey Writers, and joined THW in January of 2012. In addition to his work for THW, Michael has been featured in numerous publications such as New York Hockey Journal, Yahoo's Puck Daddy Blog, The Huffington Post, Spector's Hockey, and Kukla's Korner to name a few. You can talk hockey with Michael by sending an e-mail to michael.rappaport@nyu.edu, or if you want to shoot a quick message, following @Mike_Rappaport on twitter.