New Montreal Canadiens general manager Marc Bergevin has been fairly active regarding the signing and the re-signing of key players for the organization in the past 72 hours. The rookie GM had a lot of work on the table with more than ten unrestricted and restricted free agents to re-sign for the upcoming season.
Below you will the status of all impending UFAs and RFAs, as well as the new players who were signed by Bergevin during the three-day weekend.
Forwards:
Travis Moen, UFA, re-signed to a four-year, $7.4 million contract ($1.85 million cap hit)
Petteri Nokelainen, RFA, re-signed to a one-year, $575,000 contract
Ryan White, RFA, re-signed to a one year, $687,500 contract
Mike Blunden, RFA, re-signed to one-year, two-way $575,000 contract
Lars Eller, RFA, still unsigned
Blake Geoffrion, RFA, still unsigned
Aaron Palushaj, RFA, still unsigned
Mathieu Darche, UFA, offered a two-way contract, but Darche declined the offer and will test the market
Defensemen
Alexei Emelin, RFA, re-signed to a two-year, $4 million contract ($2 million cap hit)
PK Subban, RFA, still unsigned
Raphael Diaz, RFA, still unsigned
Chris Campoli, UFA, will not be offered a contract and will test the market
Goalies
Carey Price, RFA, re-signed to a six year, $39 million contract ($6.5 million cap hit)
Free agent acquisitions:
Brandon Prust (NYR), signed to a four year, $10 million contract ($2.5 million cap hit)
Colby Armstrong (TOR), signed to a one-year, $1 million contract after being bought out by the Toronto Maple Leafs
Francis Bouillon (NAS), signed to a one-year, $1.5 million contract
Cedric Desjardins (COL), signed to a one-year, two-way contract worth $600,000 in the NHL and $175,000 in the AHL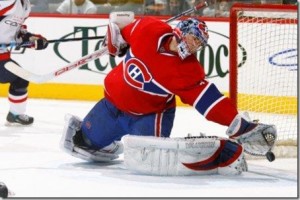 While Cedric Desjardins' signing is minor and mostly a depth move for the Hamilton Bulldogs, the signatures of Prust, Armstrong and Bouillon is a clear sign of the new direction the Habs want to take for the upcoming season. Desjardins will be a nice insurance policy in case of an injury to Carey Price or Peter Budaj.
Veteran rearguard Francis Bouillon AKA known as the "Cube" because of his small stature, but wide shoulders, and as a reference to "bouillon" cubes, will provide leadership and grit on the blue-line. Bouillon who had played nine years with the Canadiens before joining the Nashville Predators for three campaigns played 66 games last season, recording 4 goals and 7 assists for 11 points. Bouillon is a serviceable player who is already familiar with the city, the organization and the new head coach, Michel Therrien. He will most likely be used on the team's third defensive pairing with a youngster such as Raphael Diaz or Yannick Weber.
Right-winger Colby Armstrong, fresh of a buy-out after a depleted season, is a low-risk signing who will provide much-needed depth to the Habs. Armstrong, a former 22-goal scorer with the Atlanta Thrashers, played 29 games last year with the Leafs, scoring 1 goal and 2 assists for 3 points, along with a poor -8 rating. "Armdog", who played under Therrien in Pittsburgh, is coming off a rough couple years in terms of offensive production and injury history. The right-handed shooter will most likely play on the Habs's third-line alongside veteran Travis Moen and youngster Lars Ellis in a shutdown role. A good two-way forward with grit, aggressiveness, size and speed, Armstrong is a good complementary player to have around your locker room.
Mostly a plumber that knows how to kill penalties and drop the gloves, Brandon Prust, was signed to a four-year deal by the Canadiens. While Prust is a very useful forward who can log around twelve minutes of ice-time per game, his $2.5 million cap hit is quite hefty for a player who scored only five goals in 2011-12. He was third in short-handed ice-time for the Rags, who were the fifth best team on the penalty kill last year so he will provide much-needed depth and help lighten the load of the Habs' offensive players such as Tomas Plekanec, who was the team's best player while short-handed. Prust also tied for the NHL lead with 20 major penalties and delivered 156 hits- only Emelin (236) and Cole (186) had more hits than him with the Habs – so he will bring a physical dimension that was lacking this past season in Montreal.
Below you will find a potential depth chart for the upcoming 2012-13 season, excluding Scott Gomez who will most likely be demoted, bought out or traded.
Forwards:
Max Pacioretty-David Desharnais-Erik Cole
Rene Bourque-Tomas Plekanec-Brian Gionta
Travis Moen-Lars Eller-Colby Armstrong
Brandon Prust-Petteri Nokelainen-Ryan White
Mike Blunden
Defensemen:
Andrei Markov-Alexei Emelin
Josh Gorges-PK Subban
Tomas Kaberle-Raphael Diaz
Francis Bouillon-Yannick Weber
Goalies
Carey Price
Peter Budaj
The above line-up is not final as the logjam on defense will most likely be settled via transaction and prospects such as Alex Galchenyuk, Brendan Gallagher and Louis Leblanc could very well crack the team's roster come training camp. The management could also decide to keep Scott Gomez around instead of finding him a new place to play…
The Canadiens, who currently have 22 players on their roster, excluding restricted free agents like PK Subban and Lars Eller, have $61,922,976 worth of contracts and have a little more than $8 million to spare before the season begins in October.
Expect more movements of personnel in the upcoming days or weeks, as Bergevin will most likely try to trade quantity for quality in order to find the top-6 forward he's looking for to improve his team and lift it to the next level.
Follow me on Twitter for more updates on the Canadiens and hockey in general.