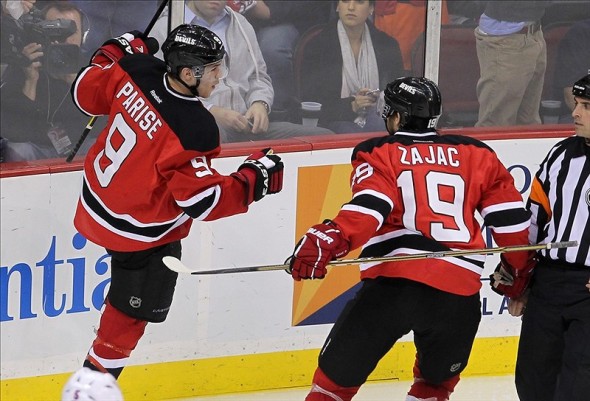 Fans, media, and General Managers are growing impatient as the Zach Parise sweepstakes enter Day 3.
According to Michael Russo of the Star-Tribune, Parise arrived in Minnesota on Tuesday afternoon and plans to discuss his free agent future with family members:
Parise, 27, said he would return to his home in Orono and talk with family, which will likely include his father, former North Stars player and assistant coach J.P. Parise, and his mother, Donna.

But in the end, he said, "It's a decision my fiancée and I will make together and that plays a lot into it. We just want to go somewhere that we know we're going to be happy."

As hard as it is to imagine since his agent, Don Meehan, said a decision could come later in the day Tuesday, Parise says that decision-making hasn't started.

"We haven't made a timetable or wanted to make a timetable," Parise said. "I don't want to put those types of restrictions on anything. You have to do the right research and it's a life-changing decision."
According to reports, teams still in the running for Parise include Minnesota, Pittsburgh, Chicago, Detroit, as well as his former team the New Jersey Devils.
The Devils re-signed unrestricted free agent defenseman Bryce Salvador on Tuesday to a three-year, $9.5 million deal despite the financial issues the team has been facing in recent months.  New Jersey General Manager Lou Lamoriello also convinced future Hall of Famer Martin Brodeur to return to the Devils with a two-year deal on Monday.
New Jersey's financial storm has been brewing for years but the team is entering a critical juncture in the process, according to various reports.
NHL commissioner Gary Bettman said last month during his State of the League address that he feels the process is on track to come to a satisfactory conclusion, but a few weeks ago the New York Post pointed out that the league was ready to step in if ownership can't follow through:
When the team made it to Stanley Cup finals this spring, the team's lenders agreed to extend the deadline for when they could put the team in default from early July to August, sources said.

Asked about the Devils before Game 1 of the finals last month, Bettman said Vanderbeek "is working to both refinance the debt on the club and equity-raise, and he appears to be fairly confident that he can pull this off in the next few weeks."

Bettman added, "Since I've been in touch with the banks on a regular basis, we seem to be on track."

The commissioner is expected to give Vanderbeek a few more weeks to complete a financial restructuring but will not wait until the Aug. 14 deadline passes, sources said.

The NHL would likely force him out sooner to give suitors enough time to study the team's financials and make an offer to lenders before the bankruptcy deadline, according to sources.
If the Post's report is accurate, the Devils and Vanderbeek could be running out of time to find a solution.
Parise has stated on multiple occasions that he prefers to stay in New Jersey, but the financial uncertainties are likely limiting the options of ownership and GM Lamoriello at this point.
This is purely speculation, but as the process drags on, is it possible the Devils could be asking Parise to stall his decision in an attempt to secure a last-minute resolution to the debt concerns?
The free agent market has come to a screeching halt around the league as teams and player representatives wait for the Parise situation to play itself out.
No team involved in the Parise sweepstakes has anything to lose by waiting for a decision.  Teams that lose out on Parise will eventually shift their attention to Ryan Suter, Rick Nash, Bobby Ryan, and a number of other backup plans which could make for an interesting Week 2 of the Free Agent frenzy.
___________________________________________