Following Arbitrator Bloch's decision to uphold the NHL's rejection of Ilya Kovalchuk's 17-year, $102m contract, many NHL fans assumed General Manager Lou Lamoriello and the New Jersey Devils would be quick to counter with a revised deal under more Bettman-friendly terms.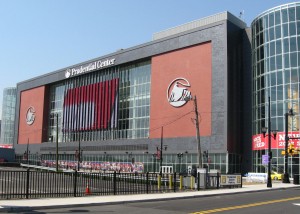 Trim a few years and raise the final years to $1m.
Ideas from the outside were aplenty, but the parties involved have yet to make a sound for over a week.  This should be no surprise coming from an organization that's notorious for playing it's cards close to the vest, but an old Emily Dickenson quote reminds us that "Saying nothing…sometimes says the most."
The Big Day
It wasn't always like this.  On July 20 everyone had plenty to say.
Despite already knowing the Kovalchuk deal had been rejected by the league, Lamoriello, Kovalchuk, owner Jeffrey Vanderbeek, and new coach John MacLean spoke their minds freely at a press conference to announce the re-signing. Lamoriello answered questions and curiously passed the contract off as ownership's brainchild:
"This is a commitment ownership wanted to make to this type of player. All I can do is say whether the player is a player that can fit into the team, help the team and was not a risk as a player. As far as what the financial commitment is, that was out of my hands."
Owner Jeffrey Vanderbeek openly rejected that notion and claimed the mega-deal was a team effort:
"No, this is not my signing," Vanderbeek said. "It was a combination of the whole organization. Certainly Lou did a lot of the heavy lifting. My partner, Mike Gilfillan, was very supportive and helpful. This is never just about one person.

"We did what we could to put our best foot forward. You make a decision and you don't look back."
In the wild aftermath of this situation, we're forced to look back and wonder how two respectable men could possibly have such drastically different ideas about how a $102m contract came about.
The Clash
Lou Lamoriello was inducted into the Hockey Hall of Fame last season and Adam Proteau of the Hockey News recently said "Lamoriello lives by nobody's rules but his own and has three Stanley Cup rings to underscore their legitimacy."
When Lou was hired as Team President by John McMullen in 1987, this was certainly the case.  Lamoriello made himself General Manager and has rarely been tested throughout much of his reign.  He's always had the last say — be it through free agent negotiations or simply taking over the head coaching job days before the playoffs.  Lamoriello builds teams the right way – his way.
But we're also constantly reminded that hockey is a business.  Jeffrey Vanderbeek, a former Executive Vice President at Lehman Brothers, knows how to make money.  He puts his best foot forward, makes decisions, and he doesn't look back.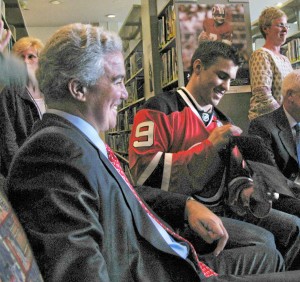 When he bought the team in 2004, the organization was reportedly $70m in debt despite continual success on the ice.  He made a strong push to relocate the Devils to a state-of-the-art arena in downtown Newark with the hopes of curing their attendance woes.
After months and years of political volleying, plans for the Prudential Center finally came to fruition.  Newark would pitch in $220m towards the building of a new arena and the team would pay rent and a percentage of revenues back as a tenant.
It's probably fair to assume that Vanderbeek's group needed additional help to make this a reality as Forbes now has the team at $250m in franchise and arena debt. [THW was unable to acquire details behind this number]  In fact, the Devils rank first at 112% on Forbes' list of highest Debt/Value % teams in the NHL.  (By comparison, Phoenix is second at 101% and Dallas is third at 81%)
The impact of over-leveraging can be beneficial in good times but devastating in bad times, as Vanderbeek knows well.
His former firm Lehman Brothers declared bankruptcy in the midst of the recession after suffering massive losses due to the subprime mortgage crises.  Vanderbeek insisted the Devils would not be affected by Lehman's demise, but that doesn't mean his wallet remained intact.  How far he was financially invested in the firm remains uncertain, but he filed a $61.1m claim against Lehman as an unsecured creditor arguing he was owed the money under a 2004 separation agreement.
But Vanderbeek had a vision.
He saw a way to revitalize a devastated downtown Newark and always felt "the Devils need a new arena that can provide a game-day experience that is certainly equal to the best team in the National Hockey League and certainly equal to the product that is put on the ice."
Did it work?
The Devils have made the playoffs every year since the lockout, but attendance has only risen from 'bad' to 'disappointing' since the opening of the arena in 2007 (2006-07 #28; 2007-08 #20; 2008-09 #19; 2009-10 #21) [Edit: Figures are based on % arena capacity].  Arguments can and have been made questioning the safety and transportation issues of Newark, but it starts and ends with the product on the ice.
No team has been more successful on the ice than the Devils over the past decade and a half, but "[Larry] Robinson, an NHL Hall of Fame defenseman, won a Stanley Cup as Devils' coach in 2000 employing a tight-checking defensive style which is not conducive to the new NHL "more goals = more viewers" philosophy."
Vanderbeek hinted at as much just a few weeks ago:
"Lou is all about giving the organization the best chance to succeed. To win. He also knows, like I do, [Kovalchuk] is the best chance to put a lot of people in the seats to grow revenue."
Enter Ilya Kovalchuk stage left.
Since the lockout, the dynamic Russian winger has tallied 230 goals in 393 games and no player has scored more since 2001.  With most teams locking up their stars long-term, opportunities to acquire a pure goal scorer of his caliber are few, far between, and sometimes nonexistent for a franchise.  At March's trade deadline, the Devils saw a chance to land a player they may never be able to again.  A player with the ability to put fans in the seats and pull fans out of them, all in one evening at 'The Rock'.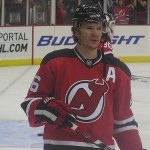 He didn't come cheap.  A minor-league system ranked #26 of 30 by HockeysFuture.com could ill afford to lose a 28-year-old proven defenseman, two prospects, and a first round pick for a short-term rental.  A quick look at their 'seasoned' roster leaning heavily on Patrik Elias, Brian Rolston, Jason Arnott, Jamie Langenbrunner, and Martin Brodeur doesn't scream long-term success.  Whether they realized it or not, the Kovalchuk trade was going all-in on the core in place before the window slammed shut.
Five playoff games.
That's all they got last year.  It couldn't have gone worse for all parties involved.  Questions remained about whether a team could be built successfully around an offensively-minded player like Kovalchuk; Lamoriello sacrificed valuable assets and had one lousy playoff win to show for it; and Vanderbeek can't/won't wait for a rebuild.
It became evident that Kovalchuk had to stay this summer, but how do you put a price on a player who can't be compared to any free agent in recent history?
The former Thrasher turned down a $101m offer from Atlanta to stay with the team – that's probably a good starting point.
The League
In today's salary-capped NHL, Lamoriello knows he can't pay Kovalchuk the $10m or more annually he feels he deserves and still field a playoff-caliber team over the next five years.  Most savvy General Manager's feel the same, and some have resorted to signing stars to carefully constructed long-term deals that pay big money upfront.
Common sense tells us these contracts have the effect of circumventing the salary cap, but Lamoriello has watched for years as GM's parade into the NHL central registry office with these lucrative contracts in hand.  With no so much as a slap on the wrist from Commissioner Bettman, I've wondered from the beginning whether Lamoriello had simply seen enough.
Kevin Sellathamby at In Lou We Trust echoed the same sentiments the other day:
What if Lou intentionally signed the deal knowing it would get rejected? Lou was against these deals, so what better way to get rid of them by pushing the envelope too far? There wasn't alot of risk involved with the deal; had Kovalchuk's contract been approved by the NHL, the Devils would've secured the services of one of the league's top goal scorers with a decent cap hit. If the deal was rejected, it will be one of the few, if not the only blemish on the Hall of Famer's record. However the deal was rejected as we all know, but the rejection of Kovalchuk's contract is leading to the NHL looking into other lifetime contracts, as well as other steps forward for the league in writing the next CBA, which will have less loopholes regarding contracts and term.  That and the Devils can still sign Kovalchuk, although to a much less controversial contract.
Many feel the Devils will end up with Kovalchuk in the end, but I'm not so sure.  Vanderbeek surely wants the player for the reasons outlined above, but how far will Lamoriello be pushed when it comes to investing close to 20% of his payroll in a single player?
Before signing with New Jersey, a number of teams reportedly expressed an interest in signing Kovalchuk to a one-year deal at the NHL maximum salary of $11.88m.  Colorado, St. Louis, and Los Angeles all have the ability to still make that happen and may be on the phone right now.
The Arena and the City of Newark
Oftentimes when a team has their financial backs against the wall, there are only a few ways to avoid selling the team or declaring bankruptcy.  An owner can dig into his pocket as Jerry Moyes did to the tune of $40m a year in Phoenix; but with the Vanderbeek group's financial stability unknown, focus shifts to the second option which is underway in Columbus.  THW's Jeff Little has detailed the Blue Jackets dilemma in his 'Arena Chronicles' and concluded "economic realities dictate some degree of public participation in Arena development and operation."
This is a viable option when taxes or other city and state revenue streams can be diverted into arena funding as Pittsburgh was able to do, but in Newark this isn't a possibility.  This is a city attempting to bridge a $150m budget deficit by cutting "everything from toilet paper to printer paper."
In fact, Newark isn't even sure they want to hang onto the portion of the Prudential Center they currently own [via Greg Wyshynski at Puck Daddy]:
Councilor Ronald Rice said in a June letter to members of the Municipal Budget Committee that the idea [to sell the arena] is a "radical" one that could save money while bringing in an upfront payment of as much as $80 million.

Luis Quintana, a former vice president of the council who has served on the nine-member body since 1994, said today in a telephone interview that a sale of the 18,000-seat facility might bring $200 million. The arena doesn't pay taxes or water fees, and transferring it to private ownership would allow Newark to collect both, he said.
Mayor Corey Booker has disputed this idea, but Newark won't be lending a hand if or when the Devils begin to stumble.  If the Devils can't find quick success on the ice and increase revenues, something will have to give and Vanderbeek might run out of options.
All things considered, saying nothing really does still say a lot.
In the end, it might just come down to a General Manager who wants to win the right way, against an owner that wants to win right now.  In Gary Bettman's NHL, is there still room for both in New Jersey?
I'm not so sure.