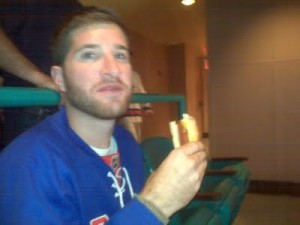 My name is Cory Twibell and I am the author of a blog called The Ranger Rover, which started out as a college project and has grown to have a decent following over the years (I had 96 hits last week and two were from Sweden…ispo facto…Lundqvist definitely reads it). I'm a newspaper editor and journalist by day and a disgrace to the game of golf by mid-afternoon.
While the Blueshirts had a relatively quiet off-season compared to previous summer blogbusters, they managed to make headlines in late June with the selection of Dylan McIlrath at the 10th spot in the 2010 NHL Entry Draft. Although Pierre McGuire bashed the pick, NHL Director of Central Scouting E.J. McGuire (no relation, clearly) thought otherwise:
"Big and mean, old-time typical NHL defenseman. He scares people not only with some frequent fights he might get in, but with 6-4, 212 lbs. straight ahead speed and offensive ability to match. Often, and in a very complimentary sense, makes puck carriers cut to the other side of the ice with his intimidating size."
Clearly not the expected pick at that particular spot, it's a smart choice because fan expectations aren't particularly high and there is not much pressure on McIlrath to make the team in his draft year. He addresses a glaring vacancy on the Rangers otherwise docile blueline, and in Gordie Clark's defense (who has done a pretty decent job of late), McIlrath had interviewed with Dallas and Anaheim before the draft — the teams who drafted 11th and 12th after the Rangers, respectively. And who's to say that Cam Fowler isn't the next Bobby Sanguinetti?
Plus, McIlrath likes Entourage, Mario Kart 64, Tom Hanks and shooting low blocker. Four pretty good things. I bet Cam Fowler likes True Blood, Mario Paint, Nicholas Cage and hitting the post.
The Rangers didn't downgrade once free agency began, so there isn't any reason to think they'll be significantly better or worse this season. With decent decent contributions from Alex Frolov and Mats Zuccarello-Aasen, the offense might be able to get over the hump of 16th best offense in the league. Both are shootout and power-play specialists, areas in which the Rangers didn't exactly turn heads during the 2009-2010 season.
Pending a Redden redemption and contributions from a few new faces (read: young faces) on the roster, the team — with a little consistency — can make a run at the sixth to eighth spot, reminiscent to every other April in recent years.
Surf on back for fantasy hockey previews, Ray Emery boxing tips, Sidney Crosby interview pointers, Duncan Keith teeth maintenance ideas and Olli Jokinen shoot-out tutorials.
Too soon?
Cory Twibell, a Towson University graduate and newspaper editor from Long Island.