By Andrew Hirsh
On April 12, 2007, the Atlanta Thrashers skated in their first ever postseason contest. The building was sold out, as over 18,000 Georgia residents packed the stands of Philips Arena, most sporting light blue attire. While that event took place more than five and a half years ago, I remember it like it was yesterday.
Unfortunately, the Thrashers lost that night: falling 4-3 to the New York Rangers in one of the most excruciating games in team history. Hell, every game from that series was excruciating in one way or another.
The Thrashers proceeded to lose the next three in a row, and just like that their season was over. Seven rays after the playoffs began, they exited without a single victory—scoring only six goals and surrendering 15. To this day, I have yet to watch any highlights from that week. I probably never will.
Being a native of the Peach State and a passionate Thrashers fan, it was difficult to see my team get knocked out in such embarrassing fashion. After all, I had waited since 1999 to watch them get that far, yet they couldn't get just one win against the Blueshirts.
But despite the disappointment, I wasn't upset. Not with so much to look forward to.
* * *
Having won the Southeast Division that season, the Thrashers were finally on the path to success. It wouldn't be long, it seemed, before they established themselves as one of the most talented teams in the Eastern Conference; and maybe, just maybe, they could win the Stanley Cup one day—a feat I had imagined in my head on so many occasions.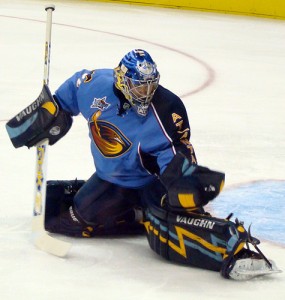 At the time, there were many reasons to believe a championship was possible in the coming years. Kari Lehtonen looked like a franchise goaltender in the making. Ilya Kovalchuk and Marian Hossa brought the star power, and guys like Slava Kozlov, Niclas Havelid, Garnet Exelby, and Bobby Holik provided the depth necessary to build a winner. Bob Hartley, who had won a Cup coaching the the Colorado Avalanche, appeared to be the right man to lead the way from behind the bench.
Perhaps most importantly, fan support was on the rise. Atlanta's average attendance was 16,240 that season—better than Boston, Chicago, Washington and New Jersey, among others. Had the Thrashers continued their winning ways, they would have surely been able to sell enough tickets, merchandise, etc. to stay afloat.
But as we all know, that was not the case.
The 2007 playoffs turned out to be the beginning of the end for NHL hockey in Atlanta. Lehtonen couldn't stay healthy and was eventually traded; Kovalchuk and Hossa were also dealt, both leaving in exchange for underwhelming returns. Payroll shrunk year after year, and attendance followed suit. Four straight losing seasons later, and the team was sold to Canadian businessmen and moved to Winnipeg.
* * *
Having followed the Thrashers since their inception, losing them was one of the more painful experiences in my life. In fact, this is the first time I've been able to bring myself to write about them since they left. But what made this relocation truly heartbreaking, at least for me, was knowing how easily avoidable it was.
Many of you may not agree, but the Thrashers could have really thrived in Atlanta if they were given a fair shot. Yes, Winnipeg is a more profitable city for the league to have a team in, but that's not my point. I have no problem with them having a team; I just wish it didn't have to be mine.
My point is that there are only a couple of markets that could have remained profitable through failures as significant as Atlanta's. The Thrashers made the playoffs just once in 12 years, and that lone appearance was the only time they won more than half their games in a season. Unless you hail from Montreal, Toronto or New York, your team's city would be a heap of trouble under those circumstances.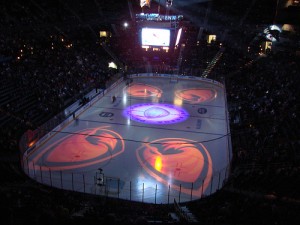 The Thrashers' worst attendance came in their final year, when they averaged 13,469 fans per game. To give you some perspective, both Chicago and Pittsburgh have produced worse figures than that since the turn of the century.
While there have been franchises to go survive worse financial stretches than the Thrashers did, they were able to do so thanks to committed ownership, support from the league, or both. Atlanta had neither.
The Atlanta Spirit, LLC, the group that owned the Thrashers from 2005-2011, bought the team because it was part of a packaged deal with the Atlanta Hawks (NBA) and the rights to Philips Arena. The men in charge of this limited liability company—namely Bruce Levenson and Michael Gearon Jr.—were mostly basketball people, and their priorities were transparent.
From 2007 onwards, the Spirit have spent enough on the Hawks to get them to five consecutive playoff berths and counting. Meanwhile, from 2007-2011, they spent right around the salary cap floor on the Thrashers—giving the hockey team a payroll too low to realistically compete.
When the monetary losses became too much for the Spirit to handle, they put their hockey team up for sale. Even though Gary Bettman had stated multiple times that the Thrashers wouldn't move anywhere—once right to my face—he did very little to help save the team from relocation.
After spending years fighting tooth and nail to keep the Coyotes in Arizona, the commissioner didn't make a single appearance in Georgia during the sale process.
* * *
Almost four years after being knocked out of the 2007 playoffs, the Thrashers played their final game in Georgia. Of course, they were handily beaten that night: losing to Pittsburgh by the score of 5-2. Roughly half the 16,085 in attendance left early—completely unaware that they would never see their team again.
Regardless of the poor result, I went to sleep that night very optimistic about the Thrashers moving forward—just as I did after their last game in 2007. They had built up a strong core, this time comprised of guys like Dustin Byfuglien, Tobias Enstrom, Andrew Ladd, Evander Kane, and Alex Burmistrov. With a productive summer, Atlanta could've put together a good enough roster to get into the playoffs the following year.
Once again, there was a lot to look forward to. Or so I thought.