Anticipation has been building all summer long for the start of the NHL season when Toronto Maple Leafs fans will get to see Auston Matthews finally step on the ice in a Leafs jersey. That is only a month away, but in the meantime, fans can enjoy watching Matthews in action at the 2016 World Cup of Hockey.
This will be Matthews' first foray into professional hockey at the NHL level and is an opportunity to prove he can play against the best in the world. Matthews will undoubtedly be a good player, but there is always some doubt when it comes to top draft picks not panning out and the Leafs need Matthews to become one of the best in the NHL.
The World Cup is Matthews' chance to show that not only can he compete with the NHL's best, but that he will be ready for the start of the NHL regular season.
NHL Comparisons
The first thing people look at when it comes to evaluating how a player will develop is NHL comparisons. Since Matthews came up through the U.S. National Development Program it means that he could be closely compared to Patrick Kane.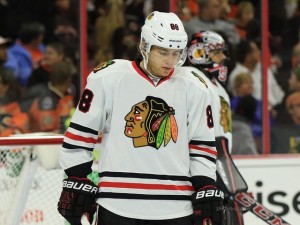 Now, both players have completely different playing styles and play different positions. The reason why they can be compared is that they both went through the same program and were both highly touted during that time and when they were drafted. So it can give an idea of what to expect from Matthews in his rookie year.
According to the U.S. National Development Program; Matthews had accumulated 167 points over the 2013-15 seasons and Kane had a total of 172 points between the 2004-06 seasons. Kane had a fantastic rookie NHL season posting 72 points in 82 games and was an instant difference maker for the Chicago Blackhawks.
Two other comparisons would be Phil Kessel and Jack Eichel, both of whom also went through the U.S. National Development Program. Kessel's first two NHL seasons were less than expected for a player of his caliber with 29 points in 70 games during the 2006-07 season with the Boston Bruins and then 37 points in 82 games during the 2007-08 season. It wasn't until the 2008-09 season that Kessel finally began playing to his full potential finishing with 60 points in 70 games.
The comparisons to Jack Eichel have happened since it was learned that Matthews missed being in the 2015 NHL draft because of his birthdate by just two days.
If Matthews was two days older, he'd have been 2015 eligible, would've gone 3rd overall to ARI after McDavid/Eichel: https://t.co/pEW6xzABUN

— Bob McKenzie (@TSNBobMcKenzie) June 21, 2016
Eichel had a great rookie season finishing with 56 points in 81 games, and with the comparisons to the similarity in their play it makes sense that Matthews would be able to post similar or even better numbers than Eichel. Matthews looks ready to surpass Eichel's rookie season because of having an extra year which he spent playing for the Zurich Lions in the Swiss National League in which he finished with 46 points in 36 games.
Auston Matthews at the World Cup
It's one thing to dominate the game when you're playing at an under 18 level, but the real challenge is doing the same thing against adults. Matthews proved that he can play well against older players and a few ex-NHLers in the Swiss National League, but now the next step is to the NHL which is a higher level of hockey compared to the Swiss National League.
Just making the NHL at 18-years-old is an accomplishment on its own, but before Matthews can even make that transition he is playing in the World Cup of Hockey against only the best the NHL has to offer.
McLellan on Auston Matthews: "He's poised beyond his years. There's zero hesitation on my behalf or coaching staff to put him on the ice"

— Michael Traikos (@Michael_Traikos) September 12, 2016
Team North America, along with Matthews, has just played two exhibition games against Team Europe in which Matthews has played well. Below is a video of each of Matthews shifts in the second game against Team Europe on September 9th.
The tournament starts Saturday September 17th and Team North America plays their first game against Finland on the 18th. Matthews and Team North America have shown that they are a dynamically talented young team, but the real challenge for them will be playing against Russia and Sweden.
Playing against Russia and Sweden will be the real test for Matthews because of the amount of talent gathered on both teams compared to Team Europe. It's the test to see if Matthews can continue his level of play against two of the best hockey teams in the world.
Matthews has to show that he can continue to be an impactful player while playing against the best players in the world. Not just to show that he will be a good player for the Leafs, but that he can and will be one of the best players in the NHL. Whether that happens this year or in five years is up to Matthews, but it needs to happen because that is the player the Leafs desperately need.