The Detroit Red Wings are sending seven players to compete in the eight-team 2016 World Cup of Hockey in Toronto. The series "Wings at the World Cup" will feature each of those players and the impact they will have on their respective teams as well as will chronicle that player's history of international play.
Frans Nielsen, Tomas Tatar, and Thomas Vanek will be a trio of Wings representing Team Europe at the World Cup in September. While they're not directly representing their native countries, each of these European players has a decorated history of international play.
Frans Nielsen
Consisting of players from eight different countries — Austria, Denmark, France, Germany, Norway, Slovakia, Slovenia, and Switzerland — chemistry is an obvious concern for Team Europe. So with a colored background in international play, Nielsen will be looked to for leadership and cohesion.
Following one of his most productive NHL seasons in 2015-16, Nielsen is sure to be a key component in Team Europe's offense. He will have to produce — as he has in past international tournaments — if the Europeans are to have success in the tournament.
International History
Denmark hasn't exactly been a hotbed for elite hockey players.
Frans Nielsen was actually the first Danish hockey player to be drafted and play in the NHL. So, Nielsen hasn't exactly had much success with Denmark's national team. However, he has seen a ton of international action and had quite a bit of individual success, even if the team itself struggled to compete in tournaments.
Nielsen has played in 44 World Championship games, totaling eight goals and 20 points with an unfortunate negative-21 rating. In seven World Championships, Nielsen's Danish team made it out of pool play just once (2010), only to be eliminated in the first round by Sweden.
This hybrid Team Europe, consisting of players from multiple countries, is an intriguing squad and Nielsen could prove to be an integral part of its offensive production and power play units. With his extensive experience at the international level, Nielsen has served in a variety of roles against some talented opponents. He should continue to be an important piece for Team Europe in the World Cup.
Tomas Tatar
At just 25-years-old, Tatar has been quite active in international play while representing his native country of Slovakia. From the World Junior Championships, IIHF World Championships, and Olympics, Tatar has played at a high level for much of his early career.
He's young, he's talented, and he has experience at the international level and should join forwards like Marian Gaborik, Marian Hossa and Anze Kopitar as the team's primary source of offense.
International History
Tatar has represented Slovakia at the World Junior Championships in 2009 and 2010, competed in the I.I.H.F. World Championships on four separate occasions and played at the 2014 Olympics in Sochi, Russia.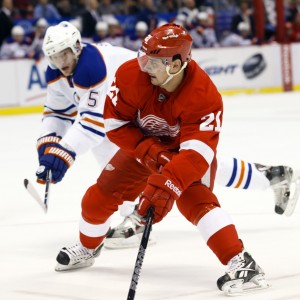 In 2012, Tatar played an integral role in Slovakia's road to a silver medal. Just 21-years-old at the time, he recorded two goals and five points in 10 games, including a crucial assist on the team's game-tying goal in the quarterfinal game against Canada.
Tatar would improve upon those numbers in 2014, finishing as the second-highest scorer for Slovakia producing four goals and eight points in seven games. While the team's ninth place finish was nothing to boast about, it provided experience for Tatar at being "the guy" and carrying a team offensively.
With a far stronger supporting cast at the World Cup, Tatar should have plenty of opportunities to produce. Whether he gets paired up with international superstars like Hossa and Kopitar, or with his teammates in Neilsen and Vanek, Tatar will be at the forefront of Team Europe's offensive attack.
Thomas Vanek
Vanek is one of the elder statesmen of Team Europe at 32-years-old. The lone representative from the country of Austria, Vanek provides scoring depth and immense skill to a veteran-heavy team.
Scoring 41 points in 74 games during the 2015-16 NHL season was Vanek's lowest output since the lockout-shortened season of 2012-13. Looking for a resurgence of his career in Detroit, a strong showing at the World Cup could propel Vanek into a productive 2016-17 campaign.
He has the talent, experience, and ability, but motivation will be what he has to prove.
International Play
Vanek hasn't competed internationally since the 2014 Olympic games where he recorded just one assist in four games with Austria. However, that is far from his overall body of work.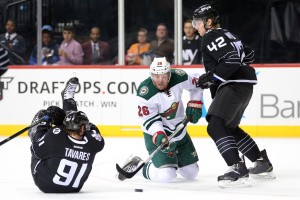 He has competed in the World Championships on four separate occasions, most impressively a five-goal, 10-point performance in five games in 2008. Vanek also recorded double-digit points in back-to-back World Junior Championships in 2002 and 2003, scoring 11 points in five games and 13 points in five games respectively.
Vanek has the talent and ability to be a top-six forward for Team Europe. However, he could settle in for a third- or fourth-line role, which would be similar to the role he'll play for the Wings this season. The World Cup will serve as a good opportunity for Vanek to play a pivotal role as a depth forward; a role he should fill in the lineup when returning to Detroit.
---
The Hockey Writers coverage of the World Cup of Hockey 2016 is being brought to you by PrimeSport, the official Fan Travel & Hospitality Package Partner of the World Cup of Hockey 2016.