The 2020-21 NHL season is just over a week old and there have already been moments worth celebrating for the Colorado Avalanche after three games. There was the 8-0 blowout of the St. Louis Blues, newcomers Brandon Saad and Devon Toews scored their first goals in burgundy and blue, and goaltender Philipp Grubauer has already recorded a shutout. 
There have also been players hitting personal milestones in their career this season after the first week of games played, with others closing in on career milestones or hoping to rise through the ranks in the franchise record books.
Gabriel Landeskog
Gabriel Landeskog has been the captain of the Avalanche since 2012 when the Swedish forward was just 19 years old. More than eight years later, the captain is up to 200 goals in his career with Colorado, hitting the double century mark in last Friday's rout of the Blues.
Landeskog's 200 goals ranks second in his 2011 NHL Entry Draft class, behind only Tampa Bay Lightning winger Nikita Kucherov and seventh in the Avalanche records book. Another 17 goals would put Landeskog in a tie for sixth with fellow Swede Peter Forsberg, who found the back of the net 217 times during his time in Denver.
Goals aren't the only statistic that's helping Landeskog move up in the Avs' record book, as the captain has 263 career assists, giving him 463 points for his career entering Thursday's game against Los Angeles and placing him in 10th in franchise history — just one point behind Dale Hunter and 25 points behind Alex Tanguay, who sit in ninth and eighth place, respectively.
Mikko Rantanen
Landeskog's 200th goal wasn't the only milestone mark that happened during the Avs' 8-0 win over St. Louis. Winger Mikko Rantanen scored a big goal by his own career statistics, potting his 100th career goal the same night his captain hit 200.
Rantanen became the fifth player from his draft class to reach 100 career goals. The Finnish forward was drafted back in 2015 — a draft class that includes Edmonton Oilers' Connor McDavid, Buffalo Sabres' Jack Eichel, Carolina Hurricanes' Sebastian Aho, and Kyle Connor of the Winnipeg Jets, who rank first-through-fourth in goals from the draft class. After Tuesday night's 3-2 win over the Kings in which Rantanen was credited with the game-winning goal, he sits at 101 goals for his career.
Nathan MacKinnon
The top pick from the 2013 NHL Entry Draft continues his rise to superstardom as one of the top players across the league, and is now halfway to 1,000 points for his career.
Nathan MacKinnon recorded the 499th and 500th points of his career on Tuesday night in Los Angeles with two assists — the latter of the two being on Rantanen's game-winning goal. The Cole Harbour, NS, native became the first player from the 2013 draft class to reach 500 points and the fourth player to achieve this feat since the Avalanche arrived in Colorado before the 1995-96 NHL season.
Joe Sakic, Milan Hejduk and Peter Forsberg are the only other players to record at least 500 points in burgundy and blue, while only three others (Peter Stastny, Michal Goulet and Anton Stastny) have done so in Quebec Nordiques/Colorado Avalanche franchise history, leaving MacKinnon in seventh place in points.
MacKinnon's ascension among some of the greatest players in Avalanche history likely won't stop there this season as the 25-year-old center is just nine goals away from 200 for his career, 26 behind Forsberg's 217, 12 assists behind Alex Tanguay's 321 for his career and 13 behind Dale Hunter's 322, which ranks seventh in franchise history.
Who's Next?
While Landeskog, Rantanen and MacKinnon are three players already hitting major career accomplishments early on this season, they won't be the only ones to do so during the 53 games remaining in the shortened 2020-21 season.
Philipp Grubauer
Grubauer has six shutouts as a member of the Avalanche, a number that puts him in a tie for sixth in franchise history, three behind Peter Budaj for fourth place but 31 behind Hall of Famer Patrick Roy, who tops the list with 37.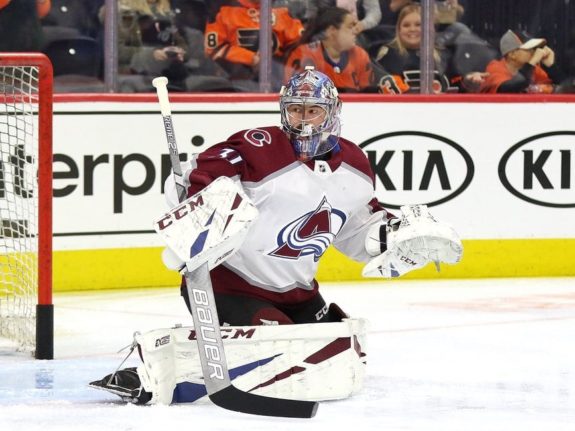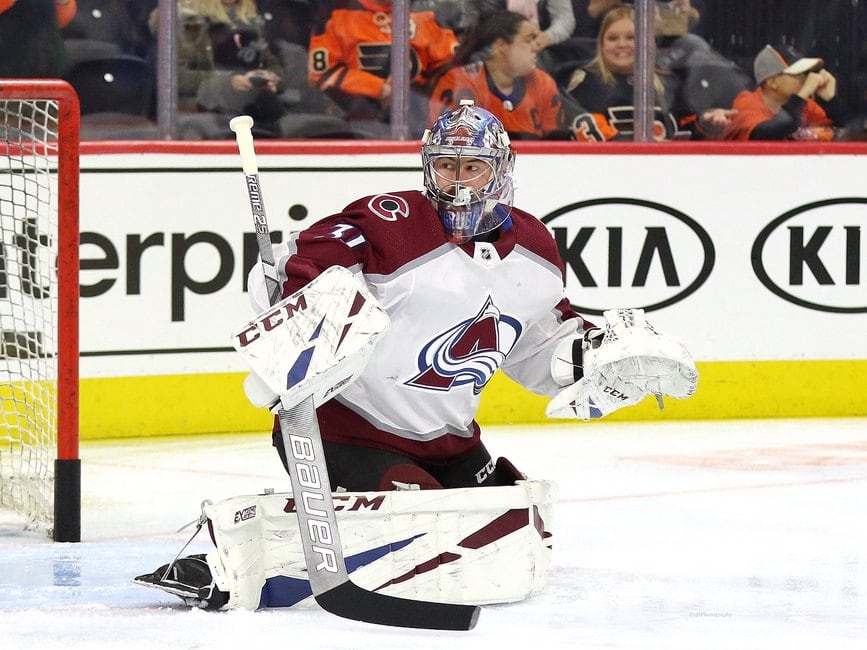 For his career, the 29-year-old German goaltender has 81 wins, 43 of which came with the Washington Capitals and another 38 happening over his two-plus seasons with Colorado. Nineteen victories between the pipes this season would bring Grubauer to 100 for his career, making him the third German goalie to do so in NHL history, after only Olaf Kolzig and Thomas Greiss.
Others Closing In
Also nearing career milestones are forward Andre Burakovsky, who needs 16 goals and seven points to reach 100 goals and 200 points, center Nazem Kadri, who is five points away from 400, forward Brandon Saad is 22 assists away from 200, while winger Joonas Donskoi is five assists away from 100. Winger Matt Calvert needs five goals to reach 100, and forwards J.T. Compher, Pierre-Edouard Bellemare and defenseman Samuel Girard should all be able to reach 100 career points before season's end.
---
---
My name is William Fitzpatrick but you can call me Billy. I have been covering the Colorado Avalanche for The Hockey Writers since Dec. 2020. I'm from Long Island, New York and recently earned my master's degree in journalism from Hofstra University. I have been around hockey for most of my life as a fan and as a player. I have covered the sport during my time at SUNY Oswego as well as interning with the National Women's Hockey League's Metropolitan Riveters. Currently I am working as a production assistant with MSG Networks where I work on feature segments with the New York Rangers.