The Colorado Avalanche were a regular-season powerhouse in 2019-20, finishing with 92 points, a 42-20-8 record and they tied the eventual Stanley Cup champions, the Tampa Bay Lightning, for the third-best record in the NHL. Unfortunately, doing well in the regular season doesn't mean you will hoist a trophy at the end of the playoffs.
The Avalanche overcame a 3-1 series deficit in the second round to force a Game 7 against the Dallas Stars. Luck wasn't on their side and they lost in a thrilling OT battle. The Stars were eventually bested by the Lightning in six games in the 2020 Stanley Cup Final.
This offseason, general manager Joe Sakic has done a great job of bolstering the roster by trading for forward, Brandon Saad and left-shot defenseman Devon Toews. He also re-signed Andre Burakovsky, Ryan Graves and Valeri Nichushkin. That being said, inconsistency between the pipes is where the team fell short last season. That's not to say that the starting tandem, as it stands, can't bring them to the playoffs because we've seen that they can. However, the Avalanche don't have an elite No. 1 goaltender who can take them to the Cup.
Inconsistent Goaltending
Philipp Grubauer the team's current starter played 36 regular-season games in 2019-20 and finished with a record of 18-14-4, a save percentage (SV%) of .916 with a 2.63 goals-against average (GAA). This was his first season as the starter as he played second fiddle to Semyon Varlamov the year prior. Before playing for the Avs, Grubauer played behind Braden Holtby in Washington.
This season with the Avs, he suffered a lower-body injury during the Stadium Series game against the Los Angeles Kings in mid-February that put him out of commission. However, before the injury, he was having a tough season, which is not good for a starting goaltender on a team with Cup aspirations. Coming back fully healthy could start Grubauer on the right foot.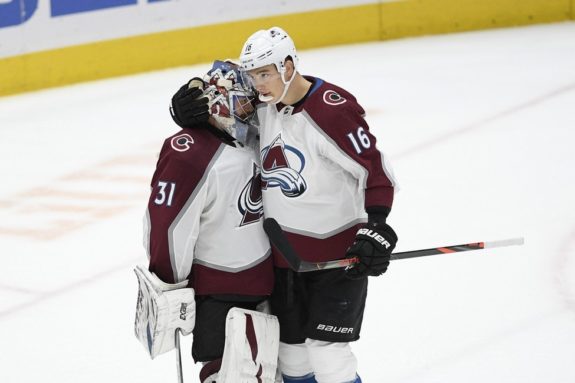 Grubauer's injury forced him to miss the rest of the regular season and backup Pavel Francouz stepped in. In Francouz's first full season in the NHL, he soared as a starter. Playing in 34 regular-season games, he earned a 21-7-4 record, a .923 SV% and a 2.41 GAA.
Postseason Goalie Shuffling
It was a similar story in the postseason when Grubauer started off healthy and rested but was again sidelined due to injury. He started seven games and finished with a 5-0-1 record, a .922 SV% and a 1.87 GAA. He suffered his second lower-body injury of 2020 in Game 2 of their second-round series against the Stars and was deemed out indefinitely. Francouz was again called into action.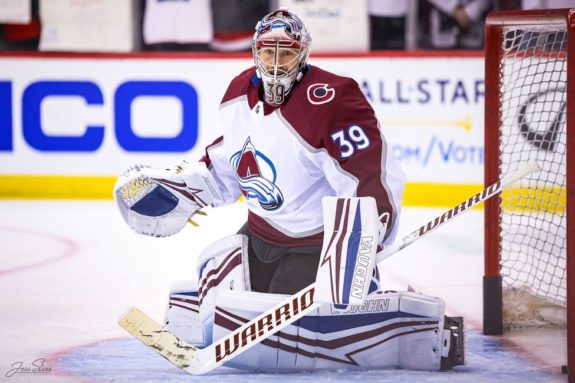 Francouz started six games in the postseason and finished with a 2-4-0 record, a .892 SV% and a 3.23 GAA, a far cry from his regular-season performance. He allowed 15 goals in four games and his save percentage dipped to .808 in Game 4 before he was pulled. He was replaced by Michael Hutchinson at 8:02 of the third period.
"They both had good years. Unfortunately, they both got injured at the wrong time," Sakic said. "But neither of those injuries you have to worry about. Train hard in the summer and make sure it doesn't happen again. You can't predict injuries, but no, they both had good stretches and we expect that next year."

Avalanche general manager Joe Sakic, via Mike Chambers (from 'Joe Sakic says Avalanche will stick with Philipp Grubauer, Pavel Francouz in goal, reveals latter was injured vs. Stars,' Denver Post, 09/10/2020)
Francouz's postseason performance is one that Avalanche fans didn't see coming with having a very promising regular-season. Before stepping in for Grubauer in the postseason, Francouz seemed to be in the right position to take the next step. What happened next was something that every hockey fan fears, a stoppage in play due to world events, in this case, the coronavirus.
The league was put on hold for four months, during which players and fans asked if/when the rest of the regular-season would be played out. Many players went home and weren't able to play or practise their craft during this time. Eventually, it was decided that 16 teams would participate in a play-in round while the division leaders would play a round-robin series for post-season positioning.
Players were ready to lace them up again but some struggled to find their form. So seemed to be the case with Francouz after he came back from an extended offseason to the backup position once more. Despite his background in the KHL, Francouz hasn't experienced enough competition at the North American level of or any fast-paced NHL post-season action up to that point, and it showed.
Potential Changes
It would have been nice if the Avalanche had improved their goaltending by signing unrestricted free agents Braden Holtby or Crawford during the offseason, netminders with playoff experience who know what it takes to win a Cup. However, with only $1.8 million in available cap space, head coach Jared Bednar has to do the best he can with the cards given to him.
It starts with routinely splitting regular-season games between Grubauer and Francouz. Grubauer should now be healthy and rested after the extended offseason. The regular alternation of the two should allow them to stay fresh and ready for action. Francouz had a breakout season, but his postseason performance left much to be desired.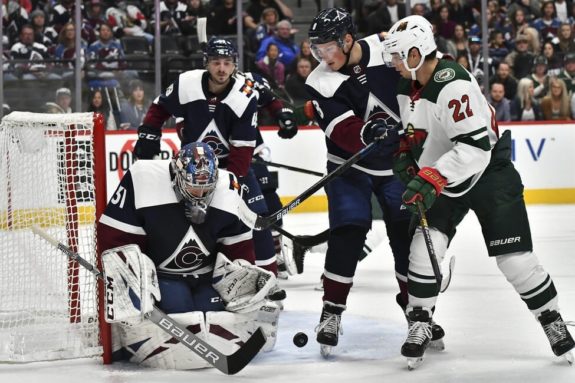 If Francouz plays a similar number of regular-season games as last season, this time against tougher competition, he will gain experience. Building his confidence so that he will be prepared if he finds himself starting in the postseason again, will be crucial to his success. If Grubauer isn't tasked with starting the majority of the season and returns to playing alongside another capable goaltender as he did in Washington, he can still be prepared for when the 2021 postseason rolls around.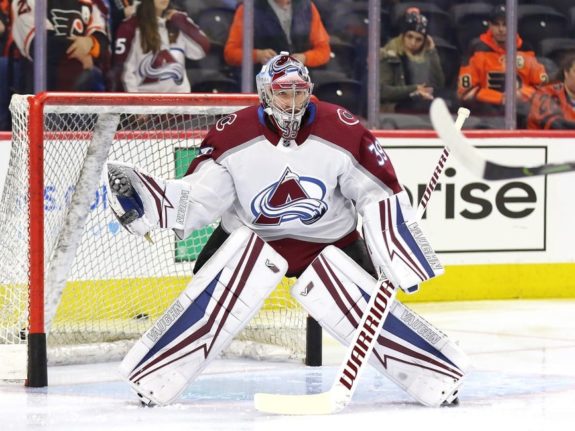 If Francouz can't repeat his regular-season magic, this could be the perfect time to call up prospect Justus Annunen. The Avalanche showed their faith in Annunen by offering him an entry-level contract in May. Francouz's contract expires in 2022 and Grubauer will be an unrestricted free agent after the 2020-21 season, so it may be the right time to bring their top goaltending prospect up to the big leagues, give him some starts and see what he's made of.
The Avalanche are set up to be playoff regulars for years to come. The only thing holding them back is the health and capability of their two main men between the pipes. The Avs can find more consistency in the net by playing Grubauer and Francouz in a 1A – 1B rotation.
If both netminders play a similar number of games, especially in a shortened 2020-21 season, neither will be played into the ground. If they both remain healthy the Avs could find their way to the Western Conference Championship and potentially the Stanley Cup Final.