As the World Juniors wrap up this week, hockey fans will only have eight more days to kill before the NHL season is officially underway. The Colorado Avalanche have four prospects representing them at the tournament while the current team began training camp on Sunday. In this article, we'll be focusing on the NHLers over the prospects.
The Avalanche are in a new-look West Division this year due to protocols and regulations surrounding the COVID-19 pandemic, and thus there will be an opportunity for some new rivals with the new divisions. They'll be saying goodbye to the Chicago Blackhawks, Minnesota Wild, Nashville Predators, Dallas Stars, and Winnipeg Jets, all of whom are in either the Central or North Division.
But with that, they'll be sharing a division with all of the California teams along with the Arizona Coyotes and the Vegas Golden Knights. It's going to be interesting to see how they shape up against their new division mates.
According to dailyfaceoff.com, the Avalanche are running some new-look lines right out of the gate at training camp. Even though it's still far too early to determine who will make the final roster and who will end up on the taxi squad, hockey fans are known for their love of speculation. Let's have a look at what head coach Jared Bednar has been rolling with through the first two days of training camp.
First Line
Mikko Rantanen – Nathan MacKinnon – Andre Burakovsky
Let's address the elephant in the room right off the bat. The electric top line of Nathan Mackinnon, Mikko Rantanen, and Gabriel Landeskog has been split. The Avalanche are deep up front, so in normal circumstances I'd say that this isn't that big of a deal. However, I would argue that this top line is one of the best in the league, contending with the Boston Bruins' line of Brad Marchand, Patrice Bergeron, and David Pastrnak.
Granted, I can see why Bednar is experimenting with this to start. The addition of Brandon Saad to the top six gives Colorado a chance to spread out their offense as well as maybe reward Burakovsky for his outstanding performance during the shortened 2019-20 season as well as the playoffs.
He finished last season with 45 points in 58 games, which blows his previous career high out of the water and also puts him at a near 70-point pace over a full 82 games. He also had 17 points in 15 playoff games, so a shot on the top line is well warranted in his case.
Second Line
Gabriel Landeskog – Nazem Kadri – Brandon Saad
It's looking like Nazem Kadri could have two new linemates to start the season. With Burakovsky's promotion to the top line and Joonas Donskoi likely assuming duties in the bottom six, Kadri could potentially start the 2020-21 season with Landeskog on one wing and Saad on the other. It was expected that Saad would slide into that second-line role with Kadri, but the addition of Landeskog gives the Avalanche an absolutely lethal second line.
Acquired in October along with Dennis Gilbert in exchange for Nikita Zadorov and Anton Lindholm, it was always common knowledge that Saad was going to slot into a second-line role for the Avs. Coming off a 33-point campaign through 58 games with the Blackhawks last season, Saad is good for 50 points give or take when healthy. Throw in Landeskog's leadership and Kadri's gritty offensive game and you have yourself a beautifully rounded out top six.
Third Line
Valeri Nichushkin – J.T. Compher – Joonas Donskoi
Spending most of last season on the second line with Kadri and Burakovsky, Donskoi could start this season on the third line with J.T. Compher and Valeri Nichushkin. Donskoi has been a 30-40 point guy ever since he broke into the NHL, and when you combine that with explosive speed and a solid defensive game, you have yourself an ideal third-line player.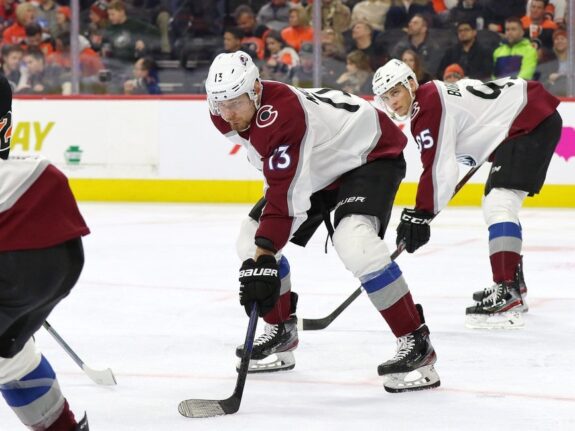 J.T. Compher is manning the third line up the middle and he's steadily become a staple on the Avalanche's third line in his three NHL seasons. He shined in last season's playoffs with eight points in 15 games and finished the season with 31 points through 67 games.
Meanwhile, Nichushkin is still waiting on his long-awaited breakout season in the NHL. Drafted 10th overall by the Dallas Stars in 2013, the 6-foot-4 Russian winger put up 34 points in 79 games in his rookie season, but hasn't had much to show for it since then. He finished last season with 27 points in 65 games, which is at the very least a step up from his zero-goal, 10 assist campaign in Dallas the year before.
Fourth Line
Tyson Jost – Pierre-Edouard Bellemare – Matt Calvert
To me, this line screams energetic and defensively sound. Matt Calvert is coming off of a 25-point campaign through 50 games, and those are numbers most coaches would take on their third lines. Pierre-Edouard Bellemare, on the other hand, is coming off of a career year offensively with 22 points in 69 games. It's safe to say he's going to assume the same role he had last year.
Tyson Jost, on the other hand, is the only part of this line that concerns me. The 10th-overall pick in 2016 hasn't been able to eclipse more than 26 points in a season over his three years in the league, and burying him in a fourth-line winger role can't be good for his development.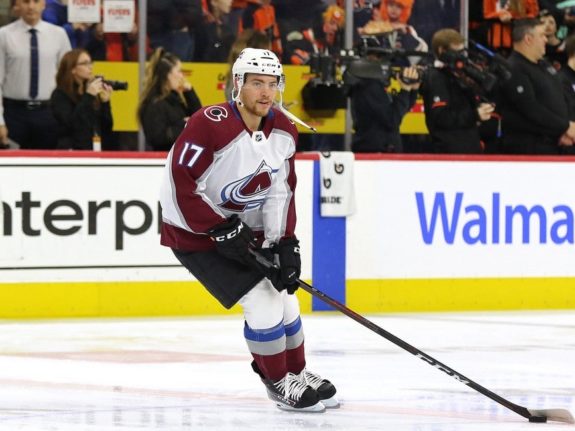 It also doesn't help that he plays a quick, skilled game, while Bellemare and Calvert aren't exactly wizards offensively. Jost will need to play his heart out on that fourth line and work his way up the lineup. Otherwise, I can't see him being in Colorado much longer.
D – First Pairing
Devon Toews – Cale Makar
Zero surprises here. You have offseason acquisition Devon Toews on the left side and Calder-winning phenom Cale Makar on the right side. Toews was acquired from the New York Islanders in an offseason deal that sent two second-round picks the other way. He's fresh off of a 28-point campaign through 68 games with the Isles last season, and he was easily their best left-handed defenseman.
In terms of Makar… if you even pay a 16th of your attention to the Avalanche, you don't need me to get you up to speed on what he's all about. Taking home Calder Trophy honours as the league's best rookie last season, he put up 50 points in 57 games and kicked that pace up in the playoffs with 15 points in 15 games. The fact that Makar did this at 21 years old is incredibly impressive and it's going to be exciting to see what he can do in his sophomore season.
D – Second Pairing
Samuel Girard – Erik Johnson
While all eyes were on Matt Duchene going to the Ottawa Senators, the Avs may have snuck away with the most underrated acquisition of this trade. This, of course, being Sam Girard. He's quietly developed into a reliable offensive defenseman for the Avalanche and finished last season with 34 points in 70 games. He also stepped up in the playoffs with 10 points in 15 games, good for second amongst Avalanche defensemen behind only Makar.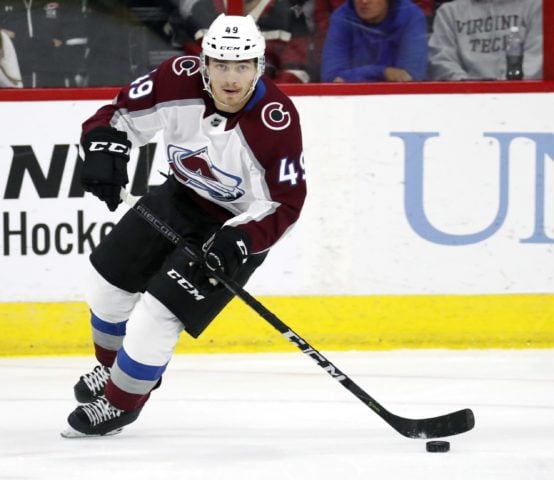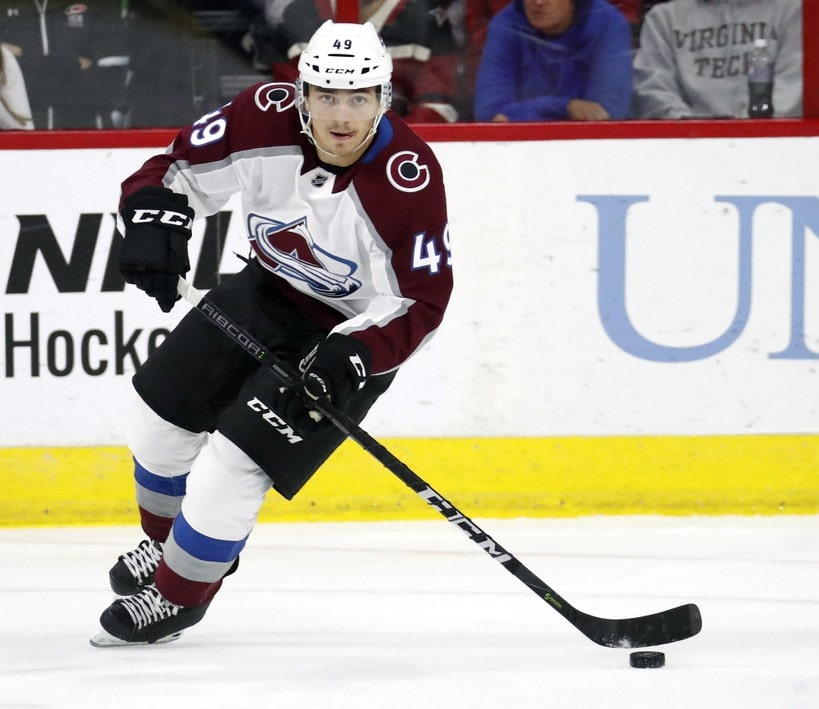 Meanwhile, Erik Johnson will man the right side of the pairing. He put up 16 points in 59 games last season, but offense isn't what he's paid for. I can see these two thriving really nicely with each other, as Girard's offensive game complements Johnson's stay-at-home defensive game.
D – Third Pairing
Ryan Graves – Ian Cole
With the four I just mentioned out of the way, that leaves Ryan Graves and Ian Cole as the bottom pairing duo for the Avs at training camp. Graves is coming off of his first full NHL season and impressed with 26 points in 69 games to go along with a steady defensive game.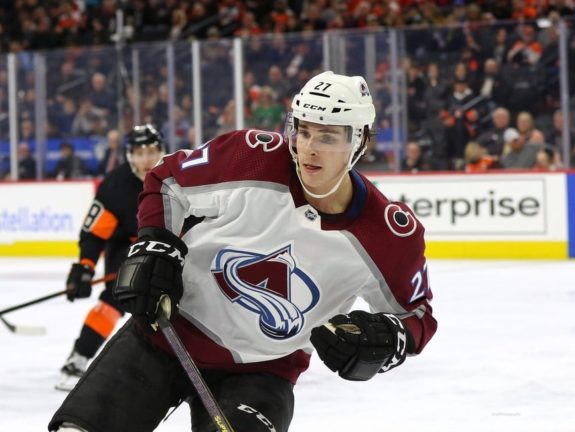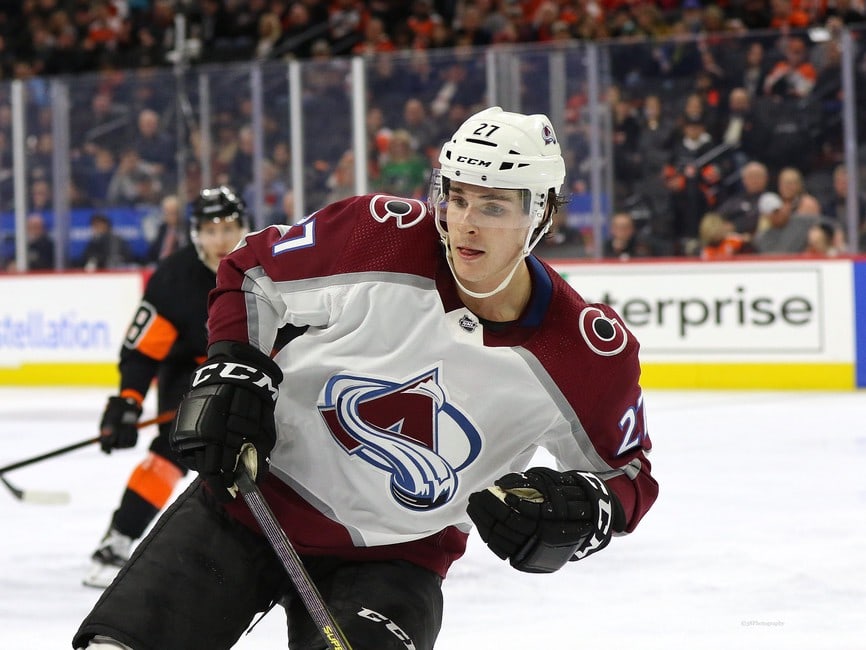 Meanwhile, veteran Ian Cole returns for his third and final season while he's under contract with the team. He finished last season with 26 points in 65 games. Just like he has been for just about every team he's played for, he won't be relied on for much more than a solid, steady game from the back end.
Overview
The Avalanche have one of the deepest teams in the league heading into the shortened 2020-21 NHL season. It's uncertain what the lines will look like over the next few days, however. Landeskog, Saad, Johnson, and Grubauer all missed day two of training camp after being deemed "unfit to play." Regardless, Bednar still has eight days to figure out what he wants his opening night lineup to look like when the Avalanche take on the St. Louis Blues to open the season next Wednesday.
---
---