To be fair, the 2014-15 NHL season is still relatively young.
Yet with seven games played thus far, the Colorado Avalanche have certainly served up more worry than inspiration. Currently holding onto a 1-4-2 record, good for four points, the Avalanche find themselves tied for last in the Central Division, while tied for 26th overall in the league.
Although the Avalanche had a somewhat difficult schedule to start the season; with two games against the Minnesota Wild, as well as games against the Boston Bruins, Toronto Maple Leafs and Montreal Canadiens, this is not where the issue lies for the Avalanche.
Shooting Blanks:
One of the major issues the Avalanche have endured thus far is a lack of consistent scoring from both their forwards and defenseman. With only 12 goals scored through the team's 7 games played, the Avalanche are averaging a mere 1.3 goals for per 60 minutes and 1.7 goals for per game.
Those expected to produce for the Avalanche, in particular star players such as Nathan MacKinnon, Matt Duchene, Ryan O'Reilly and Gabriel Landeskog have all struggled to contribute offensively. Duchene leads the pack with two goals and four points in seven games, hardly impressive, while O'Reilly has one goal and four points, Nathan MacKinnon has yet to score a goal, and team captain Gabriel Landeskog has registered two points, both goals, through the first seven games. New addition Jarome Iginla also has four points, all assists, as he too has failed to bulge the twine.
This lack of consistent scoring has also been experienced on the blue-line. Tyson Barrie has had a reasonable start, potting a goal and two assists thus far, yet all other defenders, especially those who are expected to contribute, simply haven't. Disregarding Barrie, all other Avalanche defenders have contributed a combined total of three assists in their 35 man games played. 3 points! Erik Johnson, Jan Hejda and Nick Holden, defenders expected to make offensive contributions, have one assist each through seven games. It goes without saying that Avalanche defenders need to seriously step up their offensive games, as when defenders are dangerous offensively, forwards tend to be the beneficiaries and the team begins to produce.
Disastrous Defending: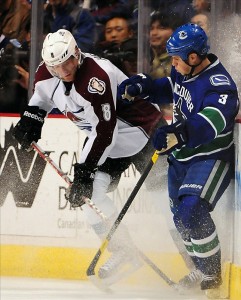 On top of the Avalanche failing to find their offensive prowess, Colorado's defensive game has also been extremely poor.
Through the Avalanche's first seven games, the team has allowed 24 goals against, 26th worst in the league, ahead of only the Buffalo Sabres, Philadelphia Flyers and Edmonton Oilers, respectively. As a result, Colorado is averaging 2.92 goals against per game per 60 minutes and 3.3 goals against per game, which when contrasted by their goals for per game, it is clear at an extremely basic level why the Avalanche have struggled so far this season.
On top of this, the Avalanche have witnessed a massive decline in their Corsi-For percentage (CF%), which illustrates the percentage of shots for, versus those against per game. In 2013-14 the Avalanche finished with a 47% CF%, the second lowest of all teams which made the Stanley Cup Playoffs. This season, Colorado's CF% has decreased significantly, down to a disastrous 42.9%, ahead of only the Calgary Flames and Buffalo Sabres. This means that the Avalanche are taking an average of 42.9% of all shot attempts in their games so far. Essentially, this translates into less offensive chances for, and a greater number of opponent shot attempts against, and a result, more scoring chances, and more goals against.
Injury Bug Strikes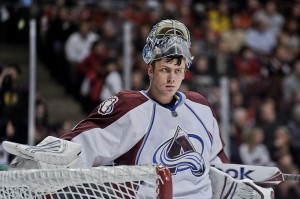 One aspect which obviously has not helped is the rash of injuries sustained by important Avalanche players.
Most notably has been with goalies. Semyon Varlamov was placed on the Inured Reserve a week ago today after sustaining a groin injury against the Toronto Maple Leafs. Although the injury is not considered to be serious, Varlamov, who led the league in wins this past season with 41, is extremely important to the success of the Avalanche. Varlamov is likely to start tomorrow's game against the Vancouver Canucks.
Further, Reto Berra was also injured this past week when he was run over in his crease. Although time on the IR was not necessary, he was forced to sit out a few games, which allowed Calvin Pickard to make his NHL debut. Berra, who has been solid in net so far this season with a 2.07 GAA and .932 Save Percentage in four games played, needs to stay healthy to give the Avalanche a chance to win in the in the future.
In other injury news, Ryan Wilson sustained a shoulder injury against the Florida Panthers, and is listed as day to day.
Remaining October Schedule:
Friday October 24th: VS Canucks – 7 PM
Sunday October 26th: At Jets – 1 PM
Tuesday October 28th: VS Sharks – 7 PM
Thursday October 30th: VS Islanders – 7 PM
Brett Slawson is a four-year veteran of The Hockey Writers who covers the Toronto Maple Leafs, NHL prospects, and the OHL's Mississauga Steelheads.
Contact Brett on Twitter @brettslawson92, or by email at brett_slawson@hotmail.com.