Toronto head coach Mike Babcock remains confident William Nylander and the Maple Leafs have a future together.
Whether or not that's actually the case will become clear before the team takes the ice Saturday night.
Babcock has repeatedly used the word "when" and not "if" — sometimes without prompting — while discussing the restricted free agent's potential return throughout a contract impasse that has dragged 26 games into the regular season.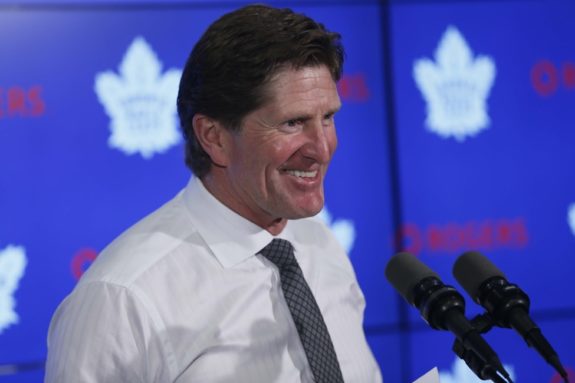 And with the clock continuing to tick towards Saturday's 5 p.m. ET deadline to get Nylander signed so he's eligible to play in the NHL in 2018-19, Babcock isn't changing his tune.
"There's lots of opinion out there," he said after Thursday's practice. "Let's not confuse opinion and facts. We think Willy's going to be here, and we think Willy's going to be here for a long time, and we think he's going to be a career Leaf."
"That's what we think. … That's what we believe."
There are three possibilities for the Leafs and Nylander, a slick forward capable of lining up at centre or on the wing, as the situation approaches its tipping point — the two sides agree on a new deal (either short- or long-term), Toronto trades his rights to another team or the nuclear option of the player sitting out the entire year.
Michael Peca was the last NHLer to do that as a restricted free agent when he couldn't come to terms with the Buffalo Sabres during the 2000-01 campaign, but there was no Dec. 1 deadline hanging over his head.
Peca was eventually dealt to the New York Islanders, and it would be hard to envision a scenario where Nylander sits that long and then signs a new deal with Toronto.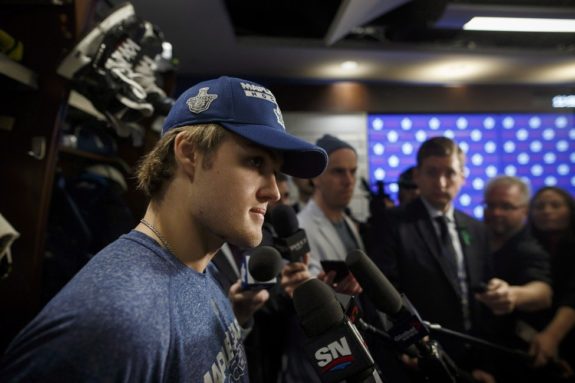 "I've talked to him a couple times," said Leafs centre Auston Matthews, whose team visits the Minnesota Wild on Saturday. "I can imagine what he's going through. You know he wants to be here, he wants to play hockey. That's the main thing."
RELATED: What's Nylander's Real Value?
There were reports earlier in negotiations that Nylander's camp was asking for $8 million per season on a long-term pact. Toronto general manager Kyle Dubas was believed to have countered with an offer of about $6 million annually, but the number now reportedly lies somewhere in the $6.9-million range.
The eighth overall pick in the 2014 draft, Nylander is coming off consecutive 61-point seasons and is the first of Toronto's young stars forwards — Matthews and Mitch Marner are the others — to hit restricted free agency.
The Leafs have done fine without two of their best players for much of 2018-19, sitting 18-8-0 and in a tie with the Buffalo Sabres atop the overall standings heading into Thursday's action.
Matthews scored twice and added an assist in his return to the lineup Wednesday in a 5-3 victory over the San Jose Sharks after missing 14 games with a shoulder injury, while Nylander has been at home in Sweden waiting on a new contract.
With one talented forward now back in the fold, adding yet another high-end offensive piece has the Leafs excited for a few reasons.
"All of us really hope (the Nylander situation) gets resolved so we don't get asked this every single day," Matthews said with a smile. "Everybody expects he'll be here very soon."
Nylander, who was born in Calgary when his father Michael played for the Flames, has 48 goals and 87 assists in 185 career games to go along with eight points (2-6) in 13 playoff outings.
After the Leafs lured centre John Tavares to Toronto with a seven-year, $77-million contract in free agency this summer, Babcock mused about a top line of Nylander, Matthews and veteran winger Patrick Marleau.
But Kasperi Kapanen, one of Nylander's good friends, occupied the right side on that unit for most of the early part of the schedule until Matthews suffered that shoulder injury on Oct. 27.
RELATED: All the Latest NHL Rumors
Kapanen has grabbed hold of his opportunity playing further up the lineup with 10 goals and eight assists, while fellow winger Andreas Johnsson has also benefited from Nylander's absence.
"We're not just three, four guys dangerous," Tavares said of the Leafs' depth. "We're really four-lines dangerous."
And Nylander will only add to that, if and when he signs.
"Everyone wants him here," Marner said. "Hopefully it does get resolved soon. He's a big part of this team.
"When he does get back here it's going make us even deadlier."
—
Follow @JClipperton_CP on Twitter
Joshua Clipperton, The Canadian Press