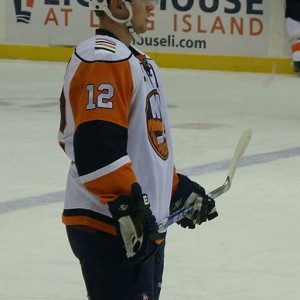 Josh Bailey started the season with a heavy load on his shoulders. He already knew that Kyle Okposo was going to be out for an extended amount of time, and John Tavares suffered a concussion in the home opener to only add to the amount of pressure that was placed on the 21-year-old center. He handled the extra work with ease, scoring goals and racking up points along with Blake Comeau on a game-by-game basis.
But then, coincidentally, when Tavares returned to the lineup, Bailey started to fade on the roster, making it hard to notice him at times on the ice. During a 13-game stretch that lasted from Oct. 18 through Nov. 21, Bailey did not manage one point on the score sheet and was a minus eight. With one game left to spare before his two-way eligibility would expire, GM Garth Snow sent Bailey down to Bridgeport since he would not have to clear waivers. This gave the kid a chance to work on his game and improve in certain areas he might have been struggling.
After all, Bailey was never really given a lot of time to develop his game. He was sent to the NHL straight from the draft and was kept with the Islanders during the entire 2008-2009 season instead of being sent to the World Junior Championships. He finished the 2009 year with 25 points and followed it with a 35-point finish in 2010. The organization expected Bailey to take a major leap this year; despite a strong start, it seemed it would not happen.
So Bridgeport it was, and it turned out to be a very intelligent move. In 11 games played with the Sound Tigers, Bailey scored 17 points (6 goals and 11 assists) and was a plus five. Some goals were scored at crucial moments, including a game-tying goal that came with just about eight seconds remaining in the third period. So it seemed like the right time to call Bailey back up with Jesse Joensuu sent back down to the minors and Matt Martin serving a two-game suspension.
He played well in his first game against the Tampa Bay Lightning but really shined in last night's 5-1 win over the New Jersey Devils. Bailey had two goals with an assist and almost recorded a hat trick on a short-handed breakaway. The rebound led to the assist on Frans Nielsen's fifth goal of the season. Had he scored on the breakaway, Bailey would have potted a goal at even strength, on the power play and shorthanded. Never the less, a three-point night is something that has to make Bailey happy.
And he is here to stay. Being that he has played in two games since returning from the AHL, Bailey would have to clear waivers in order to be sent back down to Bridgeport. A gamble that Snow will likely be unable to risk since there are plenty of teams that would love the chance to develop the former ninth-overall pick.
So once again, the pressure is on Bailey now as it is all up to him to become the player the organization sees him being. He now has nine points in 20 games played. Hopefully he can build off of this game against the Devils and carry it over into Sunday night's match-up with the Montreal Canadiens.
-Rob McGowan
Follow me on Twitter!
http://twitter.com/IslesRM