Welcome to the Barracuda Brief, your weekly one-stop shop for updates on the San Jose Barracuda. The Barracuda Brief will feature recaps, team news, quotes and other features to keep you up to date on the American Hockey League affiliate of the San Jose Sharks. 
The Week That Was: Barracuda & Heat Split
The Calder Cup playoffs got underway last week and the San Jose Barracuda and Stockton Heat got their match-up underway. The AHL's first round is a best-of-five series with games staggered to the weekends. So after a six-day layoff between the end of the regular season and the start of the playoffs, both teams now have a five-day break before Game 3. The Barracuda, with players rejoining the team in Marcus Sorensen and Timo Meier along with a very mixed bag of team defense in the opening two games, likely can use the practice time.
@zakkthebear @IanBlogsHockey one thought, layoff will give 28 62 & 65 time to mesh again; they were running over each other out there today

— Cheryl🏍🦈Ganapol (@31HarleyShark) April 24, 2017
April 11: San Jose Barracuda 4 –  Stockton Heat 0
The Barracuda got their 2017 Calder Cup run off on the right foot as they blanked the Heat in front of one of the largest crowds for an AHL game in San Jose this season. Despite the seemingly lopsided score, the game was much closer. If not for some spectacular saves from Troy Grosenick, the game easily could have gone to the Heat.
"I'm not going to give it a real strong game on our part," said head coach Roy Sommer after the win. "For the most part they had the zone time, they hit a couple posts. Our goalie was really good; it really wasn't a 4-0 game. But I'll take it. They had some point-blank [chances] where they missed the net. It could have been a different game if our goaltender wasn't on tonight."
The Barracuda got on the board in the first period on a shot by Tim Heed past the left ear of Heat netminder Jon Gillies. Heed took the puck in the neutral zone, skated in and fired past the helmet of Gillies to the short side completing a highly skilled play.
"I saw that I had a lane to the middle. Just tried to get a shot through. Usually, it's hard for [a goalie] to get [the puck] when it's around their head or in between the glove and pads. This time it went it."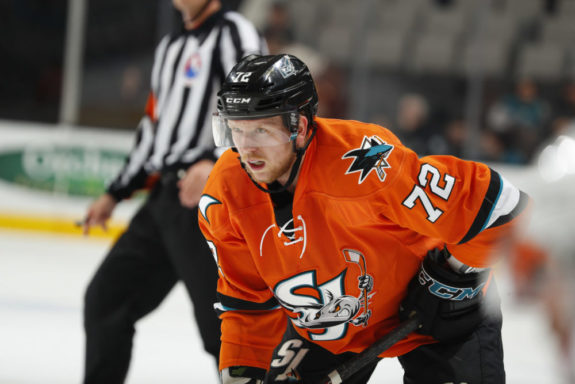 Heed, the Barracuda's top point producer from the blueline echoed Sommer's sentiment about the decent defensive play that was a notch below San Jose's usually solid defensive structure.
"I think overall it was an OK game. Not our best but it was s a win. We gave [The Heat] too many easy chances that we gave them that they didn't earn. That's something we're going to clean up for the next game."
The Barracuda added two goals by Ryan Carpenter, on in the second period and one in the third, before a Kevin Labanc empty-net goal sealed the game.
Labanc caps it off with a chip out of the sand trap and it's 4-0

— Ian Reid 😡🇨🇦🤖 (@IanBlogsHockey) April 22, 2017
Grosenick after the game commended the team defense in front of him. He saved all 28 shots he faced.
"[The defense] was good, I saw almost everything. There was a couple [tipped shots] there, but it's going to happen. It's a skilled team, they were bringing it especially when they got down," said Grosenick of the defensive effort that aided him to his AHL-leading 11th shutout of the year. "They're a good team they're going to get their chances we know that. Overall it was a good effort I thought in all three zones.
"He's an elite goalie at this level, and he's playing like one," said Sommer of Grosenick's play.
Playoff Preview: Troy Grosenick has a 1.30 GAA and .946 SV% vs. the Heat 💦🔥 pic.twitter.com/svv0i4tAL2

— San Jose Barracuda (@sjbarracuda) April 21, 2017
April 23: Stockton Heat 6 – San Jose Barracuda 4
The issues from Game 1 carried over to the second game of the series and this time Grosenick was not able to stand on his head to bail out the defense. Stockton's top center Mark Jankowski put the Heat up early with a power move to the middle of the ice with Heed draped on him and fired a low shot five-hole on Grosenick just 90 seconds into the contest. Stockton added goals from Austin Carroll, Linden Vey and Garrett Hathaway and take a 4-0 lead into the first intermission.
"We have some guys that are still finding their way in the playoffs. The playoffs you don't get a lot of second chances. We got to have better starts. Our starts the last two games have not been good," said Sommer after the loss. "Like I said last game, I was happy with the win, but I wasn't happy with the chances we gave up. They go up 4-0, that's a big hill to climb," said Sommer.
"We have a good five days before we play again. Regroup and Get back at it Tuesday and figure what we're going to do with everybody."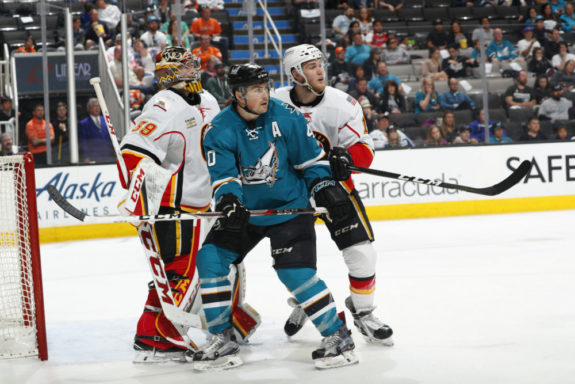 The Barracuda clawed back with three goals in a span of under five minutes in the middle period. Joakim Ryan broke through for the Barracuda on the power play to start the comeback effort. John McCarthy added his first of the postseason 81 seconds later.
Clearly, @JoakimRyan was thinking "shot" the whole way there.
🍎: @njdes
🍎: @CarpyDeuces#SJBarracuda pic.twitter.com/CyElvcze3m

— San Jose Barracuda (@sjbarracuda) April 23, 2017
Ryan added his second of the game minutes later to bring the Barracuda within a goal. Ryan's goal ended the night for Jon Gillies who made his second straight start for the Heat. David Rittich took over in net and later got the win in relief.The Heat regained a two-goal lead when Hathaway intercepted a Mirco Mueller pass in the neutral zone. Hathaway chipped the puck to Jankowski who slid it over to Hunter Shinkaruk for the back-breaking goal.
.@H_S_9's first #CalderCup goal was a beauty as he puts the @AHLHeat up 5-3 heading into the final frame. #SJvsSTK pic.twitter.com/hlmO5rpXGu

— American Hockey League (@TheAHL) April 23, 2017
Power forward Buddy Robinson gave the Barracuda a glimmer of hope late in the game with a short-handed tally with under four minutes remaining. Vey added his second goal of the night with Grosenick out of the net for the extra attacker, putting any come back home down for good.
[miptheme_quote author="Roy Sommer on the line of Timo Meier, Danny O'Regan and Kevin Labanc" style="pull-right"]"We're leaning on those guys. They're getting ice [time] so if you're getting ice [time], you have to produce. Right now they are kind of in a funk"[/miptheme_quote]
"Obviously, we didn't get off to the start we wanted, but just have to be better next game," said Ryan of the start. "It's one game, it's a tied series now. We knew they were going to come hard. We're not going to just fold and lay down, just have to be ready to go next game."
Barracuda Move to Traditional Line-up
In a surprising move, San Jose went with six defenders with Jacob Middleton and newly signed Nick DeSimone as the third pairing in both games. The two youngsters had a solid game together and play complementary styles.
"If you look at [DeSimone] in the three games he played he was a plus-6 player. I thought he played really well for us down in Bakersfield and the game he played against Stockton here he was solid. He has good feet, and good feet get you out of a lot of stuff," Sommer said. "If you can get back before they hit you to move a puck, you're going to be in better shape."
For much of the regular season, the Barracuda rolled out seven defenders. The move to a more traditional 12 forwards and six defenders was certainly a departure from the norm.
The Week Ahead: Two Across I-205
The series shifts to Stockton for the next two games. Should a deciding Game 5 be needed, it will be back at SAP Center on Tuesday, May 2.
San Jose Barracuda vs. Stockton Heat
Game 1 – Fri., Apr. 21 – San Jose 4 Stockton 0
Game 2 – Sun., Apr. 23 – Stockton 6 San Jose 4
Game 3 – Fri., Apr. 28 – San Jose at Stockton, 7:00 p.m.
Game 4 – Sun., Apr. 30 – San Jose at Stockton, 4:00 p.m.
*Game 5 – Tue., May 2 – Stockton at San Jose, 7:00 p.m.
*if necessary
Covering all manner of hockey on the West Coast, including the San Jose Sharks, San Jose Barracuda, Stockton Heat, WHL, and random prospect news and notes with random SM-Liiga coverage tossed in as well.