The San Jose Barracuda completed their pre-holiday break with seven of 10 possible points, punctuated by a tough 6-3 win over the Pacific Division-leading Stockton Heat. With two of the Barracuda's star youngsters, Timo Meier and Kevin Labanc, forcing their way onto the San Jose Sharks' lineup card, the Barracuda have found new contributors and continued contributions from players on the roster.
Head coach Roy Sommer is guiding the youngest team in the AHL into the thick of a playoff spot in the early going on the contributions of players that could be getting a call to the parent club very soon. The youth infusion is something that has been on the radar for the last couple years.
"It's a big part of the organization. This has been in their long term plans. This was going to be a big year. Doug [Wilson] kept saying 'just wait, just wait;' this was two years ago," said Barracuda head coach Roy Sommer of the influx of players to the farm team. "Wait till these guys come in, the Labancs, the Timos. Just wait until they arrive. We've heard that before, but the proof is in the pudding."
The play of the Barracuda is an exciting brand of hockey to watch.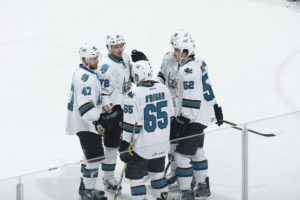 While the roster is not as big as many of their opponents, the speed and skill of the young players have been key to their early success. Other coaches are taking note as well.
"Very fast," said Stockton Heat head coach Ryan Huska of the Barracuda lineup following the 6-3 San Jose win before the holiday break. "They have a lot of good, young, quick players that make it difficult to play against because they're on top of you very quickly. That's really the challenge they present. They aren't an overly physical team; they just are able to take away time and space very quickly, and if you're not moving pucks or if you're not sharp they're going to create a lot of turnovers."
Other players from the Barracuda could be joining Labanc and Meier soon as well.
"You got three of four forwards I think that could go step in and play, and three defensemen," said Sommer. "I don't know if there are many teams in the National Hockey League that are as deep as were and young as we are at those positions down here."
O'Regan Continues Pacing Team, Rookie Scoring
Center Danny O'Regan has already seen a game up with the San Jose Sharks and has to be considered one of the players Sommer referenced who could step in and play at the NHL level. O'Regan was quick to credit the other players on the ice for their contributions to the success of himself and the team.
Danny O'Regan w/ a world-class pass to set up John McCarthy for a shortie on the rush. #SJBarracuda regain their 2-goal edge, 3-1

— Paul Gackle (@GackleReport) December 20, 2016
"Me and my linemates have generated a lot of scoring chances every game we've been together. It's kind of the odds. The puck is eventually going to go in," O'Regan said about why he and his wingers are having such consistent success. "We're doing the same things over and over again. Special teams have been clicking and being around good players and doing the same things over and over have paid off."
The 22-year-old former Boston University star leads San Jose in points with 27, which is also good for the AHL rookie scoring lead.
Heed: The Barracuda's Version of Brent Burns
Another player likely ready for a look is free-agent signing Tim Heed.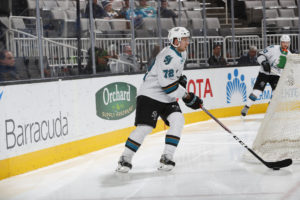 The former Skellefteå AIK defender is currently fourth in AHL scoring by a defenseman and has been the right-handed side of a stellar pairing with countryman Joakim Ryan. Nearly every game, one of the two is leading San Jose in time on ice, and their transition game is among the best in the AHL. With so many new faces, the team gelling and understanding the level of play is just now starting to cement, and Heed has been a big part of that.
"Both for me and the team we're starting to getting to how we have to play to be successful, said Heed. "If we do that, we have a good chance to beat any team in the league."
Here is a cool #SJBarracuda Fact: Tim Heed is tied for 1st in 5v5 primary point scoring with 10. He has no secondary 5v5 assists.

— Ian Reid 😡🇨🇦🤖 (@IanBlogsHockey) December 21, 2016
The Sharks' blue line is already a log jam, so until a trade or a rash of injuries occurs, Heed will have to continue his hot start in North America. He's finding the Sharks' and Barracuda's structure suits him just fine.
"I like this kind of game over here. The defense can join the play a lot and be effective in the offensive zone, too. I like our game too, how we try to use all the players on the ice."
Heed has 23 points in 22 games, with five of those games being multi-point efforts.
Helewka Playing His Game
A fourth-round draft pick back in 2014, Adam Helewka provides some much-needed size to the Barracuda lineup and a net-front presence that made him a dangerous player with the WHL's Spokane Chiefs and Red Deer Rebels.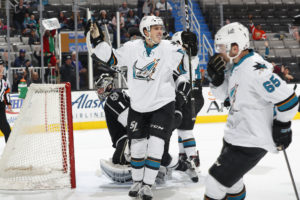 "I'm just getting the opportunity to play with and around a lot of good players on this team," said Helewka about his recent hot hand. "I have a bigger body frame, so I just try to get around the net. The defense and the other guys on the power play unit are so skilled, they'll get the pucks to the net as long as I'm there to put in the rebounds."
Helewka is now fully recovered from a preseason ankle procedure that cut into his early season. His smart play with the puck and in-close shooting ability already has led to seven goals and three assists in just a dozen games. He also is on a scoring streak, with four goals and an assist in his last three games.
"The thing is he's a big body and he's got good hands, said Sommer of the 6-foot-one, 190-pound left winger. "He's pretty deadly in tight.
In the Playoff Hunt, Special Teams Special
After 22 games, San Jose finds itself fourth in the Pacific Division and sixth in the Western Conference, firmly in the playoff picture. The Barracuda also have games in hand on all the teams above them except the Tucson Roadrunners, and are 4-0-1 in their last five games. Adding to the mix is how good both the power play and the penalty kill have been in the early going. The Barracuda rank second overall in the AHL in both categories.
https://twitter.com/zakkthebear/status/811669094873251840
Captain John McCarthy summed it up best when asked how the team is playing headed into the break in the schedule and its current playoff position.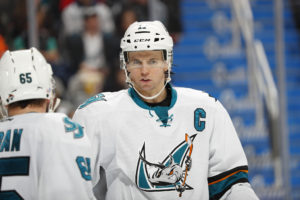 "It's good to see. To be honest, I haven't been looking at the standing that much. It's so early in the year, and I think you can get in trouble if you start doing that this early," said McCarthy following the Barracuda's 6-3 win over the Heat, San Jose's last game before the break. "I try to look more at how we're playing and I feel like our team is playing the way we need to play to be successful. As a result, we're in the playoffs.
"We play fast. Our strength is our forecheck; we don't want to spend too much time in our own zone. If we put those three things together, we can have some success. Those are the three biggest things we have to keep doing when we get back from break."
Covering all manner of hockey on the West Coast, including the San Jose Sharks, San Jose Barracuda, Stockton Heat, WHL, and random prospect news and notes with random SM-Liiga coverage tossed in as well.