Hockey Hall of Famer Chris Pronger is this week's special guest on The Hockey Writers Live podcast.
Pronger discusses his decorated career, one highlighted by a Stanley Cup championship, a Hart Trophy, a Norris Trophy, two Olympic gold medals, and gold earned at both the World Championships and World Junior Championships, as well as how he continues to battle post-concussion syndrome.
The former captain of the St. Louis Blues also takes a look ahead to this year's Winter Classic outdoor game which will be played at Busch Stadium and features the Blues hosting their rivals, the Chicago Blackhawks.
In addition, Pronger weighs in on what he would have done if he was on the ice when Dallas forward Cody Eakin ran New York Rangers goaltender Henrik Lundqvist last week; and his commentary is what you might expect from the rugged former defenseman.
Go Habs Go
Nick Guido (@nickguidothw), who covers the Montreal Canadiens for The Hockey Writers, also joins the show this week.
When you talk Canadiens, you have to talk Carey Price, and Guido does just that, while also discussing the club's success even while suffering a string of injuries.
Perhaps most notably, Guido breaks down the sartorial style of Montreal's well-dressed general manager, Marc Bergevin.
Go West Young Man
In the show's final segment this week, Dennis Bernstein (@DennisTFP) of The Fourth Period joins us.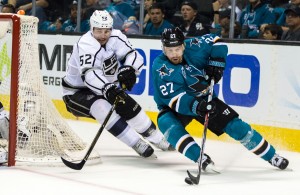 Bernstein may still sound like a true New Yorker, but he is all California now; and he brings listeners up to date with all things L.A. Kings, Anaheim Ducks and San Jose Sharks with his tremendous insight and energy.
Does Dennis think all three California teams will make the playoffs this year?
Tune in below and find out!
https://soundcloud.com/thehockeywriterslive/thehockeywritersliveep6withchrispronger