The Barrie Colts of the Ontario Hockey League (OHL) have had some incredible forwards don the famous red, yellow, white, and black since their inception as a franchise back in 1995-96. From Jan Bulis to Sheldon Keefe to Bryan Little to Andreas Athanasiou, and many others, the list of explosive forwards is aplenty in Barrie, Ontario. 
Although they have a rich history of producing high-caliber players upfront, there's one trio, in particular, that takes the cake as the best top-line in franchise history. Let's meet the catalysts, shall we?
Andrei Svechnikov, Left Wing (2017-18)
First up and starting at left-wing is one of the finest young Russians in hockey — his name is Andrei Svechnikov, who currently plies his trade with the high-flying Carolina Hurricanes. Although he only played one season of Canadian junior hockey (2017-18), his contributions and dominance with the Colts were just too extensive and widespread to keep off this list.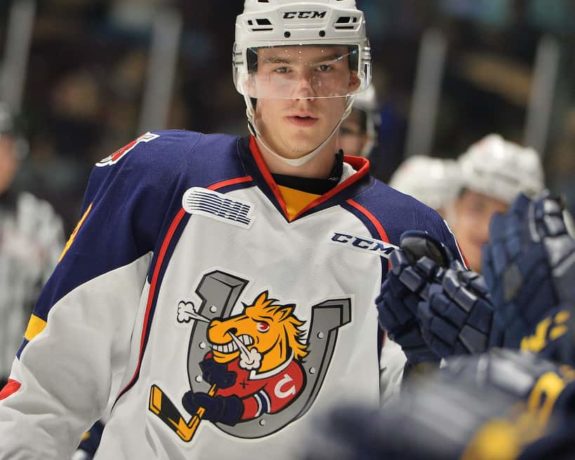 In just 44 games played during the 2017-18 OHL campaign, "Svech" tallied 40 goals, 32 assists, and 72 points (translating to an incredible 1.64 points-per-game pace) to go along with a plus-26 rating. He also tallied five goals and 11 points in eight playoff games with the club. By season's end, he amassed a grand total of 24 multi-point games and fully endeared himself amongst the die-hard Colts fans, and he even took home Rookie of the Year honors. Talk about a season for the ages!
As a player, Svechnikov has dazzled at the NHL level with his highlight-reel acumen, elite puck skills, goal-scoring ability, and size. Standing at an impressive 6'2, 195 pounds, he has become one of the game's best young wingers, with two 20-plus goal seasons under his belt. At the tender age of 20, this is a player who's only going to get better, much to the joy of Hurricanes fans from coast to coast. If he continues to score and produce, there's just no telling how good he can be.
Mark Scheifele, Center (2010-13)
Big, strong, skilled, talented, confident, oozing with raw talent. Yeah, that sounds like a lot like Mark Scheifele, now doesn't it? After spending three seasons with the Colts from 2010 to 2012, the current Winnipeg Jets talisman comes in as the centerman for Barrie's all-time line. It's the old adage — all teams need a strong presence down the middle. The Colts had that and then some with number 19.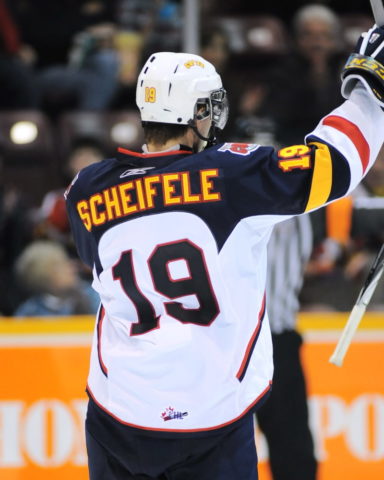 Over the course of his three-year junior career at the Barrie Molson Center (now called the Sadlon Arena), Scheifele was an absolute force to be reckoned with in every sense of the imagination. He could change the outcome of a game with his size, speed, power, and physical play that was just so unique across the OHL. He also had a knack for the net and a blistering shot that just screamed total domination.
His statistical production was also something to behold. In 158 games with the Colts, the Kitchener, Ontario native tallied 84 goals, 133 assists for 217 points. Among other things, "Big Mark" will be remembered as one of Barrie's greatest ever players and one of the most dominant players in "The O" — he was that good.
Kevin Labanc, Right Wing (2013-16)
Rounding out the Colts' top-line is San Jose Sharks stud Kevin Labanc, who's fresh off a four-year, $18.9 million extension. But before he earned his big-money payday, the Staten Island, New York native plied his trade in Barrie from 2013 to 2016. After scoring 35 points in his first season of junior hockey, his game found whole new heights and exploded for back-to-back 100-point seasons (107 and 127 respectively) over the next two years. Little did the hockey world know that he was just getting started as a bonafide top-six forward.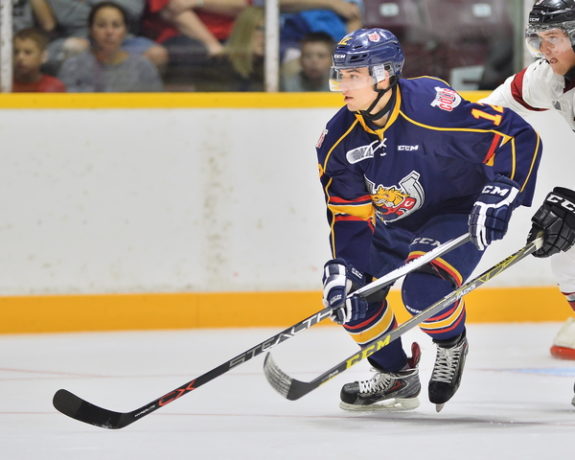 During his time with the Colts, Labanc developed a reputation for being a workhorse, human dynamo, and a swiss-army knife all encompassed into one. He could also put up points and make plays in the blink of an eye, and everything he did was smooth, efficient, and with speed.
In addition to his skating ability and raw talent, what I truly adore about Labanc as a player is his team-first mantra, superior work ethic, and his overall love for the game. Listed at just 5'11, 185 pounds, he has a real competitive nature about him to go along with an extensive tool kit, which was simply too much for opposing teams and players during his time in "The O."
An absolute headache to play against, Labanc has continued to develop at the National Hockey league level alongside the likes of Logan Couture, Brent Burns, Timo Meier, Tomas Hertl, and Erik Karlsson in Silicon Valley with the Sharks. We can only marvel at what Labanc accomplished over the course of three seasons in a Colts uniform.
Legacy of the Trio
When we look back at the junior careers of Svechnikov, Scheifele, and Labanc, it's only fitting that each of them has experienced an early onset of success at the NHL level. Each one of these players is unique, talented, team-oriented, and have the small city of Barrie, Ontario and their junior hockey program to thank for it. Talk to passionate Colts supporters, and they will surely remember their dominant careers. These kids were (and still are) some of the most highly-skilled players to ever embody the famous red, yellow, white, and black of Barrie.
---
---
My name is Domenic Lunardo, and I cover all things Blue Jackets here at The Hockey Writers. I am an avid Toronto Maple Leafs fan living in Toronto, with an unmatched passion for the beautiful sport of hockey.