The '12 Days of Christmas' is a classic holiday song first published in its current form in 1908. In a nod to the classic carol, join The Hockey Writers as we count down the 12 Days of Hockeymas. Each day, we will provide you with a piece of hockey history as we eagerly await the start of the 2020-21 NHL season.
For all intents and purposes, Barret Jackman had a steady but unremarkable NHL career. He played 876 games, scored 28 goals, and added 153 assists. He tallied 1,026 penalty minutes (PIMs) in his career. And playing all but his final season for the St. Louis Blues (803 games) he trails only Bernie Federko (927) in games played in the history of the franchise. Even so, his #5 is retired not for him, but for founding player Bob Plager (though Jackman was the last to ever wear it).
But that cursory glance at Jackman's career leaves out one key accomplishment: the Calder Trophy for the NHL's best rookie that he won after the 2002-03 season. In a rookie class that featured future greats like Rick Nash, Henrik Zetterberg, and even future Blues' defenseman Jay Bouwmeester, the win feels anomalous, perhaps even inexplicable. But let's look back and see if we can piece together why the Blues' defenseman earned the most votes.
A Gem from a Bad Draft
Jackman was a scrapper from the beginning of his career, emerging from the 1999 NHL Draft — widely considered maybe the worst NHL Draft class ever — as one of the few successful professional players. The Blues selected the Trail, British Columbia native at 17th in that draft. The season prior, Jackman had been the captain of the Western Hockey League's (WHL) Regina Pats, where he was something of a point producer, tallying 126 points in 166 games in his three seasons as the team's on-ice leader.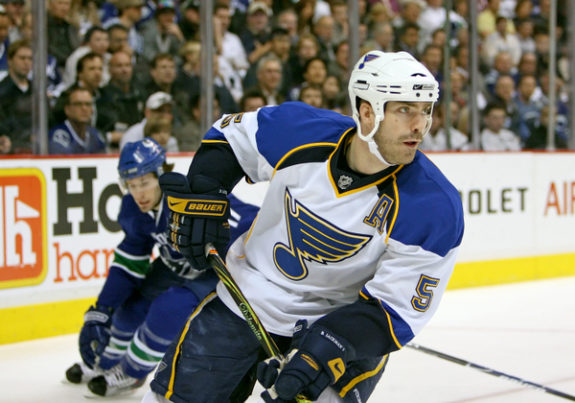 Jackman got to play in the CHL's top prospect game in the season before his draft (1998-99). He also played in two U20 World Junior Championships, winning bronze each time. By the time he graduated junior hockey, he was a mature player, but the Blues still wanted him to receive seasoning in the American Hockey League (AHL).
During the 2001-02 campaign, Jackman made his NHL debut in one game and even played in one playoff game that season. But he spent most of his time in the AHL with the Worcester IceCats, tallying two goals and 14 points in 75 games there, along with 266 PIMs. There was never any question about the type of player Jackman would be: steady defensively, quiet offensively, and as gritty as sandpaper.
Jackman's Calder Trophy Campaign
When the 2002-03 season arrived, there was no doubt that Jackman was ready to enter the NHL, and he did so on a full-time basis. He played in all 82 games that season, something of a rarity for NHL rookies, and something that neither of his top competitors for the Calder Trophy accomplished. He also was a plus-23 rating despite having 190 PIMs, and was a rookie leader in average time on ice (ATOI) with 20:03 per game.
Jackman stepped into a loaded defense that featured future Hockey Hall of Fame members like Al MacInnis and Chris Pronger (though Pronger missed most of the season with injury). But he didn't look out of place. He was a professional from his first day in the NHL, doing the hard work that coaches appreciate and earning his spot in the lineup night after night. Excluding Pronger (who played just five games) he was fifth on the team in ATOI as a rookie, proving head coach Joel Quenneville's faith in him.
Jackman finished the season with three goals and 19 points, all of them at even strength. When the playoffs arrived, he saw an expanded role, with his ATOI ticking up to 21:59. That was another testament to his maturity, which ultimately may have been the deciding factor in his winning the Calder Trophy. But it wasn't without stiff competition.
Nash, Zetterberg Provide Competition
Nash and Zetterberg are both much more memorable NHL players than Jackman, but they were formidable rookies as well. In the final tally, Jackman edged them both out, winning 506 votes and 39 first-place votes to Zetterberg's 462 and 18, with Nash trailing behind at 190 and two.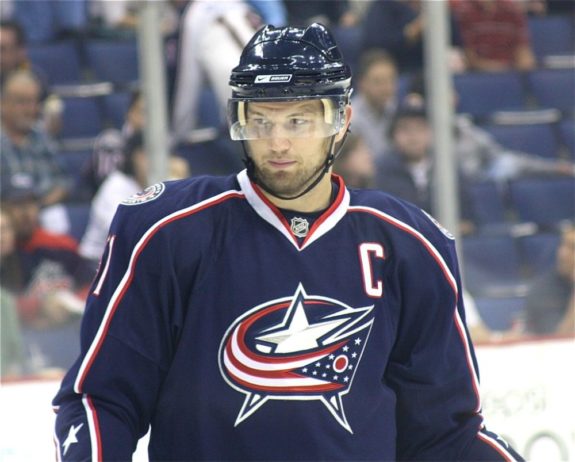 Nash entered the league with the most hype, having been the first overall pick of the Columbus Blue Jackets the season prior. He had a perfectly fine rookie season, playing in 74 games, with 17 goals and 22 assists. But he played just 13:57 ATOI and was a minus-27 on a last-place Blue Jackets team, and that dropped him behind his competition.
Zetterberg provided a tougher challenge to Jackman. He entered the league as a mature two-way player, having developed over several seasons after the Red Wings drafted him 210th overall in 1999, the same draft where Jackman went 17th. He roared onto the scene with 22 goals and 22 assists in 79 games, was a plus-six on a first-place team, and even averaged 16:19 ATOI. Voters obviously rated Zetterberg highly, given the tight final result, but Jackman's maturity and impact on his team gave him the edge.
A Career to Remember
Perhaps it's unfair to call Jackman's career unremarkable. He finished with almost 900 NHL games played, a Calder Trophy victory, and he even was named to the British Columbia Hockey Hall of Fame. Since retiring, he's helped the Blues as a development coach and also has started a podcast with beat reporter Jeremy Rutherford. Jackman might not be remembered widely by NHL historians, but he is a Blues' franchise great, and no one will ever take away his 2002-03 Calder Trophy.
---
---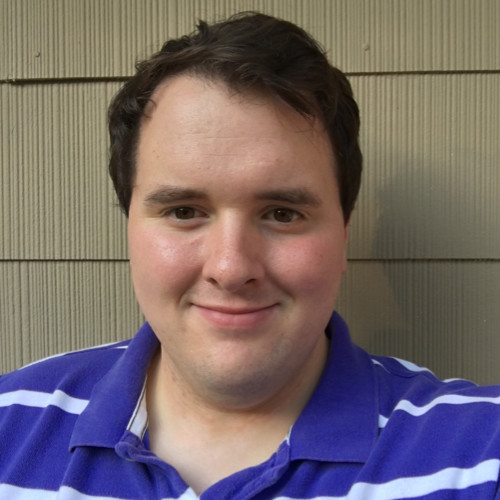 Stephen Ground is a veteran of over three years at THW, focusing on the St. Louis Blues, NHL goaltending, and the annual World Junior Championship. He is the co-host of the Two Guys One Cup Podcast, a hockey podcast focused on the Blues.