A series of bizarre mishaps made the past week an interesting one for Tampa Bay Lightning goalie Ben Bishop.  In a week when Colorado Avalanche's number one goalie Semyon Varlamov signed a three-year contract and the New York Rangers netminder Henrik Lundqvist won both Stadium Series games at Yankee Stadium, goaltenders had been making news in the NHL for more than just big saves.  The same, unfortunately, can be said of Big Ben.
On January 30, Bishop took the ice in Ottawa for the first time against his former team.  However, he would not play for more than 1:49 minutes in this anticipated return.  While attempting the play the puck dumped into the Lightning zone, Ben Bishop skated far out of his crease, sliding for a poke check.  While Senators' Mika Zibanejad was able to avoid the goaltender, Bishops' own teammate Nikita Kucherov had skated too fast.  Kucherov ended up kneeing Bishop in the back of the head.
To add insult to injury, Senators Marc Methot opened up the scoring into the open net.
Bishop was helped off of the ice and did not return for the remainder of the game; Anders Lindback – who also suffered an injury during the losing effort – would man the crease.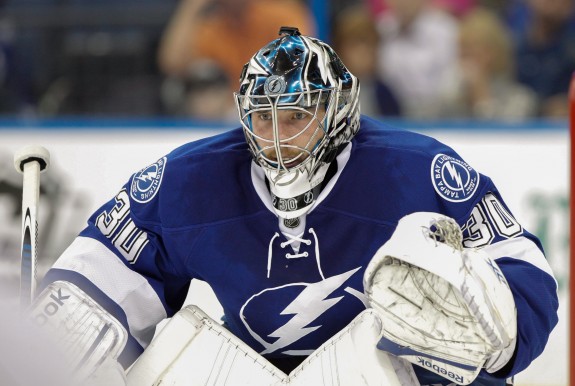 Bishop's return to the ice was a big question mark.  AHL goalie Cedrick Desjardins was called up from the Syracuse Crunch to backup or possibly start the Bolts' next game on February 1.  Although Bishop had practiced the very next day after the 3-5 loss against Ottawa, there were no guarantees he would be able to start the next game.
The goalie situation was announced via Twitter:
Netminder Ben Bishop will take warm-ups with the #tblightning and gauge his situation from there.

— Missy Zielinski (@Missy_Zielinski) February 1, 2014
Ben Bishop will be the starter Saturday afternoon for the #TBLightning.

— Missy Zielinski (@Missy_Zielinski) February 1, 2014
Bishop may have wanted to sit this one out.
In a feisty contest against the Montreal Canadiens  (the first period saw both teams with players in the sin bin for fighting and unsportsmanlike conduct penalties), Bishop was again victim to a rare incident: a goalie fight against a forward, who happened to be the Habs' agitator Brandon Prust.  During a commercial break at 17:02 of the second period, Prust broke away from the pack of players waiting at their respective benches and skated up to Bishop.
After receiving a spear to the groin from Prust, Bishop lunged at the forward, sparking a melee and ending in a plethora of penalties: two 10-minute misconducts, plus several minors for Bishop, Prust and Canadiens goalie Carey Price.
Here is the whole altercation:
Bishop would later win the February 1 contest in overtime.
With only three games remaining before the Olympic break, one can only hope that Ben Bishop has come to an end of these bizarre situations.