HERSHEY – When you go up against the second best penalty kill in the American Hockey League many would think a strong five-on-five game would be the way to find offense. The Hershey Bears, now 24-15-3-3 found a strong even strength game coupled with a 3-9 power play performance Sunday afternoon which resulted in a 3-1 home victory over the Norfolk Admirals (24-14-1-7) of the East Division.
The Bears' win at Giant Center marked their ninth straight win at home, trailing the AHL season high of twelve straight wins set by the Texas Stars. Hershey owns the AHL record of 24 straight home victories during the 2009-10 season, when they won their league leading 11th Calder Cup. The Bears snapped Norfolk's eight game point streak (5-0-0-3) and improved to 69-48-10 all-time against the Admirals.
"I thought we did a really good job of keeping them to the outside and not giving them that second and third chance," Hershey coach Mike Haviland stated after the game. "Grubauer made saves when he needed to, five-on-five I thought we were pretty good."
Hershey was paced offensively by veteran forwards Brandon Segal and Jeff Taffe, who potted power play goals in the second and third periods respectively. The duo combined for 16 shots on goal in a game where Hershey totaled 37 as a team. Julien Brouillette also scored on the man advantage for the Chocolate and White, his 7th power play goal of the year that pulled him to second place for power play goals scored by defensemen. He trails only Toronto's T.J. Brennan who has ten on the campaign.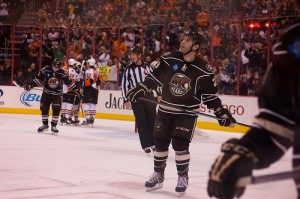 "I don't think he has a big backswing," Haviland said of Brouillette's effective shot. "If you watch it, it (his stick) only comes off the ice a little bit. It kind of tricks goalies, he doesn't go for the big windup. He doesn't go back much and I think that's what gets goalies. It comes off his stick a lot quicker than probably what they're expecting, because he doesn't have the big windup."
Philipp Grubauer (7-5-1) earned a win in his second straight start between the pipes, recording 27 saves on 28 shots. Norfolk's John Gibson (14-10-4) kept the Admirals in the game, registering 34 saves on 37 shots for Anaheim's AHL affiliate.
"It's awesome right now," Segal said. "This is the points you need right now and we don't want to be looking back in April wishing that we had these points."
Hershey hot a great start to their game Sunday unlike Saturday afternoon in Philadelphia, not allowing a shot on goal 6:52 remained in the first period. They outshot Norfolk 37-28 and improved to 11-6-0-2 when besting their opponent on the shot clock. Devante Smith-Pelly scored the lone goal for the Admirals, also on the power play 18:39 into the first period. Norfolk finished 1-4 on the man advantage, led by Smith-Pelly's 16th goal of the season.
The Bears now take over the sole Eastern Conference lead for most home wins (16).

— Scott Stuccio (@ScottStuccio) February 2, 2014
Hershey approaches another three games in three nights stretch this upcoming weekend, beginning with a road trip to square off against the Rochester Americans in New York. They return home on Saturday and Sunday with matchups against the Pirates and Penguins.
Game Notes
Attendance: 9,186
Bears Injuries: Chay Genoway, Patrick Wellar, Nathan Walker, Garrett Mitchell, Stanislav Galiev and Tomas Kundratek
Hershey Healthy Scratches: Chay Genoway, Derek Whitmore, John Mitchell
Joel Rechlicz totaled 17 penalty minutes, including a first period fight with Norfolk's Zach Stortini
The Bears wore Groundhog Day themed jerseys which will be auctioned online this week
Hershey improved to 7-1-0-3 on Sunday games and 14-0-1-0 when allowing two goals or less
Three Stars
Brandon Segal (one goal, one assist, seven shots on goal)
Jeff Taffe (one goal, one assist, nine shots on goal)
Ryan Stoa two assists three shots on goal)
You can follow Matthew on twitter @m_speck and email him at mspeck21@yahoo.com with any questions or comments.