For North Dakota freshman forward Susanna Tapani, representing her country at the Olympics has always been a big dream of hers. That dream will be realized on Saturday when her Finnish team takes on the United States in its first game of the Olympic women's ice hockey tournament.
"It was awesome to hear my name called to the team," Tapani said. "So I'll just wait for the tournament to start. It's awesome."
Tapani is one of three current UND women's hockey players who will be playing in the 2014 Olympics. Senior forward and captain Michelle Karvinen will join her with Team Finland, while sophomore defenseman Tanja Eisenschmid will be representing Germany.
The North Dakota women's hockey program will be well-represented in Sochi, with former players Jocelyne and Monique Lamoureux skating for the U.S. and Susanne Fellner joining Eisenschmid on the German squad.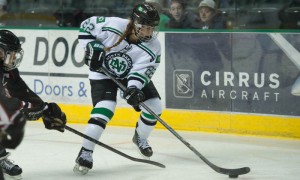 Eisenschmid, who will be competing in her first Olympics, echoed Tapani's thoughts.
"It's awesome. It's an awesome feeling," she said. "I've been on the national team for a couple of years now and represented them at the Worlds and Olympic qualifications but the Olympics is bigger than that so it feels awesome. It's great."
Karvinen, though, will be representing Finland at the Olympics for the second time in Sochi, meaning that she'll be taking on more of a leadership role this time around.
"Coming in last time I was more of a rookie and I think I was the youngest on the team or at least one of them," she said. "I feel a little more, I wouldn't say pressure, but at least responsibility. I think over the last four years I have been given a lot of responsibility over the years and it's something I feel I can use as a good thing."
For now, the Germans are aiming at advancing out of Group B and earning a quarterfinal berth.
"I expect us to play really good at the Olympics," Eisenschmid said. "We hope we can make the quarterfinals and then we'll see what happens. We'll just give our best and everything will be O.K."
As one of the favorites to win the bronze, Finland's goals are little bit higher.
"We have a really good team this year," Tapani said. "It's probably the best we've ever had before and our goal together is to get a medal but we have chances for everything so it's going to be really huge."
"A medal. For sure. We know we can win a medal," Karvinen said about the Finns' expectations heading into the tournament. "But we also know that we can challenge the bigger countries in the U.S. and Canada. We know [we can] if we have a good game and obviously everybody knows we have really good goaltending with Noora.
"We have the team to go the whole way but we also know that everything has to click together in order for it to happen."
Back in November, Finland earned a big upset over Team USA at the Four Nations Cup in Lake Placid, N.Y., and advanced to the final against Canada. Does that win boost the Finns' confidence heading into the Olympics?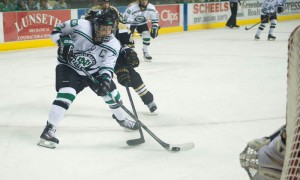 "It gives us a lot [of confidence] definitely," Karvinen said. "If you look at that game, they might've had more chances than we had but we managed to get enough shots on goal and get the goals we needed to win. That being the last game before we're actually going to meet them, it's something that's going to be really important for us mentally."
"You can see that you can win against them," Tapani said. "It happened three times before I think but in the past, so not for all of us. It was a really good thing to happen before the Olympics so we have a little bit more confidence."
Karvinen thinks Team Finland is ready for bigger things than just contending for a bronze medal.
"I think we're kind of tired of it always being, 'They're going to win the bronze, they're favorites to win the bronze,'" she said. "We want to achieve better things than that. And I think for a long time this is going to be the best team we're going to have."
All three players feel that their time at North Dakota has better prepared them for the games in Sochi.
"Especially this year, being the captain of the team here is something that will help me a lot to juggle more things at a time," Karvinen said. "I'm not just a player on the team, I also have to be a leader, and I know it's going to be a role that I'm going to have with the Finnish team as well and I think that's definitely something that's going to help me there."
"I learned a lot here, especially system-wise, supporting the D and making good tape-to-tape passes," Eisenschmid said. "I think that will help me a lot because all the other teams are going to have players that play here [in North America] too, so we're on the same level. I think that's going to be good for us."
"The games are really tough here and they're kind of the same in the Olympics," Tapani said. "Against USA, they kind of have that playing style and in Finland it's a bit different. I think hockey-wise, it's easier to play there now since we're used to playing like that here."
Eisenschmid said she is most looking forward to competing in the tournament and getting to know the other athletes.
"We fly out with an airplane that all the German athletes are on, so we'll get to know other athletes too so that should be fun," she said.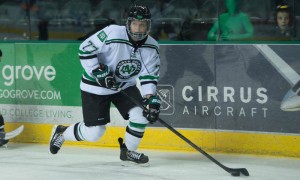 Tapani said she's not quite sure what to expect, with it being her first Olympics, but for right now she's focused on the opportunity to compete.
"Our team is so good so I'll just wait for the games," she said. "It would be so awesome to get a medal and go to the finals. But of course there's so much else to do. It's so fun to see the Olympics and all the other athletes and it's going to be a huge tournament."
Having already experienced the excitement firsthand in Vancouver, Karvinen has a slightly better idea of what she's most looking forward to, along with playing in the games.
"What I remember from Vancouver was the opening ceremonies," she said. "It was something really unique and special. But obviously I just look forward to start competing and that's going to be something special. We've been really lucky to have two huge hockey countries two times in a row so hopefully it's going to be quite a big crowd there as well."