In today's NHL, there is an increasing necessity for teams to draft well in order to succeed in the long term.  The implementation of the salary cap prevents big market teams from giving free agents a blank check, and building dynasty teams through free agency.
They Could Be Elite NHL Prospects
Because the draft is so valuable, teams are always looking for the hidden gems in the late rounds.  Some of these players can be just as talented as those taken in the beginning of the draft, but there is something about their game that troubles the scouting community.  Usually, there is one glaring weakness or problem with their game that prevents them from being drafted higher.  If they can overcome it, they could have a long NHL career ahead of them.  Here is a list of ten of those NHL prospects and the problems with their game:
"He's Too Small To Succeed At The Next Level"
In the 1990s, this was a very common knock on prospects.  In the thick of the Dead Puck Era, scouts thought small guys would not be able to succeed because big, lumbering defensemen like Derian Hatcher would be able to clutch and grab at them, rendering them ineffective.  How else could you explain Martin St. Louis and Brian Rafalski going undrafted, despite stellar NCAA careers?  Since the 05-06 lockout, smaller players have become much more common, and scouts are willing to give them a shot in the NHL.  If these guys were all 6′ and 200 pounds, they would be considered blue chip prospects.
LW Johnny Gaudreau (Calgary Flames): "Johnny Hockey" burst onto the scene with his performance at the 2013 World Juniors that led Team USA to the gold medal.  Standing at 5'8″ and tipping the scales at 159 lbs, many have said that despite his insane skillset, Gaudreau's offense won't translate to the NHL.  A fourth round pick now playing for the Boston College Eagles, he is playing at a 2 points-a-game pace this season, and is a shoo-in for the Hobey Baker Trophy.  Gaudreau is a magician with the puck on his stick, and is a very intelligent player.  His size allows him to get lost in coverage, and the next thing you know, he's wide open in prime scoring position with the puck on his stick.  Marty St. Louis is able to succeed despite his size because of an extremely strong lower body.  He may be small, but he is all muscle.  For Gaudreau to take the next step, he will have to bulk up a bit.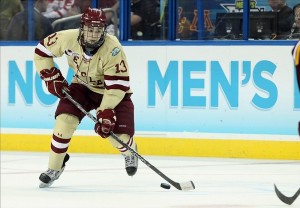 C/LW Taylor Cammarata (NY Islanders): As a freshman at the University of Minnesota, Cammarata has put up an admirable 15 points in 22 games.  Wherever Cammarata has played, he has put up crooked point totals.  In his draft year in 2013, he led the USHL in points with 93.  Playing for Shattuck St. Mary's, he scored 139 points in 54 games.  His most notable teammate was 2013 #1 overall pick Nathan MacKinnon, who managed just 93 points in 40 games.  His talent is undeniable, but he measures at just 5'7″, 157lbs.  Many believed he would make the 2014 US World Junior team, but was left off by his own coach, Don Lucia, likely due to his size, and weak play without the puck.  Like Gaudreau, Cammarata will need to get stronger to be considered in the top level of NHL prospects.
RW Sergei Tolchinsky (Carolina Hurricanes): When the 2013 NHL Draft concluded, many were surprised that Tolchinsky was never drafted.  Craig Button and Corey Pronman both had Tolchinsky slotted as a 2nd-3rd round pick.  When he was invited to the Carolina Hurricanes prospect camp over the summer, he dazzled fans and management, earning himself a three year ELC.  This year, he has lit the OHL on fire, sitting fourth in scoring 71 points in 50 games.  The closest Soo Greyhound has just 48 points.  Tolchinsky is just 5'9″, 165lbs, and lacks physicality and good play in his defensive zone.  He will never be a perennial Selke candidate, but if he can add some muscle and become just adequate in his own zone, he could be a future top six winger.
"He's Not Well Rounded"
There are plenty of players that have the offensive skill to play in the NHL, but the rest of their game is lacking.  It could be their skating, work ethic, softness, or poor defensive play.  If they can just get that one problem area to average, then their offensive flair will make them blue chip NHL prospects.
W Anthony Mantha (Detroit Red Wings): When Mantha has the puck on his stick in the offensive zone, he is absolutely money.  The problem is when he doesn't, he's invisible.  His skills are undeniable; he has lit the QMJHL on fire this year with 85 points in 39 games after being taken 20th overall by the Red Wings.  There are many occasions where he won't stand out for an entire game, but will end up with multiple points in the boxscore.  It was such a concern that expert Bob McKenzie thought Mantha was a bubble player going into the 2014 World Juniors.  What is particularly frustrating is that Mantha possesses great size at 6'5″.  If he was a physical player, he would be an absolute terror to play against.  To fulfill his potential, Mantha will have to improve his work ethic, especially in the defensive zone.
RW Connor Brown (Toronto Maple Leafs): After a lukewarm two years in the OHL, Connor Brown has exploded this season, and has already eclipsed the 100 point mark, doing it in just 48 games.  He has put up 27 points in his last 9 games.  A former sixth round pick, Brown's hands are undeniably good, but his play elsewhere is lacking.  His footspeed is okay for juniors, but is not good enough to translate to the NHL.  In addition, he could stand to improve his play in the defensive zone.  He could be a real diamond in the rough find for the Leafs is he improves.
D Anthony DeAngelo (2014 Draft Eligible): If you're looking for a future power play quarterback in the 2014 draft, look no further than Anthony DeAngelo.  He has put up an absurd 61 points in 40 games from the backend this season.  DeAngelo plays a lot like Mike Green did for the Capitals from 2007 to 2010; he is nearly a fourth forward out on the ice.  The problem is that he is often too quick to jump into the offensive rush, neglecting his defensive responsibilities.  As a result, his Sarnia Sting have given up the most goals in the OHL this season.  He doesn't possess ideal size at 5'11", but neither does 5'11" Erik Karlsson.  DeAngelo's puck-moving ability speaks for itself, but if he is to make it in the NHL he needs to improve his judgement and decision making when joining the rush, and tighten up his positioning and gap control in the defensive zone.

Anthony DeAngelo is an electric offensive defenseman (Terry Wilson /OHL Images)
"He's a Victim of Unfortunate Circumstances"
C Joey Hishon (Colorado Avalanche): A 2010 first round pick, Hishon possesses great speed and playmaking ability.  After an impressive 2010-11 that saw Hishon post 110 points between the regular season and playoffs, he was the victim of a vicious elbow to the head during the 2011 Memorial Cup.
That elbow gave Hishon a concussion that forced him to miss 22 months of hockey.  His road to recovery has been long and difficult, but he has shown promise this season with 17 points in 29 games in the AHL.  It is unknown if Hishon will ever be the same player, or what player he could be were it not for that dirty hit.  Hopefully, Hishon will avoid any future concussions and enjoy a successful NHL career.
C Mikhail Grigorenko (Buffalo Sabres): A big center with enviable skill and hands, Grigorenko was seen as one of the most talented players in the 2012 draft.  In the following two years, the Buffalo Sabres have managed to take a blue chip prospect and turn him into a giant question mark.  The Sabres have done just about everything wrong while trying to develop Mikhail Grigorenko.  They have played him in the bottom six with linemates that can't help him develop his offensive skills, broken his confidence, and his development has come to a screeching halt.  It got to a point earlier this season that Grigorenko refused a demotion to the QMJHL because the Sabres handled this situation so poorly.  He eventually accepted the assignment, but it is a real question whether Grigorenko can realize his potential after the Sabres mishandled his development so much.
W Myles Bell (New Jersey Devils): In the final 2011 Central Scouting rankings, Myles Bell was the 46th ranked North American skater.  Yet, he was not selected in the draft.  In April, 2011 Bell was involved in a car accident that broke his leg and caused the unfortunate passing of his girlfriend.  In the 2012-13 season, Bell reinvented himself as a forward for the Kelowna Rockets, and after a 93 point campaign was drafted in the 6th round by the Devils.  Had the accident not happened, Bell likely would have been a second round pick as a strong puck-moving defenseman.  Now, Bell's NHL prospects are hazy.
"The Russian Factor"
RW Evgeny Kuznetsov (Washington Capitals): For years, Capitals fans have been clamoring for Kuznetsov to come to North America.  After being selected 26th overall in 2010, Kuznetsov established himself as an elite prospect with two dominant performances at the World Juniors.  But, Kuznetsov would remain in Russia because of his desire to represent his country in the 2014 Sochi Olympics.  After not being named to the Russian Olympic roster, Kuznetsov has pledged that this will be his final season in Russia, and will come to Washington next season.  If Kuznetsov makes good on his promise, and most importantly stays in North America, then the Capitals will have another dynamic offensive talent on their forward corps.