Sidney Crosby had Mario Lemieux. Steven Stamkos had Martin St. Louis. Erik Karlsson had Daniel Alfredsson. There's no doubt that having a mentor on their team fine-tunes a young player's development like nothing else. And with so many skilled veterans and great players in the league today, NHL rookies have no shortage of talent to look up to and learn from.
Mentorship has existed pretty much since the beginning of any professional sport, but in the past few decades, a different type of relationship has begun to emerge from the standard student-teacher type of role to something more akin to camaraderie. In fact, this type of relationship between two players on a team has become so prevalent that it has fallen into the category of what the kids these days would call a "bromance."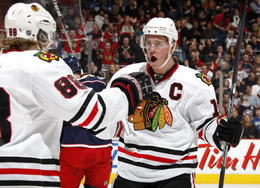 For those who have been living under a rock for the last five years, a bromance is a close, non-sexual relationship between two straight males. The NHL is chock-filled with bromances, most commonly between players close in age. These close relationships not only provide endless entertainment for the media during joint interviews, but an opportunity for the players to feed off each others' abilities in order to better their game.
Take Jonathan Toews and Patrick Kane, for example. Off the ice, the two are often seen together, proving the two are not only teammates but good friends as well. The pair are arguably the best duo in the league, so in tune with each other that they can execute a spur-of-the-moment, head-turning play without saying one word to each other on the ice.
In Calgary, two players on the Flames roster have combined the concepts of mentorship and bromances.
19-year old Sean Monahan was bound to find a mentor amongst his teammates since being drafted to the Flames in 2013, but instead of a predictable pair-up with one of the team's veteran leaders like Mark Giordano or Curtis Glencross, he found an unlikely kindred spirit in the rough-and-tough enforcer Brian McGrattan. The two clicked immediately, and their playful banter on several platforms of social media have become the source of much attention and amusement.
But aside from the laughs provided, the McGrattan-Monahan bromance could prove to become extremely beneficial to the Flames in seasons to come.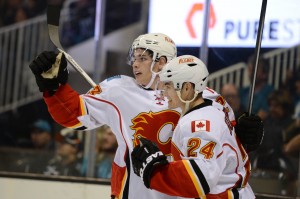 Despite surprising the hockey world with an above-average performance in his rookie year, Sean Monahan still has a lot of growing to do as a player if he wants to become a key factor in the Flames' future successes.
He can produce offense, yes. A 20+ goal season proved that. But his on-ice presence left much to be desired, and Monahan lacked dominance and assertiveness, spending a lot of time defending around his own net rather attacking throughout the majority of his first season. If not for his productivity (which some would say came from luck and a very low-scoring selection of opponents), the slim-built and quiet Monahan could have easily disappeared among the rest of his teammates during his time on ice.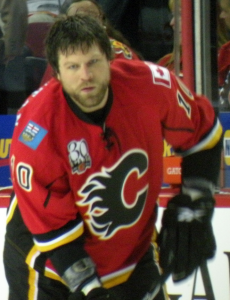 Enter the big, brazen Brian McGrattan. Although not exactly the most valuable player on the team skills-wise, McGrattan is nonetheless a fan favourite. He's the type of guy you know will always have your back. The one who just by simply skating close by with that 6'4, 235 lb frame, can intimidate the opposition. He's got presence and he uses it to his advantage.
Monahan spent a good chunk of his downtime in Calgary in the company of McGrattan, and as the season progressed, the veteran winger's influence on the rookie began to show. Towards the end of the regular season, Monahan's confidence level (which suffered greatly following the foot injury that kept him out of the game for several weeks) went up a couple notches and he was slowly learning to be more aggressive in his style of play.
Off the ice, the quiet, polite demeanor gave way to a funnier, more outspoken version of Sean Monahan. A summer spent with McGrattan resulted in the two dressing alike, Monahan getting numerous tattoos, and more importantly, Monahan bulking up. The rookie has gained almost 10 lbs of muscle and has been focusing significantly on developing his leg strength.
Increased foot speed means more time with the puck and more chances to make plays. Monahan already has a elevated hockey sense for a player his age, and adding physicality to that could only mean positive things.
Many rookies experience a sophomore slump, and with the expectations Monahan has set with his successful first season in the NHL, there is a very real possibility he could experience it too. The Flames' training camp, which opens up in just under two weeks, will give a sneak peek into whether or not he will be headed in that direction, yet in all other senses it seems that McGrattan's companionship has been rather constructive both physically and mentally.
He may not start with the crowd-saluting antics or the flashy displays of dominance on the ice, but a little McGrattan-like spunk would do wonders for Sean Monahan.
Everyone loves a good bromance, but the Calgary Flames and their fans would love it even more if that bromance contributed to the recipe for rebuild success.