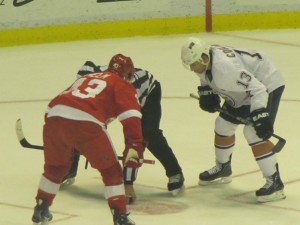 I will be the first to admit and own up to the fact that I wasn't thrilled with the Detroit Red Wings re-signing Todd Bertuzzi to a two-year deal with a no trade clause. I also admit that I often nit pick on the fact that he hits the goal post and doesn't use his size to gain the advantage like he should.
You know what they say about opinions — we all have them.
For last night's game in Edmonton versus the Oilers, I was involved in a Twitter conversation about these complaints about Bertuzzi. Leave it to Big Bert to shut me up. Not only did he turn around and score — he did it twice.
As if that wasn't bad enough, it all started with a comment on Darren Helm. He's a great skater, and I think this kid is going to be a true great some day. He just needs to figure out how to get the puck in the net. Watching Darren Helm skate can leave anyone awe struck. Remember his penalty kill in game five of the 2009 Western Conference Finals? In case you don't, here is the video:
Bertuzzi and Helm scored 44 seconds apart in the third period to pull away from a 3-3 tie and help goaltender Chris Osgood earn his 401st career win. Osgood is now two wins away from his idol Grant Fuhr. Way to go Osgood.
Now I'm not hiding the fact that I have also made jokes that if Pavel Datsyuk and Nicklas Lidstrom can trust their eyes to Dr. Rahmani, then maybe Helm should too. Think of that marketing ploy — Darren Helm has Lasik and then all of a sudden becomes a scoring machine? Yeah, if vision correction can make that big of a difference, think of all the people that will be lining up. Just a thought.
All joking aside, Helm had 17:01 minutes of total time on ice last night, which resulted in not only his goal in the third, but an assist on Kris Drapers goal in the second period. Helm added to his great night in Edmonton by winning 92 percent of his faceoffs, earning him the first star of the night.
You two both proved me wrong last night, and for that, I am eating crow. Now, if either of you go on a scoreless streak again, I will nit pick you again and see if we can't fix that. Deal?
An avid hockey lover that grew up in Michigan and lived in the Washington D.C. area while going school for Sports Management. Volunteer with the American Special Hockey Association (ASHA); and follows as much SM-liiga and Elitserien as possible along with the vast array of North American leagues.