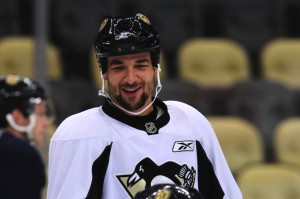 Pittsburgh Penguins General Manager Ray Shero wants his team to be tough to play against. On Monday morning he invested $1.7 million in that goal by signing physical defenseman Deryk Engelland to a three-year contract extension.
In 32 games, Engelland has just two goals and three assists, but his value to the Penguins doesn't come in the scoring department. It's the technical beat-downs of Colton Orr, Jody Shelley and other NHL heavyweights that have carved out his reputation as one of the league's top enforcers.
Solid training camps earned Engelland and Ben Lovejoy NHL roster spots on opening night, but with five proven defensemen above them on the depth chart, the two faced a head-to-head battle for the sixth spot.
Coach Dan Bylsma said the player who would fill the final slot would have to find a way to separate themselves.
"If you look at the top five guys, you can expect them to play more than the sixth guy, whoever that is," Bylsma said at the time. "I think the sixth guy is going to have to bring some kind of different element to the table, whether that's on the penalty kill or maybe with grit and physicality."
When Zbynek Michalek and Brooks Orpik went down with early-season injuries, Lovejoy got his chance on the penalty kill and held his own. Eleven of his 18 games this season came in the month of October when Lovejoy recorded a plus-4 rating, but a lackluster November combined with a healthy Penguins defensive unit eventually forced Lovejoy into the press box.
In the meantime, Engelland was busy pursuing the grit-and-physicality route that Bylsma suggested and began to emerge as a reliable, tough-as-nails defenseman.
The typical NHL enforcer lines up at forward because limited abilities can easily be hidden on a fourth line. Eric Godard has spent 65 minutes on the ice and 48 minutes in the penalty box in 13 games this season — when he makes an appearance, it's for a pugilistic reason.
But a defenseman like Engelland can't sit at the end of the bench and wait for a coach to tap him on the shoulder two or three times a game. Engelland had to prove to Bylsma's staff and management that he was dependable enough to play 12-14 minutes a night, and he's done exactly that. After seven seasons of battling his way through the minors, Engelland was rewarded with a new deal averaging $566,666 per season (just above next year's league minimum salary of $525,000).

At this point, the Penguins sit in the enviable position of having their entire NHL defensive unit locked up through the 2011-12 season with the seven players earning $19.2 million next year. Shero and Assistant GM Jason Botterill can now turn their attention to solidifying an offensive group with only five players under contract and approximately $10 million left to spend.
Trading for a strength to supplement a weakness is a strategy that Shero employed successfully two years ago when he sent defenseman Ryan Whitney to Anaheim for wingers Chris Kunitz and Eric Tangradi. With a number of promising prospects working their way up through the Pittsburgh system, Shero might look to move another defenseman in the coming months.
Paul Martin and Zbynek Michalek have rebounded nicely after adjusting to the Penguins up-tempo style of play, and the Brooks Orpik-Kris Letang pairing has quietly became one of the league's most effective defensive tandems. All four of those players are here to stay. The most common names being tossed around as trade bait include Alex Goligoski and Ben Lovejoy, and the idea of moving one isn't far-fetched.
Breaking Down Alex Goligoski
Goligoski got off to a roaring start by notching a career-high seven-game point streak to start the season, but his offensive production has slipped in the last two months as players have returned from injury, and his power-play time has plummeted. Albeit an effortless skater with a nose for the net, Goligoski has been prone to decision-making errors on the ice that force him to start questioning himself.
At the age of 25 in essentially his third NHL season, Goligoski still has room to develop and improve. Kris Letang was in a similar position in his career last year and struggled with many of the same growing pains. Letang has gone on to become an impressive two-way defensemen, and it's hard to argue Goligoski doesn't possess a similar upside. Would a team like Dallas with a surplus of scoring wingers be interested in dealing with Pittsburgh?
The concern with any Goligoski trade is where it leaves the Penguins' defense for the rest of the season. A $1.833 million cap hit for the next two years is very reasonable, and it's hard to imagine a scenario where Shero would feel comfortable heading into the playoffs with a third pairing of Engelland and Lovejoy (or another mix of spare parts). Unless the Penguins can get creative and bring in a capable replacement via another trade, a better market for Goligoski likely exists in the summer.
Breaking Down Ben Lovejoy
The possibility of moving Ben Lovejoy is stronger. He's performed fine so far this season, but Engelland's intangibles make him the more logical choice as a No. 6 defensemen on a nightly basis. If that's the case, why has Lovejoy been in the lineup four of the past 10 games? Answer: Would someone buy your sports car if you would only show it to them sitting in your garage?
Anyone watching Lovejoy's gutsy performance on Dec. 22 against Florida (goal, fight, puck to the face) would have left the Consol Energy Center impressed, but the next challenge is finding a team with a need for the 6'2″ Lovejoy's intriguing mix of size and mobility.
A few hours west of Pittsburgh on Interstate 70, a promising start to the season for the Columbus Blue Jackets has given way to a freefall down the Western Conference standings. New coach Scott Arniel is struggling to institute an aggressive, up-tempo system with a set of defensemen better suited for the defensive style former bench boss Ken Hitchcock preached.
Eric Smith of Fox Sports Ohio says high expectations for the Columbus defense under Arniel simply haven't come to fruition:
The Blue Jackets' defense has hamstrung them from surging up the standings in the Western Conference. Mike Commodore is the highest-paid defenseman for the Jackets, and he has been a healthy scratch for six of the last seven games. Jan Hejda has lost more than a step and has become a human pylon on the ice. Where the defense really has let down the team is the lack of offensive production that Scott Arniel's system was supposed to boost. Anton Stralman and Kris Russell were supposed to flourish in this system but have a combined two goals both coming from Russell. The defense has the second-lowest goal and point production as a group in the Western Conference.
Lovejoy won't light up the scoresheet with goals on a nightly basis, but his speed, consistency and salary structure would all fit well in Columbus. It makes a lot more sense for the Blue Jackets to bring in Lovejoy in the first season of a three-year deal at $525,000 per, as opposed to participating (and overpaying) in a summer bidding war for upcoming free agent Tomas Kaberle.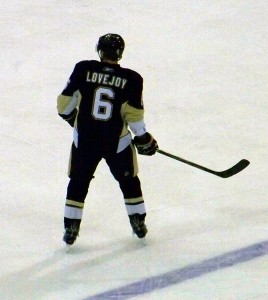 The natural follow-up question is why would the Penguins want to trade an affordable depth defenseman? When Lovejoy signed a three-year extension this past June, Sergei Gonchar already had one foot out the door, and Shero had no way of predicting what his defense would look like by mid-July. Keeping Lovejoy in the mix provided the Penguins with a capable fill-in had their free agency plans gone awry. Ninety minutes of conversation with Martin and Michalek on July 1 put those concerns to bed, and a Lovejoy trade could help Pittsburgh restock a draft cupboard already missing third- and fourth-round picks next year.
Lovejoy's contract structure is also a factor when evaluating his future with the team.  Although his NHL salary is $525,000 for all three years of his contract (according to info at capgeek.com), Lovejoy has a two-way deal for the 2010-11 season. If the Penguins decide to demote him to Wilkes-Barre at any point this year, the team would only have to pay him an AHL salary of $105,000. But for the next two seasons, Lovejoy's deal becomes a guaranteed salary of $525,000 regardless of whether he's playing in Pittsburgh or Wilkes-Barre. It's not a cap-killer, but it doesn't provide a lot of flexibility either.
Do the Penguins and Shero need to make a trade? Not at all. Too much depth is a great problem to have, especially for a team sitting tied for first in the Eastern Conference. But there's always room for improvement, and if Pittsburgh can find a way to improve a weakness or increase trade-deadline flexibility without suffering a setback elsewhere in the lineup, it makes sense to consider it.