Using "all-time" to discuss anything related to the Columbus Blue Jackets may seem a little oxymoronic. After all, we aren't talking about an Original Six franchise, but rather one of the youngest in the NHL. The Blue Jackets are playing their 16th NHL season and have reached the postseason twice, so "all-time Blue Jackets" doesn't carry the same weight as "all-time Canadiens/Red Wings/Maple Leafs/etc."
Despite the franchise's limited history and success, the Blue Jackets have, at times, benefitted from great goaltending and seen their netminders rank among the best in the NHL. And one of the all-time best Columbus goalies didn't even make this list.
Honorable Mention: Ron Tugnutt
To clarify, Ron Tugnutt misses out on the top 3 purely because of a technicality – he played 97 games for the Blue Jackets, falling just short of the 100-game minimum needed to qualify for this list. Still, he was too important to leave out of a discussion involving the best goalies Columbus has seen.
For starters, he started it all. Tugnutt was between the pipes for the first game in franchise history and set a record for wins by an expansion team goalie with 22 in 2000-01. His .917 save percentage and 2.44 goals-against average that season are nothing to sneeze at, especially considering they came while playing for an expansion team.
Tugnutt brought more than those statistics to Columbus in the team's inaugural season. On a roster largely consisting of cast-offs, he gave the Blue Jackets a recognizable name between the pipes. Tugnutt had played in the 1999 NHL All-Star Game and, as you can see above, played some of the best hockey of his career for the Senators before going to Columbus.
Plus, what longtime Blue Jacket fan could forget this:
@darenmillard #VOTETUGNUTT #CBJ pic.twitter.com/kXNPoiif

— Columbus Blue Jackets (@BlueJacketsNHL) November 7, 2012
Tugnutt was on the All-Star Game ballot in the 2000-01 season and even got his own poster as part of a "Vote Tugnutt" campaign. Even though he only played in Columbus for two seasons he made a major impact on the franchise. From strong play on the ice to name recognition and a pretty cool marketing campaign, it's clear that Ron Tugnutt must be mentioned among the Blue Jackets' best goalies.
3. Marc Denis
Tugnutt's successor takes the third spot on our list, largely thanks to the sheer volume of his work. Marc Denis backed up and split time with Tugnutt during Columbus's first two seasons before becoming the starter in 2002-03. In a big way.
Yes, Denis played in 77 games that season, a franchise record for a goalie. The 66 games he played a year later rank second on that list. He is the franchise leader among goalies in games and minutes played, shots against, and saves made.
Despite those franchise-leading stats, Denis's numbers in categories often used to measure goalie performance are not outstanding. In five seasons with Columbus, he posted a .905 save percentage and 3.01 goals-against average. However, when you consider those were the first five seasons in Blue Jackets' history and the teams in front of him were, to put it delicately, not great, those numbers look better.
While Denis has lost more games than any other Blue Jackets' goalie, that's a stat that doesn't fall squarely on his shoulders considering the sub-par teams he was on. Columbus did not finish a season with more than 74 points during Denis's tenure with the team. He certainly deserves credit for soldiering through the early growing pains of the franchise, which could have been even more difficult with a different goalie between the pipes.
A couple other fun notes on Denis: he is also the Blue Jackets' career leader in goalie penalty minutes with 22. Now, he is an analyst for RDS:
Admittedly that video was posted four years ago, but he pretty much looks like he did during his playing days with the Blue Jackets. Good for him.
2. Steve Mason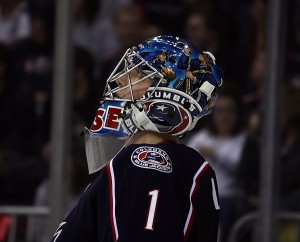 While Marc Denis makes this list based on his entire body of work as a Blue Jacket, Steve Mason is here thanks to one outstanding season. That campaign was his first in the NHL and the first in which Columbus reached the Stanley Cup Playoffs. Without the stellar play they received from their rookie goalie, the Blue Jackets probably would have had to wait even longer for a taste of the postseason.
That was the 2008-09 campaign that saw Mason win the Calder Trophy and finish as runner-up for the Vezina after posting a .916 save percentage and 2.29 goals-against average to go with 10 shutouts. Mason had nine shutouts during the next three-plus seasons combined that he spent with Columbus.
Remember how we said he's on the list thanks to one season?
As you can see, Mason did not maintain his impressive rookie numbers during the remainder of his time with the Blue Jackets. His GAA was near or above 3.00 while his save percentage fell close to or below .900 before being traded to the Flyers. Still, by leading the Blue Jackets to their first playoff berth and winning a major award, that magical 2008-09 season is enough to earn the second spot on our list of best Columbus goalies, even though he could not replicate that success.
1. Sergei Bobrovsky
Surely you knew this was coming.
There's really no debating that Sergei Bobrovsky has been the best goalie to wear a Blue Jackets' sweater, and the numbers make that clear.
Bobrovsky already held the franchise record for career wins by a goalie before this season and has since become the first to win 100 games for Columbus. He also leads all-time Blue Jacket goalies (who have played at least 70 games for the team) in goals-against average and save percentage.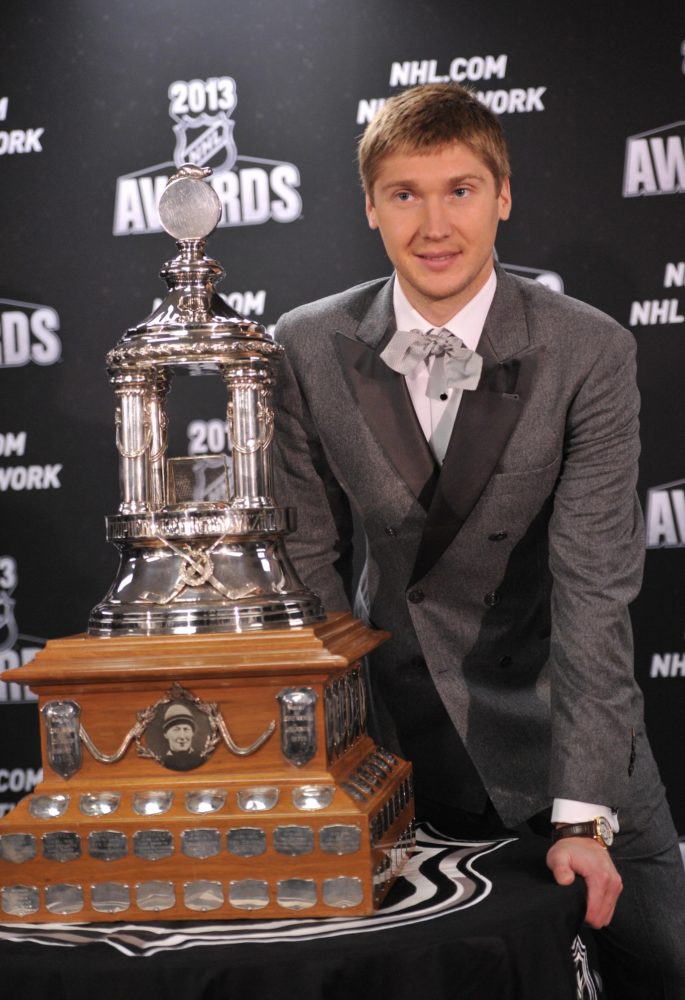 Oh, and if being better than the rest of the franchise's goalies that many ways weren't enough, he's also the only Blue Jacket to win the Vezina Trophy. Bobrovsky's play in the lockout-shortened 2012-13 season was phenomenal and nearly helped carry Columbus to its second postseason appearance. One season later, though his numbers dipped slightly, he did take the Blue Jackets to the playoffs and proceeded to earn the first two playoff wins in franchise history.
So Bobrovsky's stats and accomplishments are already the most impressive by a Blue Jacket goalie, but that's not all he's given to the team and its fans. The goalie's massive bear hugs with Nick Foligno have become a tradition after wins. It may seem silly, but giving fans something to anticipate and cheer a little louder for, even if it's just a hug, is pretty cool.
find someone who hugs you like this.

Happy #ValentinesDay! pic.twitter.com/WTv84vCUtG

— Columbus Blue Jackets (@BlueJacketsNHL) February 14, 2017
Knowing what Bobrovsky has already done for the Blue Jackets, it's a comforting thought for the Columbus faithful that, in theory, he has a lot more hockey to play for the team. After a couple trying seasons, he has the Blue Jackets poised to make their third appearance in the Stanley Cup Playoffs and is once again in the Vezina discussion. He's already the best goalie the team has seen, and has the potential to make it much more difficult for future Blue Jacket netminders to catch him.