Although the Toronto Maple Leafs and Carolina Hurricanes would appear to be two distinct teams heading in different directions, the franchises are, in fact, somewhat similar.
In Toronto, a supposedly long-term rebuild has enjoyed immense early success, thanks largely in part to the excellent play of the Leafs' youngest players. Auston Matthews, William Nylander and Mitch Marner have carried their team despite their inexperience and have molded it into one of the NHL's premier offensive forces.
Meanwhile, in Carolina, the Hurricanes have found themselves mired in mediocrity.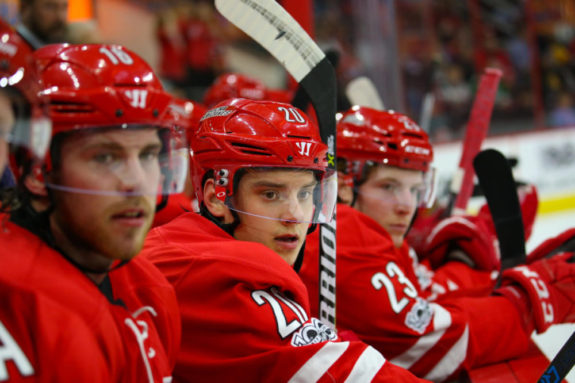 Since their Stanley Cup championship in 2005-06, the team has reached the playoffs on just one occasion and has recorded the 23rd fewest points over the past decade. In their latest re-tool, the Hurricanes have placed an emphasis on building their team from the net outwards, an approach which has allowed the club to collect a seemingly endless number of excellent goaltending and defense prospects.
However, this stance has come at the cost of offensive prowess.
As a result, the Leafs and Hurricanes have developed a common ground through their respective organizational deficiencies.
On one hand, there is the Leafs, who are flush with high-end offensive talent yet remain in need of major upgrades on the blueline, and especially so if they hope to develop into a legitimate Stanley Cup contender.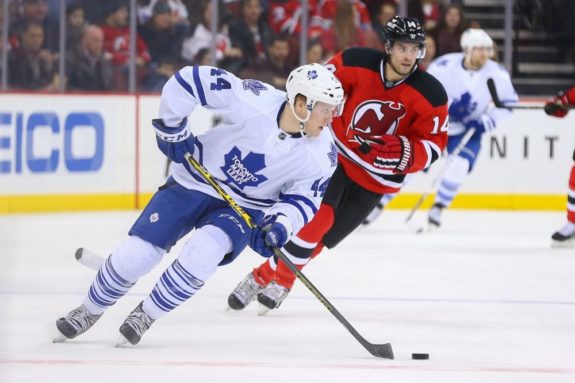 On the other hand, there are the Hurricanes. A team loaded with excellent young defenders, the Hurricanes have struggled offensively on a consistent basis and need to add raw skill if they hope to claw their way out of the NHL's goals for per game basement.
Given the glaring needs of each organization, it is abundantly clear why these two teams would make excellent trading partners. Possessing exactly what the other requires, a deal between the two clubs would undoubtedly lead to greater long-term success for each team on the ice.
Yet, which players could be on the move in a potential trade between the two clubs? Let's take a closer look.
Blueline Blues
In Toronto, the Leafs' blueline is in need of major upgrades.
While the team has a number of younger defenders of strong potential in Morgan Rielly, Nikita Zaitsev and Jake Gardiner, the franchise is lacking defensive depth at the NHL level as well as an organization.
At the moment, the Leafs' current blueline is simply not strong enough to mount a legitimate Cup run. Although the players mentioned above have been strong and will surely continue to be, Toronto's blueline remains too thin. Martin Marincin and Connor Carrick have also played well, yet project to be bottom pairing defenders in their respective careers, while Roman Polak and Matt Hunwick will surely not remain with the team long-term.
From @travisyost: Rielly and the future of the Leafs' defence. MORE: https://t.co/1RbI30Quom pic.twitter.com/soPTL842aS

— TSN (@TSN_Sports) February 20, 2017
In terms of prospects within the organization who could step into NHL roles in the near future, the list is once again thin.
Most notably, there are Andrew Nielsen and Travis Dermott, two defenders in their first years of professional hockey. Both players have displayed sound defensive instincts as well as capabilities offensively but will require greater time to develop if they wish to find sustained success at hockey's highest level.
Andrew Nielsen and Dermott among young guys working quite a bit with Stephane Robidas. Say he's good to relate to, been very helpful.

— Kristen Shilton (@kristen_shilton) February 3, 2017
As such, the Leafs are in need of both sound defenders and additional young prospects in order to further strengthen their blueline and organization as a whole. In particular, Toronto needs to add a legitimate defensive prospect of top-pairing potential who brings size, skill, and reliability to his game.
Trade Bait
Fortunately, the Hurricanes boast a number of young defensive prospects who fit this bill.
| | | | |
| --- | --- | --- | --- |
| Player | Height/Weight | Current Team | Projection |
| Jake Bean | 6'/170 | Calgary (WHL) | Top-4 D |
| Haydn Fleury | 6'2"/205 | Charlotte (AHL) | Top-4 D |
| Noah Hanifin | 6'3"/210 | Carolina (NHL) | Top-2 D |
| Roland McKeown | 6'1"/195 | Charlotte (AHL) | Top-4 D |
| Jaccob Slavin | 6'2"/205 | Carolina (NHL) | Top-6 D |
The Leafs would surely love to land one or more of these defenders, but doing so is quite obviously easier said than done.
Of the players listed above, none of which will be easy to pry away from the Hurricanes, as all are excellent young players of massive potential. However, with a clear need for offense, Carolina will have to think long and hard about possibly trading away one of these prospects, similar to the deal the New Jersey Devils made in order to acquire offense in the form of Taylor Hall in 2016.
If they could choose, the Leafs would surely select Noah Hanifin, but then again, he is undoubtedly the most valuable defender on the list. His size, defensive prowess, and the smidge of offense in his game would be more than welcome on Toronto's blueline. His presence, potentially alongside Rielly, would provide the Leafs with a reliable defensive duo for the foreseeable future.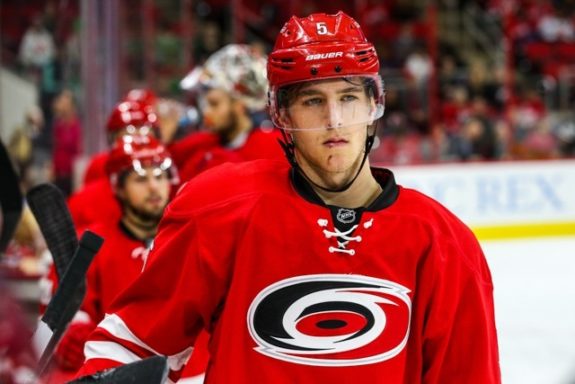 Otherwise, the Leafs could target Haydn Fleury or Roland McKeown, two defenders who require seasoning but have the potential to become shutdown defenders at the NHL level. Given the Leafs are in the early stages of a rebuild, trading for one of these two could be the smarter option as it would come at a lesser price tag and would allow either defender to grow and develop alongside Toronto's organization as a whole.
The Return
Trading for one of these Hurricanes defenders would be no easy task, as virtually all could develop into legitimate NHL defensemen.
As such, the return in a potential trade would have to be significant and would undoubtedly cost the Leafs a major piece, or two, in return. Fortunately, Toronto holds exactly what Carolina needs — talented young forward prospects as well as a select few experienced scorers. Although arguably none retain value equal to that of Hanifin, Fleury or McKeown in a trade, there are assets which would surely appeal to the Hurricanes.
| | | | |
| --- | --- | --- | --- |
| Player | Height/Weight | Current Team | Projection |
| James van Riemsdyk | 6'3"/200 | Toronto (NHL) | Top-6 FWD |
| Tyler Bozak | 6'1"/195 | Toronto (NHL) | Top-6 FWD |
| William Nylander | 5'11"/175 | Toronto (NHL) | 1st Line FWD |
| Kasperi Kapanen | 5'11"/180 | Toronto (AHL) | Top-6 FWD |
| Brendan Leipsic | 5'9"/170 | Toronto (AHL) | Top-6 FWD |
Of these five listed above, virtually all would attract the Hurricanes given their needs and direction as a team.
Firstly, there would be the potential to acquire a forward of both skill and experience, with James van Riemsdyk and Tyler Bozak being the two primary options. In van Riemsdyk or Bozak, Carolina would stand to add instant offense as well as consistent production to a lineup embattled by erratic scoring. Although these two experienced forwards are somewhat older at 27 and 30 years-of-age, respectively, they both hold reasonable salaries and are under contract through the 2017-18 season.
If the Hurricanes were to opt for youth rather than experience in a potential deal, there are once again a number of options for the organization to choose from. Most notable of all would be the potential to land Nylander, a player of immense skill and ability whose name has frequently been mentioned in trade rumors.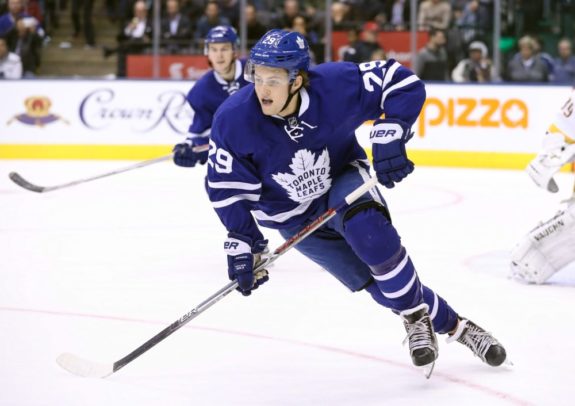 Now, it goes without saying that Nylander is an important, if not essential piece of the Leafs' long-term puzzle. As such, his potential inclusion in any trade would mean a massive return for Toronto, who would be knowingly moving a winger with first line skill and potential in order to fill a glaring need. This isn't to say that the Leafs are thinking of trading Nylander or that they should, but rather emphasizing his value in a deal and the massive return which it would generate.
You could trade William Nylander but hear me out: What if you DON'T trade him?

— Steve Dangle Glynn (@Steve_Dangle) February 2, 2017
Outside of Nylander, the Leafs hold a handful of strong young prospects who they could be willing to move in order to upgrade their organization defensively. In particular, there is Kasperi Kapanen, who has enjoyed a strong second season with the Toronto Marlies, and Brendan Leipsic who is a third-year professional. Both forwards have displayed the ability to produce consistently at the AHL level and are more than deserving of considerable time with an NHL team.
The Big Picture
No, a trade between the Leafs and Hurricanes is not necessarily imminent, but it is quite clear that the opportunity exists for exactly such to take place.
For Toronto, an emphasis on highly skilled young stars has led to success in the short-term, yet it is prosperity which is quite likely unsustainable in the long-run. With a polarized blueline split between young guns and aging veterans, the Leafs need to acquire and develop assets which will ensure the team can play a sound team game far into the future. Despite their surprising location in the standings at the trade deadline, a position in the bottom ten of the goals against per game rankings highlights an important and overlooked issue for Toronto.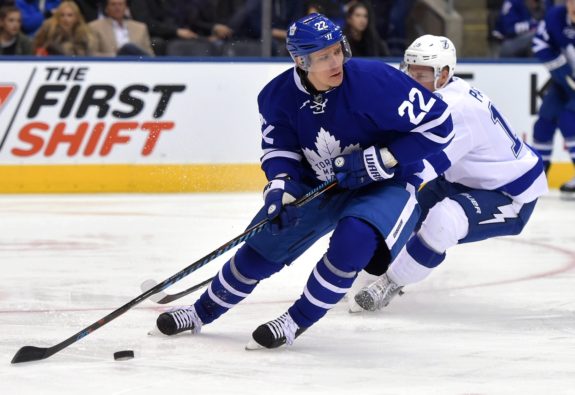 Meanwhile, in Carolina, the exact opposite can be said regarding the Hurricanes. Situated in the bottom ten in terms of goals for per game, an over-emphasis on defense and goaltending has created an organization hard-pressed for consistent offensive production. Further, with an offense pieced together through the Draft, trades, and free agent signings, Carolina remains in search of a true team identity.
As such, the time for trade between these two organizations could not be better. With the Leafs in desperate need of an excellent young defender and the Hurricanes in search of capable scorers, both Toronto and Carolina would benefit greatly from a fair yet potentially blockbuster exchange.
This is as active and determined as we've seen the Hurricanes play in a month. A little manic on offense, but buzzing

— Adam Gold (@AGoldFan) February 22, 2017
Will the two teams come together and trade in order to benefit one another, or instead look to the Draft or free agency to address their glaring weaknesses. Whichever the case may be, the fact that these two teams are ideal trading partners simply can not be disputed.