We're about a week into July and there's barely any meat left on the rotting bones of the 2016 free agent class. However, there are still a few deals to be had out there in depth players who play above their pay grade. Here are six hidden gems of the remaining free agent class who could provide high value for a low cap hit.
Josh Jooris
Jooris didn't receive a qualifying offer from the Calgary Flames. On the surface, things didn't go great in his sophomore season. As a rookie he scored 12 goals and 24 points in 60 games with a 1.26% adjusted CF%Rel. Last season he had just four goals and 13 points in 59 games with a -1.04% CF%Rel. But there's more to unpack than what's on the surface.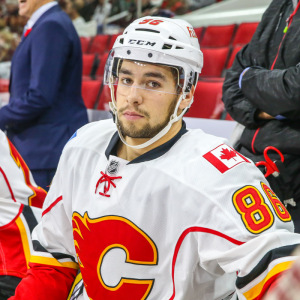 There were moments where he didn't look great, but his role changed in his second season. He not only saw his overall average time on ice fall by more than two minutes, his zone starts shifted toward the defensive zone. To boot, he fell from 49 power play minutes in 2014-15 to just 14 in 2015-16. That seems like a small shift, but he made the most of those minutes in his rookie campaign, scoring four goals and five points on the power play. He had no power play points last season.
The drop in his shooting percentage is also worth considering. It's likely that the 13.5% he shot in his rookie year was higher than he'll have as a career average, but it's almost a guarantee that he'll shoot higher than last season's 5% going forward. That's particularly important because his individual shot attempt rate at even strength went up last season despite the shift toward the defensive zone. A shooting percentage rebound could produce similar results to his rookie season. He had a down year, but there could be surprising value in giving Jooris a chance.
Brandon Pirri
Pirri has bounced around a bit in his short career, but that shouldn't detract from what he's managed to accomplish. He's a quality shooter (13.6% career-wide in all situations), who will likely come at a reasonable price and provide some good secondary scoring. He's managed to score at a solid rate when given the opportunity, and that's without cutting him any slack as he bounces from team to team and line to line.
He scored 22 goals in 49 games for Florida in the 2014-15 season and managed to put up 14 goals and 29 points in 61 games split between Anaheim and Florida last season. A young center capable of scoring 20 goals isn't a throw away, especially when, at this point in free agency, he's likely to be priced like a third line wing.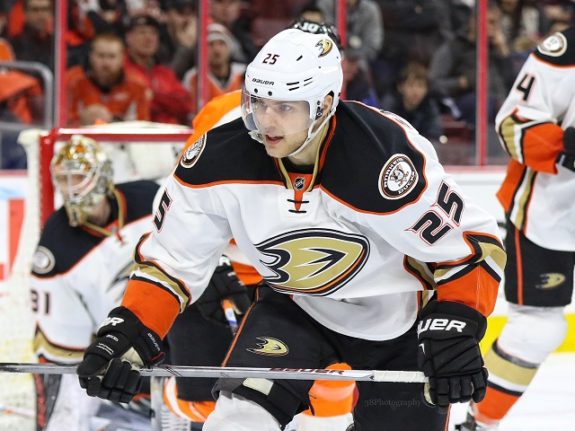 Mike Santorelli
Santorelli is a well-known utility knife. He's able to provide some depth scoring and is the kind of depth forward who pushes play in the right direction while absorbing a lot of defensive deployment. Last year in Anaheim, it didn't seem to be quite the right fit. He saw more offensive zone deployment than he did in previous years and he wasn't able to contribute to possession as he had in the past.
Nonetheless, the biggest contract he's ever landed is for $1.6 million and a new deal should come in south of that. He's proven he can take some difficult deployment and not be a drag on the team. He's also a player who has historically done a good job drawing penalties. There's a certain consistency to what you can expect from Santorelli in a depth role. Signing Santorelli is taking the gamble that the change in role in Anaheim is to blame and not aging, but given what's available through free agency at this point, it may be a gamble worth taking.
Brad Boyes
The 34-year-old journeyman had his offensive numbers sag a bit last season, but that's not the only thing he offers. His defensive play is still strong and he's got the possession numbers to prove it. Over the last two seasons, he has the best Corsi Against per hour of any free agent forward remaining on the market. His 4.27% adjusted CF%Rel last season was largely on the back of very good defensive numbers while seeing basically even deployment between the offensive and defensive zones. Boyes is still capable of contributing.
Matt Cullen
Age has done little to slow the two-time Stanley Cup Champion. The 39-year-old made just $800,000 last year with the Penguins and, as a fourth-line center, put up 16 goals and 32 points. He took some very heavy defensive deployment and handled it well, generating offense and opening up things for a team that had three dangerous forward lines (at least once they moved Phil Kessel to the third line).
Cullen still has value despite the fact that he'll turn 40 this winter. If he can be had for a similar contract to the one he played under last year, he can bring considerable value to a team's depth.
Justin Schultz
Schultz is one of the best UFA defenseman remaining on the market, but he's also a bit of a buried commodity. His time in Edmonton was contentious and he didn't prove to be the Norris-worthy defenseman that was promised. But he's a serviceable third-pairing defender who can provide value on the power play.
Over the last two seasons he has more primary assists and points on the power play than any other defenseman on the market. His qualifying offer would have been ridiculous, but if he can come in on a third-pairing price, he's capable of providing more than typical third-pairing value.
None of these guys will single-handedly change the fortunes of a team, but there are a lot of teams that still need to round out their depth. As the Penguins showed last season, taking a chance on some high-upside, responsible players in depth positions can make a significant difference.