Whether you are a fan of the Chicago Blackhawks or a person who just loves the game hockey, it is almost impossible to not be impressed with what Joel Quenneville and company have been able to accomplish over the last seven years. During that time span, the franchise has managed to win three Stanley Cup Championships, as well as reach a pair of Western Conference Finals for good measure.
In this day in age, it is rare for teams in any of the major North American sports to string together multiple titles over an extended period time. Not surprisingly, when it actually occurs, many find it difficult to not start throwing around the word "dynasty". In a league which has had its share of memorable reigns over its storied history, what the Blackhawks have done is simply not enough to elevate them to the status of those wonderful sides of yesteryear.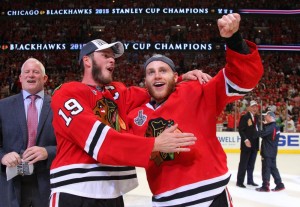 Three In Six Is Impressive But…
By no means does that belittle what the likes of Marian Hossa, Patrick Kane, Duncan Keith, Brent Seabrook and Jonathan Toews have accomplished but let's not be silly here. The numbers speak for themselves. Sorry, but winning three championships over an extended period of time does not qualify as a dynasty. Never has and never will.  In my mind, it is fairly straightforward.
And yet there appears to be a growing number who seem set on giving Chicago more credit than they deserve when it comes to ranking them among the very best in National Hockey League history. While there are those who believe this edition of the Hawks has earned the right to be mentioned in the same breath as the legendary teams of the Montreal Canadiens, Detroit Red Wings, Toronto Maple Leafs, New York Islanders and Edmonton Oilers, due in large part to the "salary cap" and  a "30 team NHL", they would be dead wrong.
Unfortunately, the era in which a team plays has no bearing on whether they should be considered among the greatest of all-time. With that said, one can certainly make the argument that winning multiple titles in a six-team league is a completely different thing. Fair enough. With that in mind, the NHL has had three "legitimate" dynasties since the 1967 expansion and all three were on a completely different level than what we have watched unfold over the past seven years. Like it or not, the numbers speak for themselves.
Habs Remain The Measuring Stick
By the start of the 1975-76 campaign, the National Hockey League had tripled in size to 18 teams and the Montreal Canadiens still went on to win four consecutive titles from 1975-79. While many consider those Habs teams to be the greatest of all-time, they not only won championships but were also by far and away the most dominant regular season team over that same time period. In other words, Scotty Bowman's squad was a true dynasty.
The same holds true for the New York Islanders. From 1979-83, the Isles won four straight Cups, were among the very best teams in hockey in each and every one of those seasons and actually made five consecutive appearances in the Final, losing to Wayne Gretzky and the Edmonton Oilers in 1984. Just like Montreal, the Islanders not only defended their title but did so on three consecutive occasions. To put that into perspective, the current day Blackhawks have yet to do it once but will have that opportunity one more time during in upcoming 2015-16 season.
That brings us to the Oilers and what was truly the last dynasty the game of hockey has seen. While Edmonton did not win more than two straight titles, thanks in large part to a colossal blunder by defenceman Steve Smith in 1986 and the "selling" of Gretzky to the Los Angeles Kings following their 1988 Championship, the so-called "Boys on the Bus" did win five Cups in seven years. No. 99 and company not only won a ton of games but also changed how the game was played.
Oilers Were Last True Dynasty
No team in the last forty years has come close to duplicating what Glen Sather's crew pulled off from 1983-1992. That ten-year run saw the Oilers win five Stanley Cups, lose in the 1983 Final and fall short in the then Campbell Conference Finals in both 1991 and 1992. So in other words, outside of the aforementioned hiccups of 1986 and 1989, Edmonton reached the "final four" eight time in the span of a decade. Again, the numbers do not lie.
If Mr. Quenneville can get his players to go out and defend their 2015 Stanley Cup Championship in a year's time, make it back-to-back titles and four in eight seasons, perhaps then we can start the discussion on whether this team belongs among the elite of the elite. In my mind, they would need to win at least two more over the next three years to have any shot of doing that.
Having said that, what the Hawks have done over the last number years is nothing short of amazing.  It is not even up for debate. However, slotting them with the aforementioned teams for the sake of doing so is frankly insulting to what those teams accomplished during their time atop the hockey world. Can we not simply accept things for what they are?
In the world of sports, a dynasty is a very special and rare thing. Yes, it has been a quarter of a century since the Edmonton Oilers won their last Stanley Cup but that is part of the beauty in what all those teams did. It is not an everyday occurrence. Now that may sound corny to fans who were not lucky enough to watch them but it makes perfect sense to those of us who were privileged enough to do exactly that.
Rob Soria is the Author of Connor McDavid: Hockey's Next Great One. He has chronicled the Orange and Blue since creating his Oil Drop blog in 2011 and has also had his writings featured over at HometownHockey.ca and Vavel USA, where he has covered the NHL, MLB and ATP Tour. Rob was born, raised and still resides in Edmonton, Alberta and can be reached via twitter @Oil_Drop.