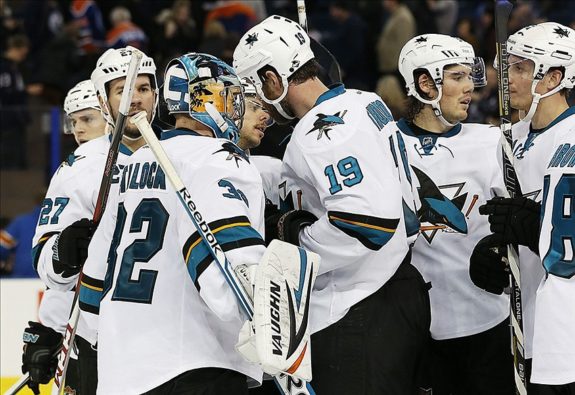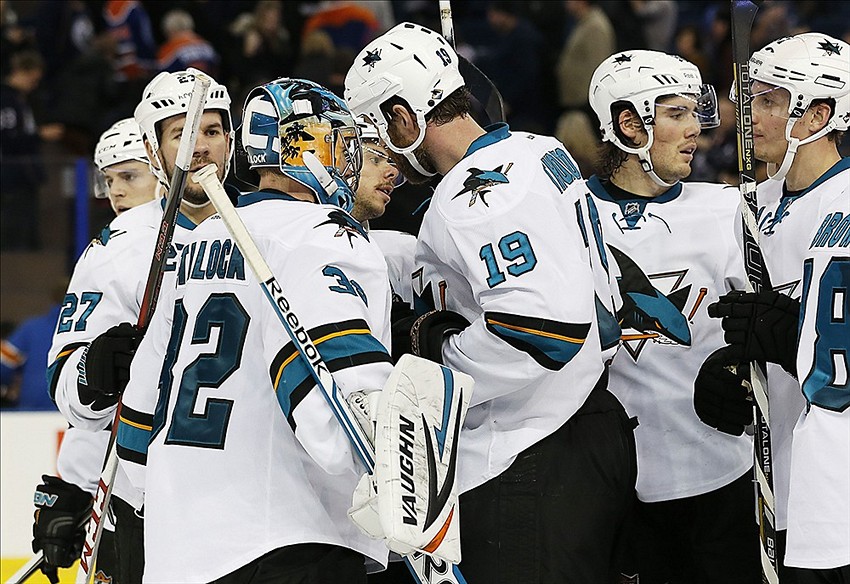 Busy Days in San Jose
This has been an eventful weekend for San Jose Sharks fans and the media, with small story lines emerging throughout the past 48 hours. And for once in Sharks history, all the news was good.
Contracts, injuries, and the upcoming draft were all highlighted by the organization when speaking with the media. These discussions and the news published by credible sources brought the residents of Teal Town the hope they missed last offseason. It appears general manager Doug Wilson has regained his bearings, and change is coming in San Jose.
Adam Burish's Buyout
Sharks waive Burish for buyout purposes http://t.co/1so79bWcQe

— NBC ProHockeyTalk (@ProHockeyTalk) June 19, 2015
San Jose has decided to buyout forward Adam Burish one year before completing his four-year, $1.85 million contract signed in 2012. While this action was a predictable one, it was nonetheless the correct move.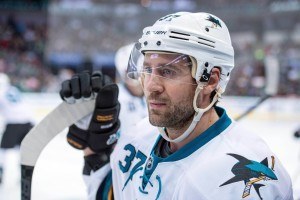 Adam Burish did almost nothing productive in his time as a Shark. In his three seasons with San Jose, he played just 81 games and registered a mere six points. The former Wisconsin Badger and college teammate of Joe Pavelski was sent to the AHL partway through the 2014-2015 campaign.
Even though he was one of the few Sharks to have a Stanley Cup ring, he never found a permanent spot on the team's roster. The club will only have a small portion of his salary count against their cap space, thus leaving them with more money to attract skaters in free agency.
Hannan, Scott Not Returning
John Scott and Scott Hannan will not return next season, per Doug Wilson #SJSharks

— Kevin Kurz (@KKurzNHL) June 19, 2015
Praise the lord.
Wilson announced that perennial pylons John Scott and Scott Hannan will not be on the Sharks' roster at the start of next season, which brought joy to the once disappointed fan base.
Neither Hannan nor Scott had much success in their most recent stints in teal.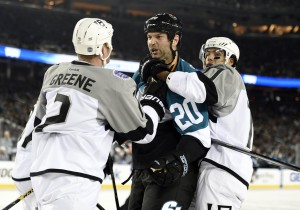 Scott, the 6′ 8″ enforcer from Alberta, averaged a microscopic ice time of 7:27 in his 38 games in teal. He scored only three goals in that span – which still surprised everybody who watches hockey – and registered an unimpressive 45.3% Corsi. Former Shark Andrew Desjardins, is the only reason his possession numbers even got that high.
Meanwhile, Hannan scored 19 points in 108 games over the last three seasons in San Jose while keeping a negative but acceptable minus-two rating. His Corsi wasn't all that atrocious either, with his team controlling 48.5% of shot attempts when he was on the ice, despite starting 53% of his shifts in the defensive zone.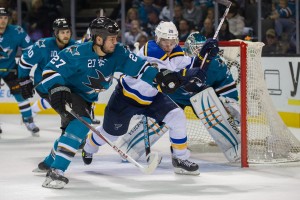 But the 36-year-old defenseman is well past his prime and made a number of critical defensive mistakes. He also took away games from prospect Mirco Mueller, who was constantly placed in the press box in favor of the experienced Hannan. Without the veteran in the lineup, Mueller will have a chance to further develop his game with consistent play.
The ever-hilarious Scott and the mentor that is Hannan will be missed in the locker room but not on the ice. There are better players out there to fill their roles.
Niemi, Irwin Questionable
Sharks GM on potential return of free agent Antti Niemi: 'We've had some discussions.' http://t.co/72SBQ9j6Lb pic.twitter.com/y49iReKfzz

— theScore (@theScore) June 20, 2015
Both Antti Niemi and Matt Irwin are uncertain to return to San Jose next season. While both players have been inconsistent over the years, they are not the biggest problem for the team.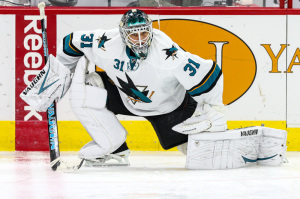 Niemi has actually been quite good for the Sharks during the regular season. Over the course of 82 games, he averages a solid .917 SV% despite his heavy workload. However, when the playoffs begin, that number falls to .907%, not even close to the insane percentages put up by many Cup-winning goaltenders.
If Niemi can carry his regular season percentage into April, May, and June, then the Sharks may stand a better chance in the postseason.
To do this, his work load throughout the year must decrease significantly. It's no coincidence that the Finnish netminder's best season and playoff was the lockout-shortened 2013 campaign. He is relied on too much by management, typically starting between 60-70 games for his club before Round One.
San Jose has also expressed interest in New York Rangers goaltender, Cam Talbot.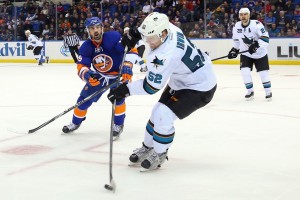 Irwin would be a strong player on the roster if he remained in San Jose. He improved over the course of the season and is a great man to have as a sixth or seventh defenseman that can slot in during injuries.
Karlsson, Dillon Will Be Back
Wilson doesn't expect any hiccups in extending pending RFAs Melker Karlsson and Brenden Dillon at some point this summer #SJSharks

— Kevin Kurz (@KKurzNHL) June 19, 2015
In other news, Melker Karlsson and Brendan Dillon will likely be back with the team come October. Both 24-year-olds fill different, although vital, roles for the Sharks and having them back will help San Jose become a Cup contender.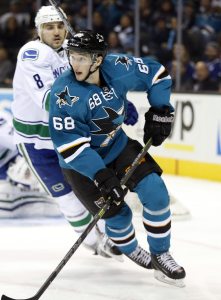 Karlsson was a blessing from the hockey gods as the young Swede dominated after being put in the lineup midway through the year. He was an excellent depth player and even moved up to the first line towards the end of the campaign.
The developing winger ended the season with 24 points in 53 games. While I don't believe this is top-six production, he would be a force if returned to San Jose's youthful third line. Putting him against lighter competition can only help his performance.
Dillon was acquired in a trade for Jason Demers early in the season and had a mediocre year on the Sharks' blue line. This may have been a result of his rotation of defensive partners, but he made a number of individual errors that cost his team as well.
However, is projected to become a solid top-four defenseman and is poised to rebound back from his down year last season. He is a smart and capable player that is just adapting to his new surroundings in the Bay Area. A full season with the team and a stable partner will certainly assist him being a high-caliber shutdown blueliner.
The Return of Raffi
#SJSharks Wilson says Torres' recovery on schedule, expects him ready for training camp, but acknowledges his health isn't a slam dunk

— Paul Gackle (@GackleReport) June 19, 2015
After being out for all last season, enforcer Raffi Torres may be back on the ice for San Jose come training camp.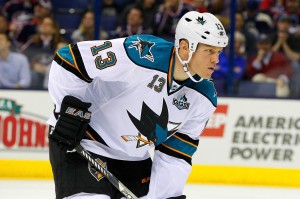 Torres brought a physical presence to the team while also putting up points when needed. He has recorded 15 points in 28 regular season and playoff games with the Silicon Valley franchise. This is a very small sample size, but a promising one at least.
Recovering from a knee injury is not easy. Because of his lengthy absence and recovery time, fans should not expect him to be the same player he was before he left the lineup two seasons ago.
That being said, having him available to play is not a bad asset. He may still be able to contribute offensively in the bottom six or, at worst, could be a quality 13th forward that could play in case of an injury or an extended cold streak. Having him only helps the Sharks.
Shopping the Pick
Yes, that pick. According to Eric Gilmore of NHL.com, Wilson is willing to listen to offers regarding San Jose's ninth overall pick in the upcoming draft. While this may displease some loyal fans, dealing the top-10 selection may benefit the franchise.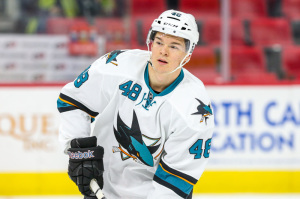 The Sharks have an ocean of outstanding prospects and youngsters in their organization. Tomas Hertl, Mirco Mueller, Nikolay Goldobin, Chris Tierney, Rourke Chartier, Julius Bergman, and Kevin Lebanc all have the potential to be productive players in the NHL. In fact, Hertl, Mueller, and Goldobin could very well become the next Joe Pavelksi, Marc-Edouard Vlasic, and Logan Couture respectively.
The future in Teal Town is promising, and possessing 26 picks over the next three drafts will only bolster San Jose's pool of prospects.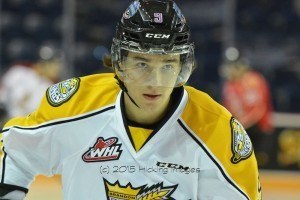 Wilson also mentioned that improving his team's blue line is a priority for him this offseason. The Sharks were one of the worst defensive teams in the NHL last year after finishing 24th in goals against average, thus proving that help is needed on the back-end.
Perhaps he will elect to deal his first-round pick to acquire a skilled defenseman if Noah Hanifin, Zach Werenski, and Ivan Provorov are all off of the board by the time San Jose picks. Otherwise, the free agency market has a number of quality blueliners that could fill this position without having to forfeit a pick or a player.
The general manager holds a valuable commodity that will attract teams that don't pick until later in the draft. Whether or not the Sharks keep their selection, a talented player should be en route to San Jose.
Making Progress
Although a portion of this news is addition by subtraction, almost every decision Wilson announced could be considered the right move for the Sharks. Younger players are going to get the opportunity to play on a nightly basis, reinforcements on defense appear to be on their way, and the bottom six is changing from a physical group to a skilled group.
There may be hope for San Jose after all.
Drew Weber is a columnist for the San Jose Sharks at The Hockey Writers. He previously wrote articles and appeared on podcasts for Teal Town USA (formerly Pucknology) and contributed briefly to Fear the Fin. You can follow him on Twitter at @puck_over_glass.