For the first time since 2001, a Chicago Blackhawks draftee was set to represent Team Canada as captain at the World Junior Championship (WJC). 
Kirby Dach was named captain for Team Canada earlier this week and was set to join Steve McCarthy, who was captain for Team Canada in 2001, and Troy Murray, who was the first Blackhawks drafted player to wear the "C" for Team Canada back in 1982. 
Troy Murray – 1982
Murray was drafted by the Blackhawks back in the 1980 NHL Draft, going 57th overall in the third round.  
In 1982, Murray made history, winning Team Canada their first gold medal at the WJC level as they finished the tournament with six wins and one tie. They finished at the top of their group with 13 points, and outscored their opponents 45-14. 
The lone tie came against a strong Czechoslovakia team who finished just behind Team Canada with five wins, one loss, and one tie as they took the silver medal. 
In the seven games that were played, Murray scored four goals and four assists for a total of eight points. 
Murray went on to have a lengthy NHL career, spending the next 15 seasons in the NHL playing for the Blackhawks, Winnipeg Jets, Ottawa Senators, Pittsburgh Penguins, and Colorado Avalanche. 
In the 1985-86 season with the Blackhawks, Murray had his best season, finishing with 45 goals, 54 assists, and 96 points, which earned him the Frank J. Selke Trophy as the top defensive forward in the NHL. 
Murray also finished his career as a champion, winning the Stanley Cup with Avalanche in 1996 despite not making an appearance in the Cup Final. 
Steve McCarthy – 2001
McCarthy was drafted by the Blackhawks in the first round, going 23rd in the 1999 NHL Draft. 
McCarthy was the next Blackhawks draftee to be captain for Team Canada in 2001 as they fell short of the gold but still walked away with bronze, as they defeated Sweden in overtime, 2-1. This was Team Canada's second year in a row winning bronze, as they defeated Team USA 4-3 in 2000. 
Team Canada finished third in the preliminary standings with two wins, one loss and one tie, for a total of five points. 
McCarthy finished his second WJC stint with Team Canada with a goal and an assist, for two points.  
Unfortunately, after the promising WJC campaign, McCarthy was hit with the injury bug early on in his career, suffering a season-ending shoulder injury on March 3, 2000, and missing the majority of the 2003-04 season with a groin injury. 
McCarthy's best NHL season came with the Atlanta Thrashers in 2006-07 where he scored four goals, had a career-high 12 assists, and tied a career-high 16 points, resulting in McCarthy's second playoff appearance which came against the New York Rangers, who swept the Thrashers 4-0. 
Kirby Dach – 2021
Now looking ahead to 2021, Dach had the potential to be the best Blackhawks draftee to be captain for Team Canada.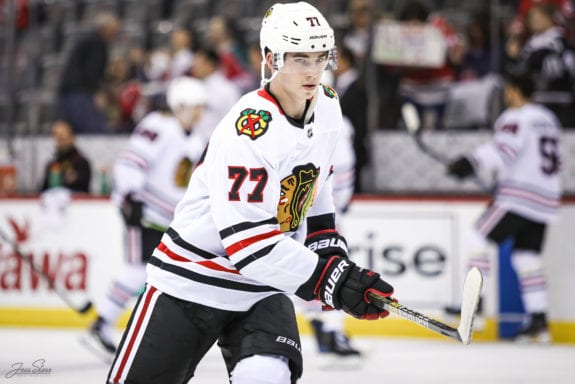 Dach is the highest-drafted captain out of the three, going third overall in the 2019 NHL Draft, which goes to show the damage he could have done during the WJC. 
In the 2019-20 season, Dach played a total of 64 games for the Blackhawks, scoring 8 goals, 15 assists, and finishing his rookie campaign with 23 points. 
Unfortunately, Dach suffered a wrist injury against Russia during a pre-competition match, and Bob McKenzie of TSN confirmed that Team Canada will be without their captain for the remainder of the tournament.
Team Canada played their first preliminary-round game against Germany on Dec. 26, and with Dach out, we should expect to see alternate captains Bowen Byram and Dylan Cozens lead this talented Canadian team to gold.
---
---