Day 2 of the 2021 World Junior Championship is in the books, and one thing is certain: Canada is not content to stop scoring. The host nation racked up 16 goals in a blowout of Team Germany, and they will be looking to build on that in another lopsided matchup against Slovakia. Meanwhile, Finland and Russia will be looking to keep pace, as Finland tries to outlast Canada in Group A and Russia tries to establish control of Group B.
Finland vs. Switzerland (2:00 PM)
Finland: Team Preview
Switzerland: Team Preview
Switzerland and Germany are underdogs in Group A at the moment, but the Swiss offered Slovakia a tough challenge in their matchup on Christmas Day. Goaltender Thibault Fatton stood on his head, saving 31 of 32 shots against him in a 1-0 defeat. He was only outmatched by his opponent in the opposite net, and let down by the attackers on his own team. Switzerland will need to identify an offensive threat if they want to make waves in this year's tournament.
Finland had no shortage of goals in their 5-3 defeat of the Germans on Day 1. Forwards Henri Nikkanen and Aku Raty and defenseman Topi Niemela each had a goal and an assist. The Arizona Coyotes selected Raty with a fifth-round pick in 2019 but is still young enough to play in this year's tournament. His younger brother, Aatu, has been projected as high as the first-overall pick in the 2021 Draft.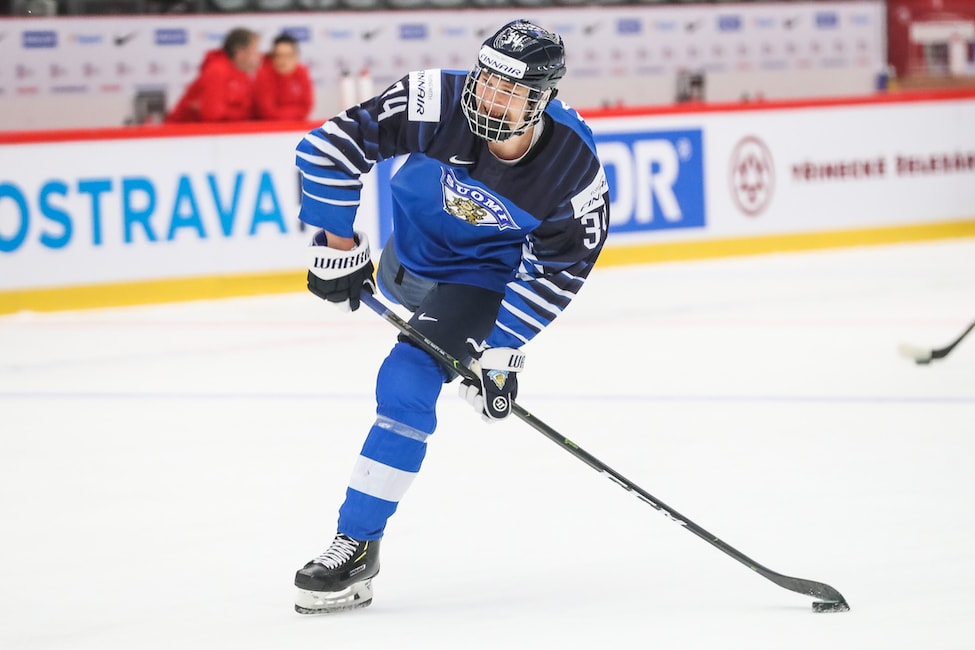 Finland will be the favorites entering this game, but Switzerland will be looking to maintain its stout defending and goalkeeping and sneak away with an upset victory. Finland's defense did not look strong in Game 1. Defensemen like Niemela and Ville Heinola, who has seen eight games in the NHL with the Winnipeg Jets, will need to step up and clamp down to prevent any surprise goals from the Swiss.
Favorite: Finland
Players to Watch: Thibault Fatton, G (SUI); Aku Raty, F [ARZ], Topi Niemela, D [TOR], Ville Heinola, D [WIN] (FIN)
Slovakia vs. Canada (6:00 PM)
Slovakia: Team Preview
Canada: Team Preview
After last night's 16-2 performance, there isn't much analysis to do on Team Canada other than that they look primed for massive success this year. Dylan Cozens, the highest-scoring player from last year's tournament returning in 2021, led the attack with three goals and three assists. Dawson Mercer, a New Jersey Devils prospect, had four points, and each of Peyton Krebs (Vegas Golden Knights), Connor McMichael (Washington Capitals), Alex Newhook (Colorado Avalanche), Cole Perfetti (Jets), and Philip Tomasino (Nashville Predators) scored three.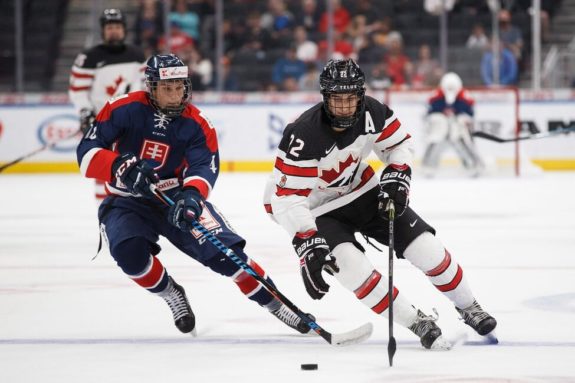 Slovakia's Simon Latkoczy, the only goaltender in the tournament so far with a shutout, will be a tougher challenge for Canada than Germany provided. Forward Roman Faith, a 2021 draft-eligible prospect, scored Slovakia's lone goal in their 1-0 defeat of Switzerland.
There's no reason to expect an upset in this game, but they're always possible in the WJC. Canada will need to maintain its focus and make sure that this game is as successful as the last.
Favorite: Canada
Players to Watch: Dylan Cozens, F [BUF], Dawson Mercer, F [NJD] (CAN); Simon Latkoczy, G (SVK)
Czech Republic vs. Russia (9:30 PM)
Czech Republic: Team Preview
Russia: Team Preview
Sweden beat the Czech Republic 7-1 on Day 2 of the tournament, and they'll need to rebound quickly to pose any challenge to Team Russia, coming off a big defeat of the rival Americans. Their only goal came from team captain and Montreal Canadiens prospect Jan Myšák. But he'll need some support if the Czechs are going to conquer the Russians.
Russia's Vasily Ponomarev, a Carolina Hurricanes prospect, scored two of the team's goals against the United States, while goaltender Yaroslav Askarov of the Predators looked inconsistent. He allowed a few late goals and ended up with 23 saves on 26 shots.
Russia should command this game, but the Czech Republic won't go quietly. Russia will need to establish its dominance early so as not to give their opponents reason to hope.
Favorite: Russia
Players to Watch: Jan Myšák, F [MTL] (CZE); Vasily Ponomarev [CAR], Yaroslav Askarov, G [NSH] (RUS)
Day 3 Summary
Day 3 features three teams who are clear favorites, looking to cement their place in the next round and begin to establish seeding for the final stage of the tournament. Each of Finland, Canada, and Russia will expect clear victories. But they will be facing three teams desperate for an upset. Canada has been the story of the tournament so far: how many goals will they score against Slovakia today?
All the 2021 World Junior Championship Team Information:
Austria — Team Preview — Roster
Canada — Team Preview — Roster
Czech Republic — Team Preview — Roster
Finland — Team Preview — Roster
Germany — Team Preview — Roster
Russia — Team Preview — Roster
Slovakia — Team Preview — Roster
Sweden — Team Preview — Roster
Switzerland — Team Preview — Roster
USA — Team Preview — Roster
Selection Camp Invites by NHL Team
Draft Eligible Players to Watch
One Player to Watch for Each World Junior Team
7 Predictions for the 2021 World Junior Championship