With training camp officially beginning in less than a week, the Detroit Red Wings and their fans are all ready to get the ball rolling. Of course, before the season can start, we've got a certain international tournament to keep track of. On top of that, we have some interesting storylines to follow as players make their way to Detroit ahead of training camp.
First things first: we've got live hockey to watch once again!
Red Wings at World Juniors
As we mentioned in last week's news column, the Red Wings own the rights to seven players at this year's World Junior Championship tournament. Eyes will undoubtedly be on Lucas Raymond, the team's top pick in the 2020 draft, as well as four of his teammates on Team Sweden. After their game against Team Czech Republic, another Swedish Red Wings prospect has turned some heads.
Drafted 159th overall in the 2019 draft, Elmer Soderblom has already put his size and skill on display on the world stage. He collected a goal and an assist during this game, and generally created headaches for the opposition whenever he was on the ice. It bodes well for Team Sweden that depth guys like him and Theodor Niederbach (51st overall, 2020) produced in this game – though no one would confuse Team Czech Republic with a contender in this tournament.
While goaltender Jan Bednar (107th overall, 2020) is on Team Czech Republic's roster, he was not dressed against Team Sweden. After their effort against the Swedes, perhaps the Czech Republic will make some changes, starting in goal. While Bednar won't be able to turn things around on his own, you would of course like to see him get some action and look good in the process.
Finally, Finnish defenseman Eemil Viro (70th overall, 2020) played a healthy 19:31 against a shorthanded German team. The smooth-skating defender did not record any points, but did finish the game with a plus-minus rating of plus-one. He hopes to use this tournament as a way to build on what has been a solid beginning of his season with TPS of the Finnish Liiga.
Raymond Profile Piece
Max Bultman of The Athletic recently published a profile piece on the previously mentioned Raymond. The piece is filled with interesting anecdotes and facts that suggest that the Red Wings' highest draft pick in 30 years is the exact kind of player you hope to find at fourth overall. From playing floor hockey with his brother and father to playing soccer with and against some of his brother's older and bigger friends, it is clear that this is a player that absolutely despises losing.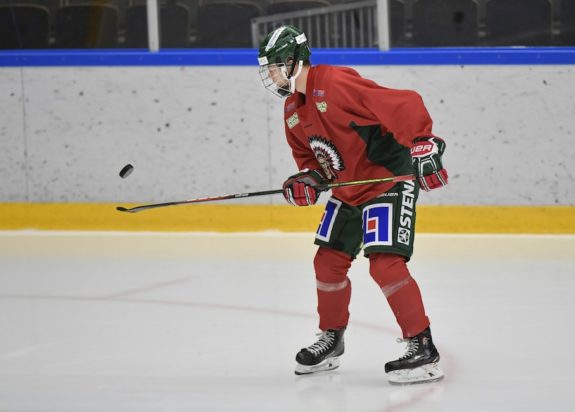 "'Me and Dad are like — we're still competitive,' Hugo Raymond said. 'But Mom and Lucas can be pretty brutal.'" Bultman wrote, offering a brother's opinion on the future Red Wing. The older Raymond brother also elaborated on his younger brother's desire to play for an NHL team based in a "hockey town". (From "'He wants the pressure': Lucas Raymond is built for the Red Wings' road ahead" – The Athletic – 12/14/20)
Fans across "Hockeytown" no doubt have a high bar set for a player with Raymond's draft pedigree. Luckily, if this article is any indication, it seems as though he will take pride in turning around the Red Wings' fortunes, meeting and possibly excelling past those expectations in the process.
Svechnikov & Cholowski Expectations
Helene St. James of the Detroit Free Press recently illustrated what it will take for a couple of the Red Wings' older prospects to finally break through in a meaningful way this season. Those prospects are winger Evgeny Svechnikov (19th overall, 2015) and defenseman Dennis Cholowski (20th overall, 2016).
In regards to Svechnikov, St. James suggests the following: "Svechnikov, 24, is no longer waiver exempt, so he will have to be on the roster. But to be in the lineup, he'll have to elbow his way into the bottom six mix. He'll need to play with physicality, be responsible in his own zone and show he can kill penalties."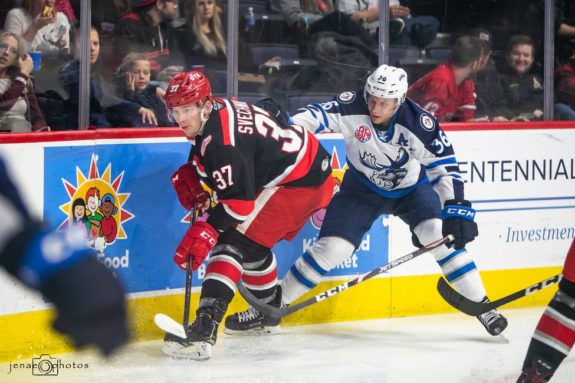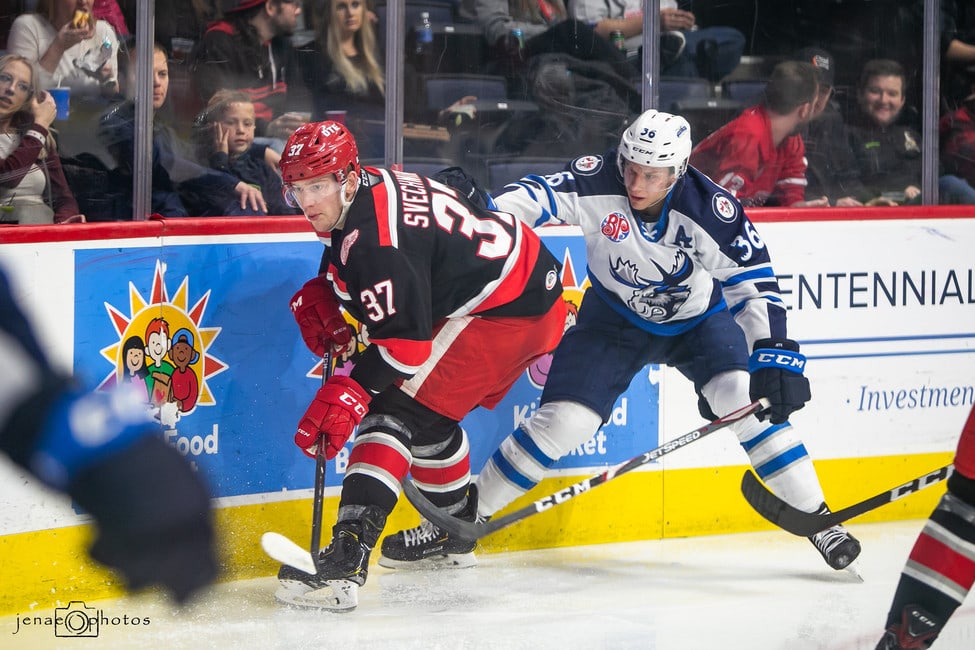 This is a fair bar set by St. James; Svechnikov won't be handed a top-six role this season, and the only way he can climb up the depth chart is if he displays the ability to outmuscle and outplay the opposition. Playing in a bottom six role should feed him some favorable matchups, and it's his ability to produce under those circumstances that will determine his place with the Red Wings this season.
As for Cholowski, St. James writes this: "Cholowski faces heavy competition for a job after Yzerman brought in defenseman Marc Staal, Jon Merrill and Troy Stecher, but the Wings need more offense from their back end. That's where Cholowski can help — provided he has improved at making decisions with the puck." (From "What Detroit Red Wings prospects Evgeny Svechnikov, Dennis Cholowski must do to make team" – Detroit Free Press – 12/20/20)
Once again, this is a pretty reasonable ask from St. James. All things considered, it is Cholowski's offense that will determine whether or not he has a place in the NHL. Red Wings head coach Jeff Blashill often speaks about how players need to make sure that their positives, or "rewards", outweigh their negatives, or "risks". This philosophy directly applies to "Cholo" as he's a player that can facilitate offense from the blue line, but also makes some questionable decisions in the defensive end.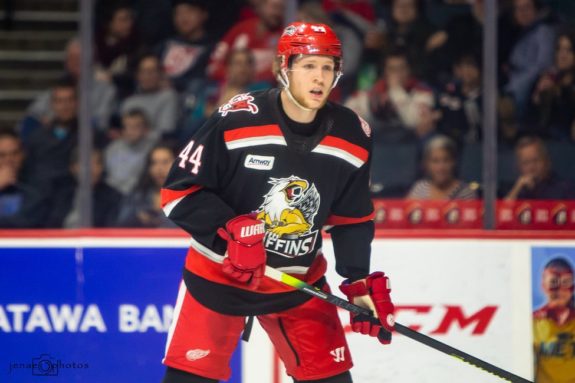 Both players could also spend some time on the Red Wings' "taxi squad" this season, though Svechnikov would have to pass through waivers before joining the squad.
More
Here's an update on some of the Red Wings' players and prospects playing abroad and at the collegiate level:
Jonatan Berggren (Skellefteå AIK, SHL): 23 games played (GP), 5 goals (G), 19 assists (A), 24 points (P)
Otto Kivenmäki (Ässät, Liiga): 20 GP, 6 G, 8 A, 14 P
Ryan O'Reilly (Arizona State Uniersity, NCAA): 12 GP, 3 G, 3 A, 6 P
Sam Stange (University of Wisconsin, NCAA): 10 GP, 4 G, 0 A, 4 P
Moritz Seider (Rögle BK, SHL): 18 GP, 2 G, 11 A, 13 P
Antti Tuomisto (University of Denver, NCAA): 10 GP, 0 G, 3 A, 3 P
Victor Brattström (KooKoo, Liiga): 14 GP, 7 wins (W), 2.45 goals-against average (GAA), .888 save percentage (SV%)
Keith Petruzzelli (Quinnipiac, NCAA): 6 GP, 4 W, 1.56 GAA, .939 SV%
The Red Wings officially announced which players they recalled from the European leagues:
Training camp begins for the non-playoff bubble teams, including the Red Wings, on December 31. Mark your calendars!
ICYMI:
Stay tuned to The Hockey Writers for the latest Red Wings content and more!
---
---