The NHL season is on! With the new year just around the corner, the NHL announced an agreement with the NHLPA that acts as a green light for this season. Of course, due to the circumstances surrounding the 2020-21 season, there are some unique rules and accommodations the league is making to ensure the season goes as smoothly as possible.
As the pandemic rages on, the NHL was tasked with ensuring that any given team will have enough players to ice a complete roster on gameday. Their solution: a "taxi squad" of four to six players (with a rule that one of those additional spots be used on a goalie). Under normal circumstances, any given team could not have more than 23 players travel with the team; this one-time situation sets the new maximum at 29.
The added wrinkle of a taxi squad gives teams like the Detroit Red Wings a lot to think about. They have a good number of both veterans and up-and-comers that could vie for those spots. When all is said and done, the players that comprise this squad of reserves will probably tell you a lot about how this season will look for the Red Wings.
Mandatory Goalie
Jonathan Bernier and Thomas Greiss are set to be the Red Wings' duo in net for this season. However, injuries and trades can happen at a moment's notice. Given the need to quarantine before joining a team, it makes sense that the league is mandating that every team have an extra goalie available to them.
As of this writing, the most likely option to join the Red Wings is Calvin Pickard, who was the starting goaltender for the team's AHL affiliate, the Grand Rapids Griffins, last season. He posted a .903 save-percentage (SV%) through 33 games with the Grffins, collecting 17 wins along the way. His brief stint with the Red Wings was not as successful, to the tune of a .797 SV%.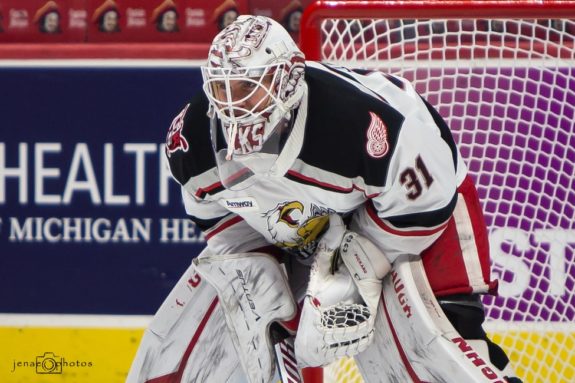 The question then is this: what about the Griffins? The AHL is still working on their own plan for a 2020-21 season, but those teams will need players of their own if they can get their ducks in a row. Other goalies that the Red Wings have signed are Kevin Boyle, Kaden Fulcher, Filip Larsson and Victor Brattström – though the latter two are still playing overseas and have not been summoned to North America.
Should the AHL hold off on a 2020-21 season, this problem becomes moot. The teams of the NHL would likely prefer it if the lower league did hold a season, if anything so that their prospects would be a lot closer to home in case they want to call those players up. In the event of an AHL season taking place, perhaps the Red Wings could sign another goaltender solely to travel with the taxi squad.
One thing is for certain: the mandated third goalie really exposes the Red Wings' lack of depth at the position.
Trade?
Until the Tampa Bay Lightning figure out their salary cap issues, the ongoing rumor of a trade between them and the Red Wings will persist. Should such a trade occur, that is going to affect the makeup of not only the Red Wings' main roster, but their taxi squad as well. This of course goes for any other move Red Wings general manager Steve Yzerman might make.
This taxi squad development also puts things into perspective regarding the recent move to ship winger Dmytro Timashov to the New York Islanders in exchange for future considerations. The idea of a taxi squad has likely been thrown around for a while now, so Yzerman has been operating with that knowledge in mind. While he made a contract offer to Timashov, the player was said to still be "exploring his options", likely meaning offers to play overseas.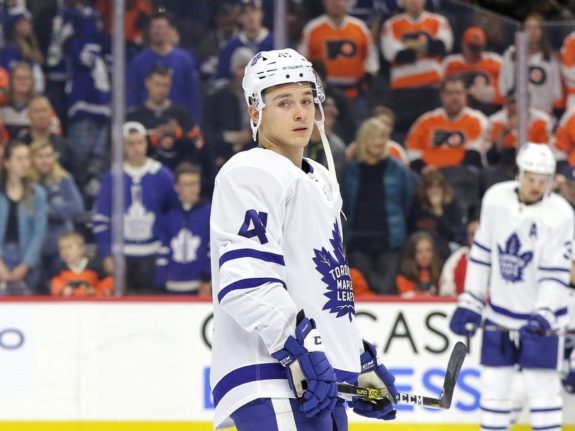 That Yzerman moved Timashov instead likely means that the player had little to no interest in either riding a taxi or playing for the Red Wings (honestly, it could be both). Now there's a spot open for a player in the system that is hungry and wants a chance to play.
Set the Lineup
In order to determine who will be on the taxi squad, we first need to determine who will fill out the Red Wings' 23-man roster. With the intention of being as safe as possible with this roster, here is how it looks:
| | | |
| --- | --- | --- |
| Tyler Bertuzzi | Dylan Larkin | Anthony Mantha |
| Robby Fabbri | Vladislav Namestnikov | Bobby Ryan |
| Darren Helm | Valterri Filppula | Filip Zadina |
| Adam Erne | Frans Nielsen | Luke Glendening |
| | |
| --- | --- |
| Danny DeKeyser | Filip Hronek |
| Patrik Nemeth | Troy Stecher |
| Marc Staal | Jon Merrill |
Jonathan Bernier
Thomas Greiss
The extra skaters are Sam Gagner, Mathias Bromé and Alex Biega. Just to reiterate, this is a very conservative roster projection – head coach Jeff Blashill could definitely deviate from this lineup.
In filling up the three to five spots available on the taxi squad after including Pickard, the Red Wings have plenty of options, but one could argue that some are more obvious choices than others. (Note: an obvious omission to this roster is defenseman Moritz Seider, who must finish out the 2020-21 campaign with Rögle BK of the SHL due to the loan agreement between them and the Red Wings. We likely won't be seeing him in a Red Wings uniform until after the trade deadline at the earliest.)
With all of this in mind, here are the players that will form the Red Wings' taxi squad for the upcoming season.
Forwards
Evgeny Svechnikov: Expanding the NHL roster limit was a blessing for Svechnikov and the Red Wings. The team's top pick in the 2015 draft is no longer waiver-exempt and would have to pass through waivers if he were to be assigned to the AHL. With the luxury of carrying more skaters than usual, the Red Wings can afford to carry him on their roster while fitting him in as best they can.
In a normal season, he might not have received a fair shot at claiming a roster spot. Under these circumstances, he should get plenty of opportunities to impress both Blashill and Yzerman. That being said, Svechnikov is a player worth keeping an eye on over the course of this season.
Givani Smith: In 21 games with the Red Wings last season, 22-year-old Smith proved that he could be a useful bottom-six piece going forward. Though he averaged under 10 minutes of ice-time in those 21 games, he had a relatively favorable stat line, with a plus-minus rating of minus-two, as well as a solid 42 hits. He's exactly the kind of player that Timashov would have been battling for ice-time.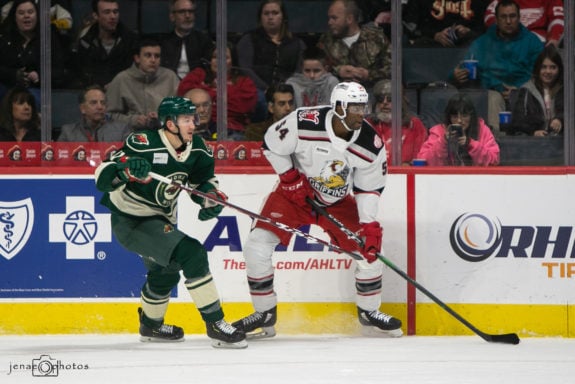 The 46th pick of the 2016 draft, Smith is somebody that should use this opportunity to take someone's job. With the Seattle Kraken expansion draft under a year away, he is a player that might very well be a target in the expansion draft should the Red Wings leave him unprotected. His grinding style should endear him to fans that may have missed him last season.
Michael Rasmussen: After being summoned from the ICEHL in Austria, Rasmussen is headed back to North America with his eyes set on returning to the Red Wings' lineup. After a 62-game rookie campaign during the 2018-19 season, the massive forward spent last season with the Griffins where he had varying levels of success and health. The Red Wings' top pick in the 2017 draft (ninth overall) has something to prove heading into this season.
Honestly, if the regular roster is going to differ from our projected one, it could be because Rasmussen plays his way onto the 23-man roster. The organization really wants him to become an NHL center, so he should make it his mission to claim one of the four center spots in the roster. This isn't a do-or-die season for him, but you definitely don't want to see him sitting more than playing this season.
Defense
Dennis Cholowski: The Red Wings' top pick in the 2016 draft, "Cholo" might very well earn a spot in the regular rotation ahead of a guy like Biega if he has a solid training camp. The thing about him is that he often does have a strong camp and even a solid start to the season. The problem is that he usually starts to struggle after that initial rush of a brand new season wears off.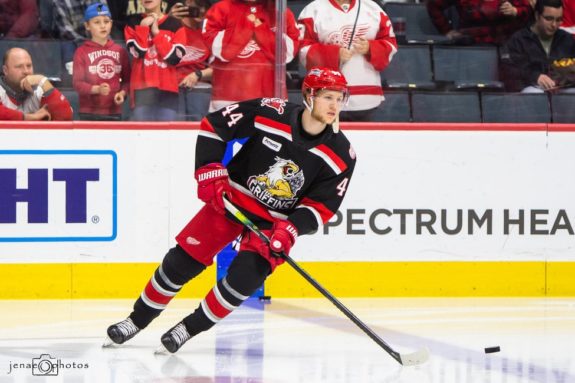 In 88 games with the Red Wings over the least two seasons, Cholowski has flashed the ability to make a great breakout pass, as well as the ability to quarterback a power-play. Still just 22 years old, there's room for his game to grow and for the coaching staff to smooth out his edges. Like the others on the taxi squad, you'd like to see Cholowski take someone's job and cement himself as a regular in the Red Wings' lineup this season.
Gustav Lindstrom: The 38th pick of the 2017 draft had a solid 16-game audition with the Red Wings at the end of the 2019-20 season. Though he only registered one point, he displayed a solid, no frills defensive style that bodes well for his NHL future. The Red Wings are bringing him back to the Western Hemisphere after he started this season in the lower levels of the SHL.
At just 22 years old, Lindstrom has room to develop his game just like Cholowski. Although his ceiling isn't as high as other guys in the prospect pool, he could represent a cheap but effective third-pairing defender for the Red Wings as early as this season. He is another player that could earn a spot in the regular rotation by taking someone's job….
Coming Soon….
The reality of the Red Wings' taxi squad is that it could very well be a revolving door of players as they experience hot and cold streaks. Should some of the players mentioned here hit their stride and steal a job, you could see guys like Nielsen and Gagner on the taxi squad instead of the team's younger players. If those younger players can force those decisions, that would be a positive development for the Red Wings.
The Red Wings should be better this season, but not good enough to really make waves in the newly-minted Central Division. In fact, much like last season, fans should expect that the lineup on day one will look a lot different from the one on the final day of the season. Yzerman is an aggressive GM, and he's got pieces to move around. That's why you could see prospects like Seider and Joe Veleno join the club as the season winds down, as well as any players the team acquires through various transactions.
One thing that is certain is that the expanded rosters for the 2020-21 season is going to create a lot of interesting opportunities for players throughout the NHL. This is a unique chance for Yzerman to not only see what he has, but also get a glimpse at players he might want to target from other teams. Because of this, as well as all the uncertainty the comes along with playing sports in the midst of a pandemic, fans should be excited about seeing a lot of different faces over the course of this season.
Want more Red Wings content? Tune into The Hockey Writers' Grind Line — a new weekly live show on YouTube and Facebook. We stream Friday nights starting at 8:00 pm ET on The Hockey Writers YouTube channel. Check out this week's show below, and make sure you subscribe to the channel so you don't miss any upcoming shows.
---
---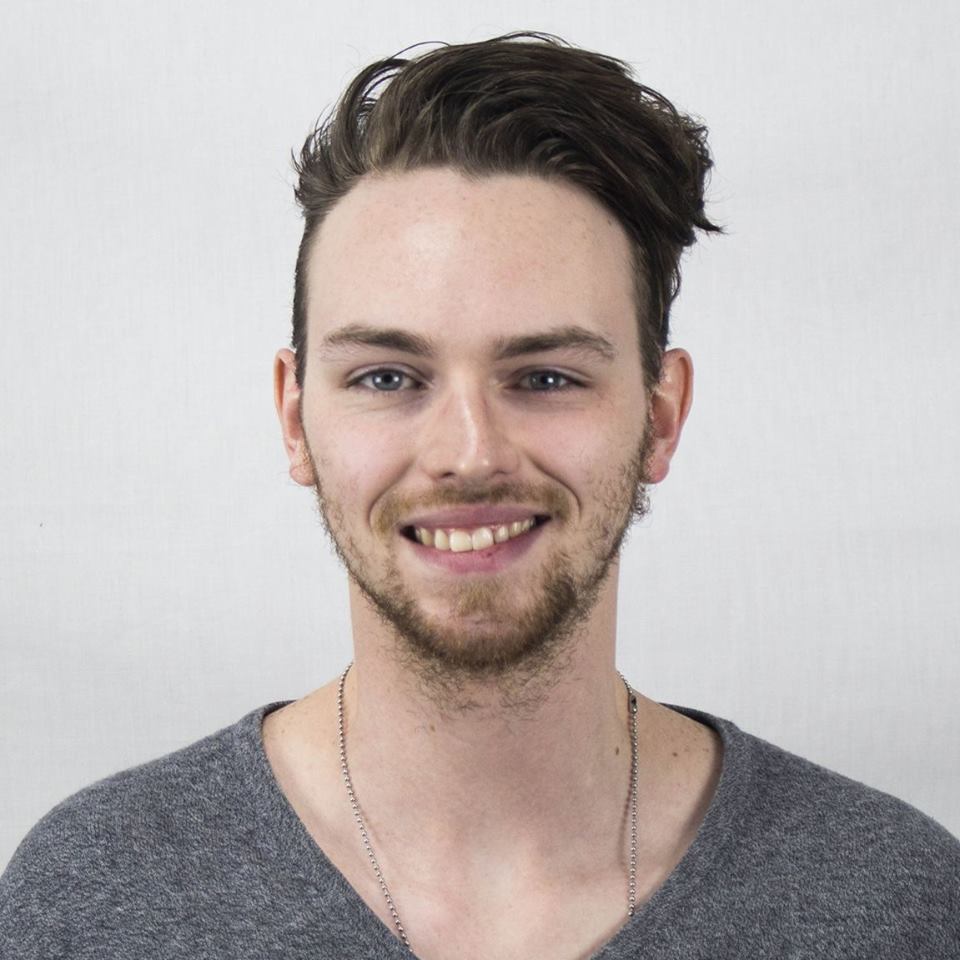 I am a Western Michigan University alum whose passion for hockey knows no limits. Dr. Pepper enthusiast. Catch me and my fellow Red Wings writers' YouTube show "The Hockey Writers Grind Line" which drops every Saturday.