Signing unrestricted free agent Thomas Greiss was a big offseason add for the Detroit Red Wings. The transaction allows Jeff Blashill to create a sound strategy for the shortened season with two capable players.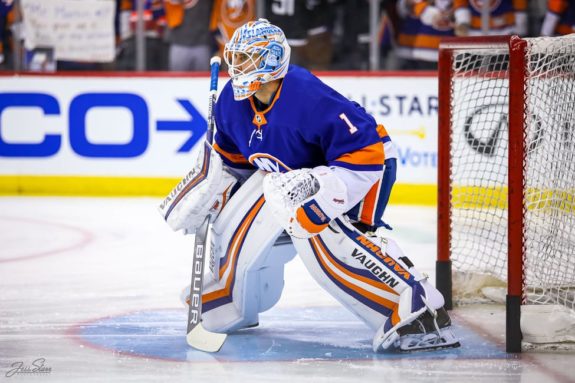 Candidly, I always assumed the German-born player was younger than Jonathan Bernier, but he is in fact two years older at 34. My assumption was likely based on the fact that Greiss started his NHL career several seasons later than his new counterpart. Bernier just seems like he has been in the league forever. In fact, he is a prime example of how the position has changed during his NHL career.
Jonathan Bernier
It is easy to forget that the former Quebec Major Junior Hockey League star was the LA Kings' 11th-overall selection in 2006. Back then, it was "acceptable" for a goalie to only be 6-foot. Since then, the number of drafted and eventual NHL goalies under 6-foot-2 has significantly shrunk, pun intended. As such, the former Lewiston Maineiac has had to continually improve, and in some ways, reinvent his game to stay relevant. Based on his last season in Detroit, Bernier still has some quality minutes to offer.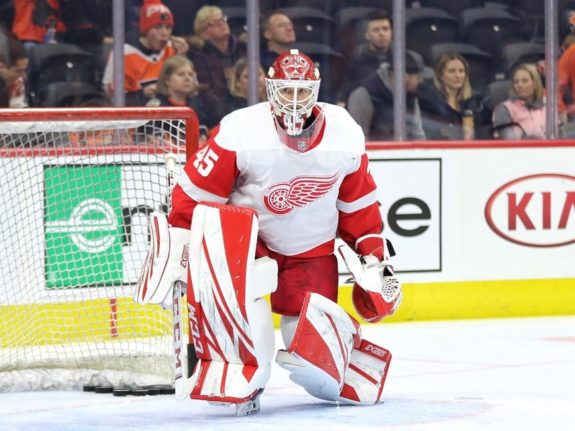 Considering the overall lack of team success in 2019-20, the Laval-native still managed to post a .907 save percentage (SV%) along with a decent 2.95 goals against average (GAA). Importantly, in 369 NHL career games over 12 seasons, Bernier has only ever posted a season GAA over 3.0 one time — that was in 2018-19 with the Red Wings.
Thomas Greiss
Originally drafted as a third-round selection by the San Jose Sharks in 2004, Greiss recently finished his fifth season as a member of the New York Islanders. He played more of a backup role, or 2A, with Semyon Varlamov last season. However, the two were more of a platoon with Varlamov playing 45 to Greiss's 31 games.
That trend continued into the postseason as Greiss only started four games during the Islanders' 2020 Eastern Conference run. That said, he was sharp when called upon. During his four bubble ridden postseason contests, he posted stingy numbers — a 2.02 GAA and .929 SV%.
A Starter or Straight-Up Tandem?
Despite their ages, Bernier and Greiss should be a decent duo for Blashill to utilize as he sees fit. At the very least, this tandem should be a significant upgrade from last season's crease pairing of Bernier and a struggling Jimmy Howard.
A trending topic within the broader NHL community is whether a tandem approach is better than allocating a big term and dollar amount on a franchise starting goaltender. The tandem trend is building momentum as the growing list of teams moving closer to a 60/40 split seems to increase each season (see tweet above). The tandem strategy is great for load management during the regular season, but can create a conundrum when the postseason arrives. For now, the Red Wings might benefit from improving upon the regular season first and foremost.
Shortened Season
It will be interesting to see whether Blashill begins with a definitive starter out of training camp or creates a healthy crease battle with a straight-up, game-for-game split. The eventual answer might end up being a little bit of both based on next seasons expected schedule.
NHL commissioner Gary Bettman has been vocal about his intentions for a minimum amount of regular season games being 48. He has also announced his plan to have the Stanley Cup awarded by the end of June. That means it will be a tight, condensed schedule with multiple back to backs throughout the shortened season.
Likely a Tandem
The Red Wings will want to figure out a starting goaltender eventually, but these two will likely start out as a tandem. Given both players are well into their 30s, the tandem approach might be the best option out of sheer necessity over anything else. At this point, Blashill likely only needs to make a few decisions about his season map for Greiss and Bernier.
In this case, Bernier might be considered the starter out of default, but that cannot be fully decided at this point. If anything, Blashill is likely trying to definitively answer the question of who the 1A or 1B is going to be into training camp. How much will training camp performance count towards the eventual strategy? Especially considering the fact there will probably be limited to no preseason action.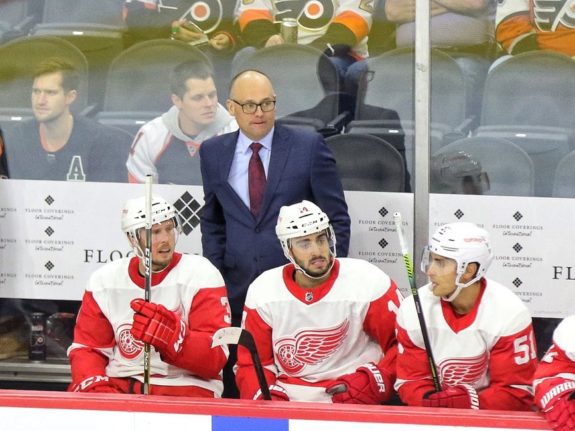 What about streaks? Will he allow a winning goaltender to keep the crease in non-back-to-back situations throughout the season? What about back-to-backs? These decisions will be more easily answered with a definitive season start date and a schedule. Heck, I will take an opening date for training camp at this point.
At the end of the day, my guess is that the Red Wings' goaltending situation will remain a tandem for the foreseeable future. It is entirely possible that neither of these players ever becomes the official starter in Detroit. Bernier is an unrestricted free agent in 2021-22 and the Red Wings will also have extra cap room when Henrik Zetterberg's contract is finally up. Perhaps the organization will replace Bernier with a younger, more definitive starting goaltender with the extra cash.
For now, it is encouraging that the team can turn to a solid NHL goaltender each night. I am confident Blashill agrees.
---
---