Following a flurry of moves at the open of free agency, the Detroit Red Wings look remarkably different from the group they iced during the 2019-20 season. One of those changes comes in goal, where longtime starter Jimmy Howard is out and former New York Islander Thomas Greiss is in. But make no mistake: the new goaltender on the scene is much more than just a new face.
Related: Red Wings – Grading Ken Holland's Rebuild Moves
As a veteran of 299 regular season and playoff games in the NHL, Greiss has very rarely been "the man" in the crease for his team. His highest games-played total came during the 2016-17 season with the Islanders when he played in 51 games. Instead, he has made a living by owning the role of a top-tier backup/"1B option" throughout his career.
With Jonathan Bernier already on-hand, the Red Wings have themselves a situation where both goalies on the books are very familiar with playing in a true goaltending tandem. That experience will definitely come in handy during the 2020-21 season, a season that will undoubtedly be condensed and looks poised to feature more than a few back-to-backs.
Statistical Deep-Dive
Despite a relatively low amount of games played, Greiss will turn 35 years old at the end of January. So while he has limited wear and tear on the body, he is in the age range where people start looking for signs of decline. So far throughout his career, he has maintained a slightly above-average save-percentage (SV%) of .915. This is a rough benchmark of how he should perform during his first season with the Red Wings.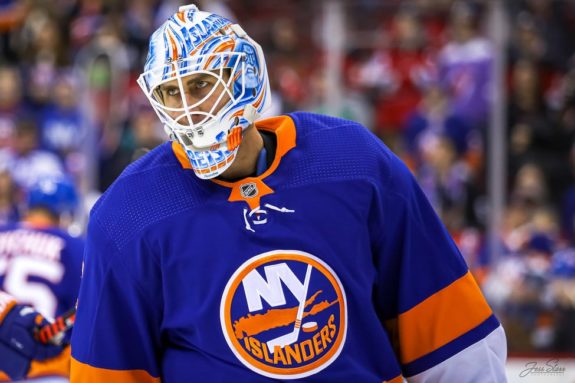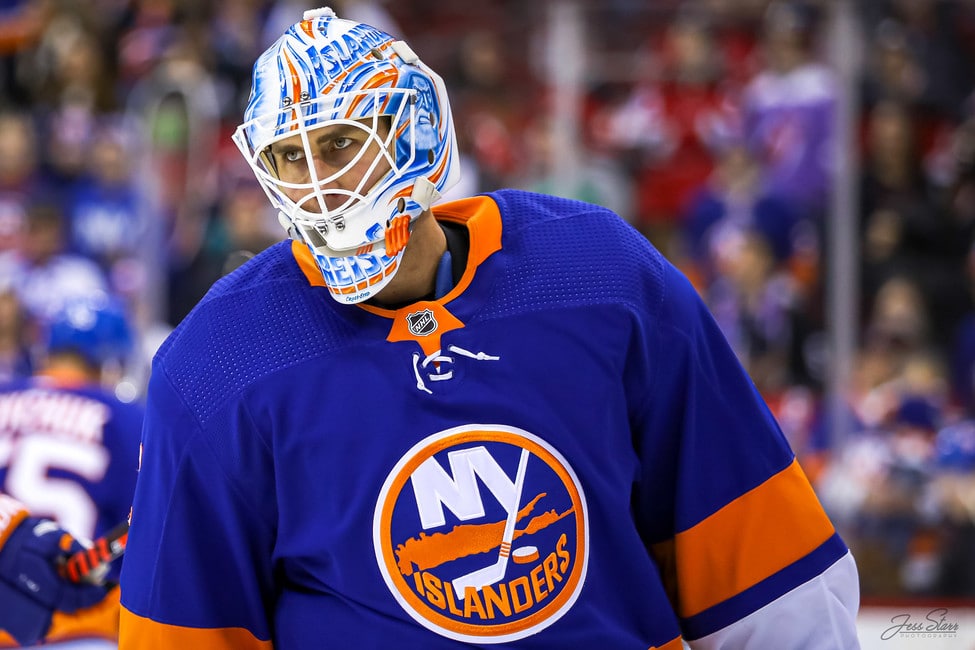 However, not only does Greiss have aging going against him, but he faces the predicament of playing behind perhaps the worst defense of his 11-year career. Despite the additions that Yzerman has made to the Red Wings' defense, no one is going to be fooled into believing that they can match the defensive structure and execution that the Islanders – led by head coach Barry Trotz – were able to produce over the last couple of years.
In fact, over the last two seasons, the Red Wings have allowed 155 more goals than the Islanders – or 79 percent of the total goals the Islanders allowed during the 2018-19 season when Greiss and Robin Lehner split the Jennings Trophy for fewest goals allowed in a season. Sure, Jon Merrill, Marc Staal and Troy Stecher should help the Red Wings' cause on defense, but they're not miracle workers.
Greiss should expect to see a fair number of high-danger chances during his time with the Red Wings. Luckily, he has performed well against those types of opportunities over the last two seasons. He has a high-danger save percentage of .857; in comparison, Bernier's rate over the same period of time is .839 (per Natural Stat Trick.)
However, Greiss's overall performances have been a bit mercurial over the course of his career. In his best two seasons (2015-16, 2018-19) he has a total goals-saved-above-average (GSAA) of 31.73; in his worst two seasons (2014-15, 2017-18) his GSAA was minus-21.25. With a solid, if unspectacular GSAA of 2.77 this past season, he could be in line for a season at one extreme or the other.
Usage
In the years where Greiss posted such strong GSAA numbers, his games-played totals were 41 in the 2015-16 season and 43 during the 2018-19 campaign. In contrast, he played a total of 47 games during his two worst seasons in terms of GSAA. This seems to suggest that his performance rises as his ice-time does.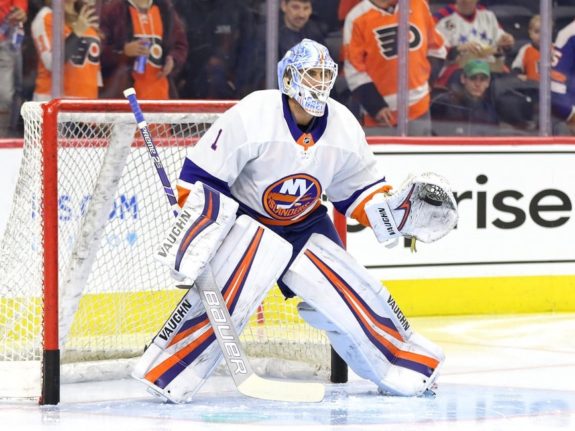 Given the seasons where Greiss excelled, it can also be deduced that he excels when he is in a "1B" role – not quite the designated starter, but someone who can shoulder the load for a stretch if need be. Given Bernier's performance last season behind a putrid Red Wings defense, it's highly likely that he is going to get the nod for the season opener. However, expect Greiss to receive plenty of starts of his own throughout the season.
With a career quality-start percentage of 56 percent, Greiss is going to give you more good starts than bad. However, as he works to get acclimated to his new teammates, expect him to go though a bit of a learning curve. Giving him favorable match-ups at the beginning of the season would be a wise strategy for head coach Jeff Blashill to consider.
Style
While he often relies on good technique to help him make saves, Greiss is also able to make the occasional sprawling save that makes all the highlight reels. He's limber when he needs to be, and can move around the crease with relative ease. This, coupled with his strong positional play, helps him make some truly spectacular saves.
THW's own Tony Wolak weighed in on Greiss's ability to get in front of shots:
Don't let his age fool you, Greiss is still quite nimble in the crease. He tracks pucks well is economical with his crease movement. If anything, Greiss can struggle—like most goalies—with heavy traffic in front, so he'll need to be on the same page as Detroit's blueliners about how to handle screens.

Tony Wolak, The Hockey Writers
As long as Greiss can see the shot, he will make the save more often than not. As Tony noted, it's when he gets bombarded with traffic and/or other obstacles that the puck will sneak past him. That's not unlike most goalies in the NHL, though. The Red Wings' defenders will need to make sure that Greiss can maintain a sightline on the puck.
Other Considerations
On a two-year deal, Greiss was signed not to be the Red Wings' long-term answer in net, but to plug a hole in the lineup as well as provide meaningful depth at the goaltending position. Considering he has yet to show any signs of slowing down, he's about as safe of a bet as Yzerman could have made given the price tags that were thrown around in free agency.
On top of that, his presence also affords Yzerman the opportunity to move on from Bernier at the 2021 trade deadline. While this move is far from a given – Bernier told the Detroit Free Press that he'd "love to finish my career in Detroit, if that's possible. I'd love to stay there, for sure," (from 'Detroit Red Wings' Jonathan Bernier not counting on No. 1 spot in goal yet' – Detroit Free Press – 6/20/20). Having a proven commodity like Greiss in-place unlocks the possibility of a Bernier trade. As the Red Wings continue to rebuild and collect future assets, nothing is off the table.
Finally, the addition of Greiss also gives the Red Wings options in regards to the Seattle Kraken expansion draft slated for next year. Whether they retain Bernier or not, the option remains to either expose or protect their new goaltender. The second year on Greiss's deal is crucial here as it acts as both a safety net for the Red Wings as well as a possible selling point for the Kraken.
Kicking the Can Down the Road
While there's no doubt that Greiss is a sound addition to the Red Wings' lineup today, it does little to resolve the ongoing question of who is the organization's goaltender of the future. After drafting Jan Bednar and adding him to a group that includes Filip Larsson, Keith Petruzzelli and Victor Brattström, the strategy seems to be buying time until one of these kids emerges as a legitimate NHL goaltender.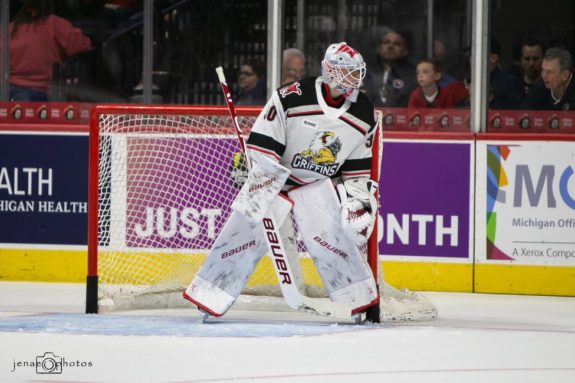 That's a perfectly viable strategy, especially when you're bringing in low-cost, low-risk guys like Greiss to fill the gap. However, as he and Bernier creep further into their 30s, the team's need for a franchise goaltender is going to become more evident as time goes on.
Related: Jack Adams, the Man and the Award
But in the meantime, Red Wings fans can rest easy knowing that their team has the makings of a truly solid tandem in net. While neither goalies are in that top tier of goaltenders around the league, they are both more than capable of holding down the fort while the organization continues to develop a long-term answer.
As a player, and as a mentor, the Red Wings snagged themselves a real good one in Thomas Greiss. Whether his stay with the organization is a long one or a short one, he has the opportunity to leave a lasting imprint on the team. When taking all things into account, that imprint should be a good one.
---
---