It is officially safe to say that the St. Louis Blues blue line is going to look different in the 2020-21 season after former captain Alex Pietrangelo signed a seven-year, $61.1 million deal with the Vegas Golden Knights.
I believe that it is inevitable that the Blues defensive unit will take a step back with the loss of their best two-way defender for a decade in Pietrangelo, but they should still have a top-15 unit in the league.
That is a testament to the work of the front office in adding and developing talented defensemen. Let's look at their options for next season and what they have in the organization that could come up if injuries linger.
Top Pair – Torey Krug & Colton Parayko
I think it is safe to say that Krug and Parayko are the likely players to fill in the top pair. They are completely different players, and this pairing should be interesting, especially since Parayko is used to playing with bigger, defensive defensemen over the past couple of seasons.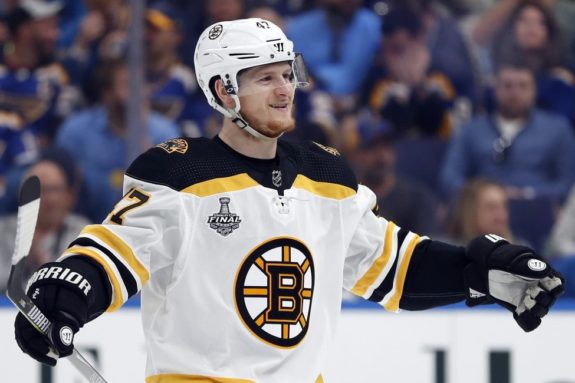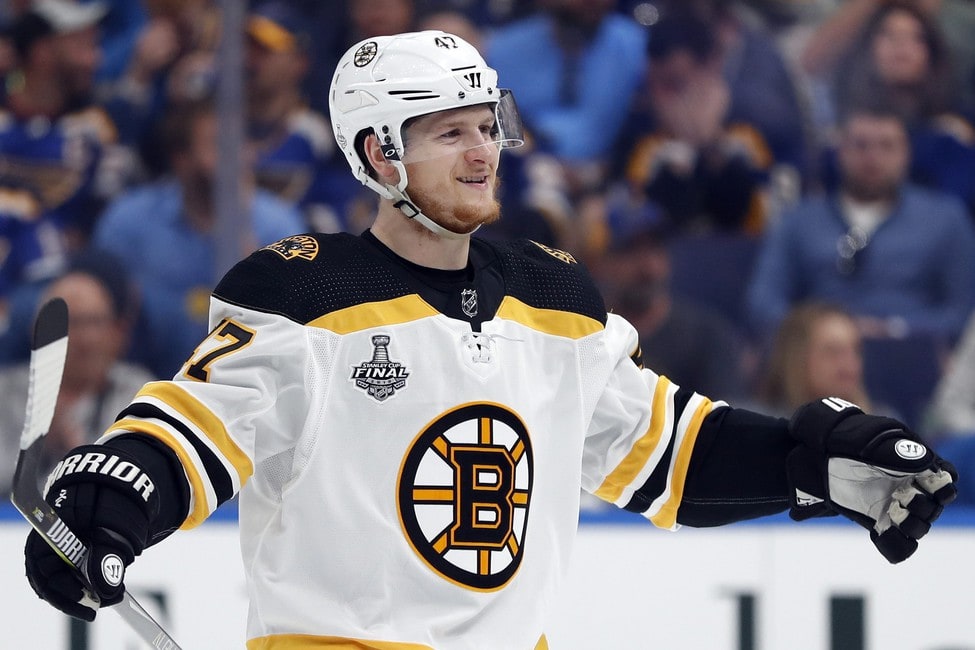 Let's start with Krug, the Blues signed him in free agency on a seven-year deal worth $45.5 million. He isn't Pietrangelo, he isn't there to replace him, he has a different skillset and style.
Krug can bring a lot to this team, whether it's on the power play or in his competitiveness. He's an undersized player for what the Blues usually want defensively, but he plays bigger than his frame.
He had 160 points on the power play over the last eight seasons with the Boston Bruins. He's one of the best power-play quarterbacks in the NHL. He won't be playing with the same skilled players like David Pastrnak that he was in Boston, but he can still bring a lot to the top unit. He should fit well with Parayko.
I like putting an offensive defenseman with a defensive one and this is a perfect example here. It will be interesting to see how Krug's numbers change as he switches to a less skilled team in the Blues.
In 2019-20, Krug had a 5v5 expected goals for (xGF%) percentage of 52.01, while Parayko's was 48.04. The threshold for a player is typically 50% and above, so there is a slight difference there in their numbers.
It's safe to say that if this pairing happens between these two, we could see Parayko finally get comfortable with shooting the puck more. They will have the puck more than Parayko is used to playing with Jay Bouwmeester, another defensive-minded player for a few years.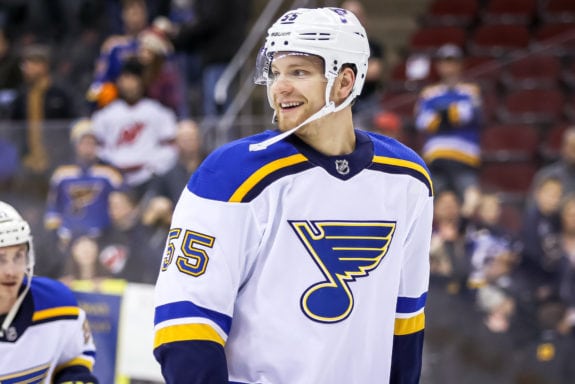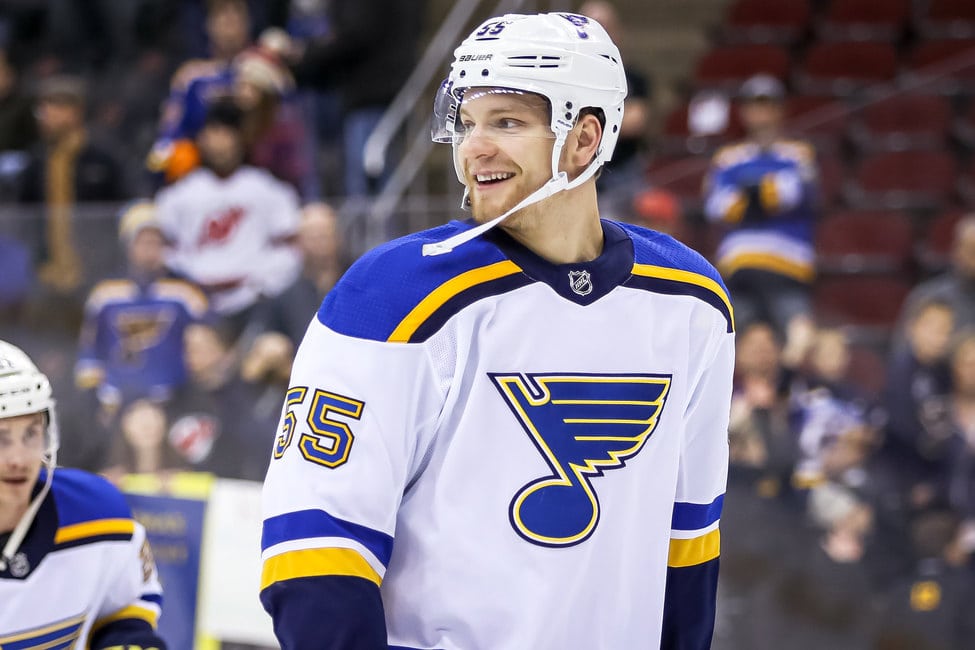 Krug could step out of his comfort zone playing alongside Parayko too, in 2019-20, Krug had 67 defensive zone starts. Parayko had 180 of them, and he's sure to have a lot in 2020-21 as well.
The idea for the Blues with this pair is to see Krug become a better defender while being a great offensive player and for Parayko to become a better player in the offensive-zone and being great defensively. Parayko's biggest offensive downfall is not using his lethal shot more.
Middle Pair – Marco Scandella & Justin Faulk
The idea of this pairing is similar to the first one, a bigger defensive defenseman paired with an offensive-minded defenseman. Faulk and Scandella are both trade acquisitions of the Blues over the last 13 months.
They got Faulk in the Joel Edmundson deal with the Carolina Hurricanes and traded picks to the Montreal Canadiens for Scandella in February.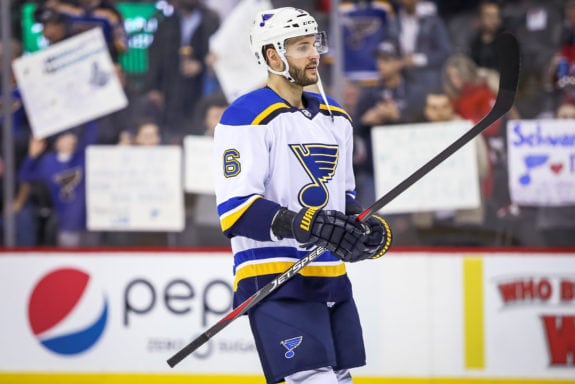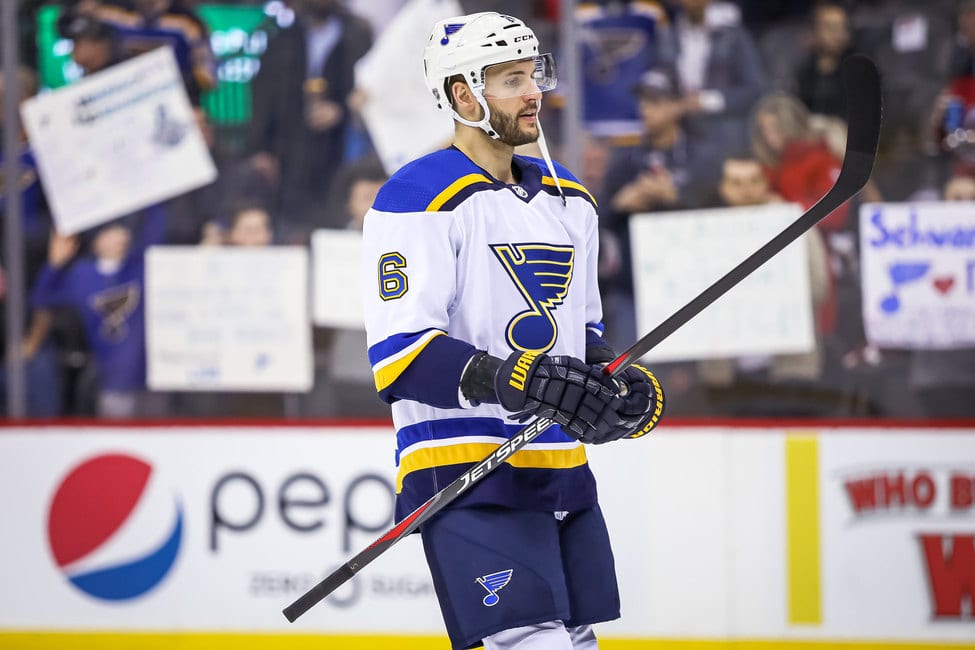 Faulk was a letdown in the 2019-20 season, only scoring 16 points in 69 games after six straight 30-plus point seasons in Carolina. However, if Faulk shows up for the 2020-21 season and plays the way he did in the 2020 Playoffs, the Blues have something.
Scandella was an excellent defender for the Blues since coming over from Montreal. He was a really good partner for Parayko.
However, with the loss of Pietrangelo, it would be wise for the Blues to split up the defensive guys in Scandella and Parayko, as well as the offensive guys such as Krug and Faulk.
In terms of 5v5 expected goals against (xGA), Scandella had a remarkable 31.33 which is far better than Faulk's 43.59. It was a rough year in all three zones for Faulk.
One other stat from 2019-20 to look at for these two is their 5v5 xGF%, and it was a surprising result. Scandella was at 53.60, while Faulk was at 50.83. Despite being the offensive guy, Faulk was worse in xGF% than Scandella. I think you can chalk some of that up to ice time, as Faulk played a lot more time.
Overall, I think this pairing will be solid based on the fact that Scandella fits well in St. Louis and I think that Faulk should have a bounce-back season as he gets more comfortable with the Blues.
The difference in the top four defense of the Blues this season as compared to last is they have four players that round out well one way or the other. Two defensive guys, two offensive guys should equal balanced play with solid point totals and solid defense.
Bottom Pair – Vince Dunn & Robert Bortuzzo
The third and final pair is another case of two completely different players in style paired together. This is based upon whether Dunn returns to the Blues for next season, as he is still a restricted free-agent (RFA) without a contract for 2020-21 yet.
I like having left-handed defensemen paired with right-handed ones and Bortuzzo is the third-best right-handed defenseman in the organization right now with his experience.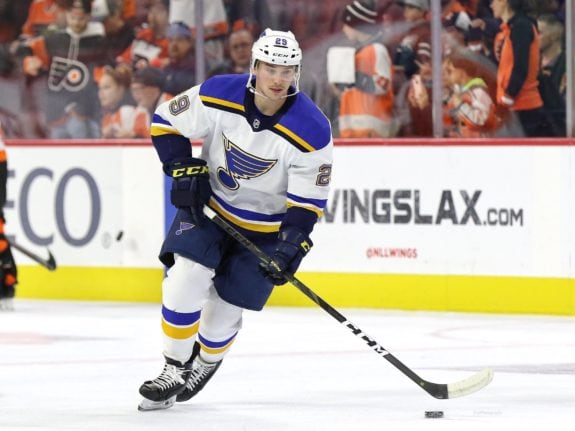 The status of the Blues re-signing Dunn remains up in the air. If I had my way, I would have signed him by now to a short term deal on a fair cap hit. We don't know if the Blues will re-sign him, but I will assume that they will for the sake of projecting the blue line in this article.
Dunn is a very useful player in all three zones and is especially good on the power-play. He is a perfect player to have on the second power-play unit for the next season with Krug manning the first unit.
I see Dunn's struggles in the 2020 playoffs as an outlier and think he will get his game back in the next season. He's too good of a player to not offer a deal to, trading him would not make sense to me. Dunn's 5v5 xGF% was 53.10 last season, which is respectable and can get better. He had nine goals and 15 assists in the 2019-20 season, good numbers for someone playing bottom pair minutes for most of the season.
As far as Bortuzzo goes, he had his struggles last year. He didn't play much, only appearing in 42 games with an average time-on-ice of 13:07. He plays right around his cap hit of $1.3 million in terms of value. He was poor on the penalty kill this season, he is willing to throw his body in front of shots. He had a -7.0 expected goals above replacement (xGAR) on the PK, which is not good at all.
He definitely took a step back in 2019-20 after a couple of solid seasons prior, but maybe he finds his game once again if he is starting the season on the third pair. They will desperately need him to return to his penalty kill prowess as Alexander Steen is expected to miss time when the season starts.
This pair would be interesting, as I think they would be hard to play against, but I don't know how it would work over a full season. I would not mind seeing it to start the season for sure, the Blues have to re-sign Dunn first.
Extra Defensemen Who Could Play
LD Carl Gunnarsson
Gunnarsson typically started games with Pietrangelo over the last couple of seasons, but with Krug in the fold now alongside Scandella and Dunn, I am not sure there is a spot for him on any of the three pairings.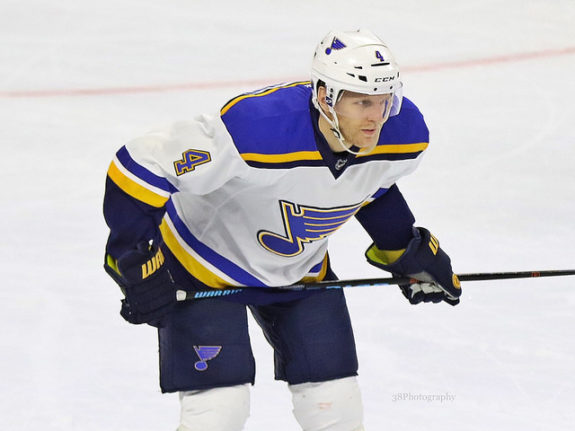 Gunnarsson is known for being a defensive defenseman, but his shot was effective last season. He only scored twice, but far better season shooting the puck efficiently for him than years prior.
He has one year left on his contract with a cap hit of $1.75 million, so I would expect him to get some playing time and likely be one of the first men up after an injury happens. It was surprising to see the Blues re-sign him to a multi-year deal after the Cup in 2019 for sure.
Of course, if Dunn isn't re-signed for the 2020-21 season, Gunnarsson could step in next to Bortuzzo. That should be the last thing to happen, that is a scary thought. Dunn brings a different dynamic and needs to be re-upped.
One last thing that may scare you with Gunnarsson: despite not playing much during the season, he carried an xGF% of 44.36. That is not good whatsoever and far below what it should be for an NHL defenseman on a good team.
LD Niko Mikkola
Mikkola would be a far better option to step in as either Dunn's replacement if he is gone or as a seventh defenseman to step in after an injury occurs.
He showed flashes of his potential during his short time with the Blues last season. Clearly, the Blues see something in him as he was signed to a two-year extension worth $787,500 per season, it's also a one-way deal.
With it being a one-way deal, he would make the same salary in the AHL as he would in the NHL. They likely want him to have some sort of role in the NHL this season or next.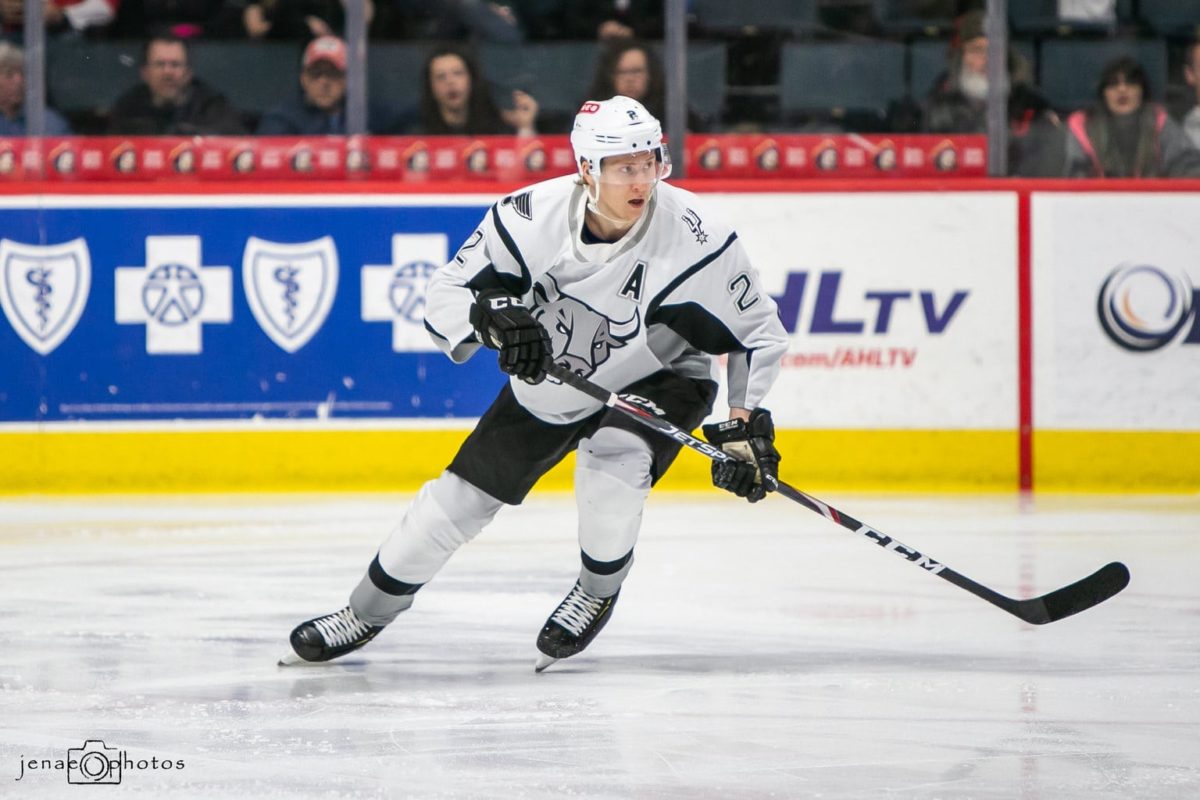 He only played in five games last season, but he played well when he was out there. It's an extremely small sample size, but his advanced numbers were great in those five games. He had an xGF% of 63.54, which is great, but the sample size being so small means you cannot look that much into it.
Mikkola earned the chance to compete heavily for a slot on the third pair, and I think he will get that.
RD Steven Santini
The Blues signed Santini to a two-way contract for one season worth $700,000. He's a 25-year-old right-handed defenseman that is sound defensively and did not get much of a shot with the Nashville Predators last season after being part of the P.K. Subban deal from the New Jersey Devils.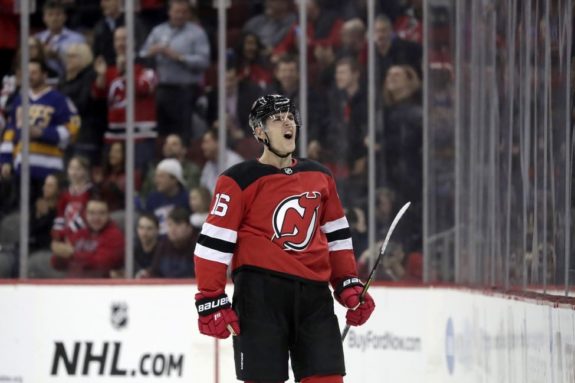 Santini is expected to not make the roster to start the season but could be a call-up if injuries hit hard or the defense struggles. He is a big body at 6-foot-2 and 205 pounds with a style that fits the Blues, being more of a defensive guy.
He has played 116 games in the NHL thus far and has 21 points. His advanced numbers aren't great, but it's hard to put a lot of stock in those as he has been such an in-and-out of the lineup type. He was also playing on mediocre Devils teams in his first few seasons.
LD Scott Perunovich
Perunovich signed his entry-level contract (ELC) with the Blues, it was two years worth $925,000 per season. He was the Blues 2nd round pick in 2018, with the 45th selection.
He blossomed into an elite offensive defenseman in his few seasons at the University of Minnesota-Duluth. He could be a perfect fit to take Dunn's spot if Dunn departs.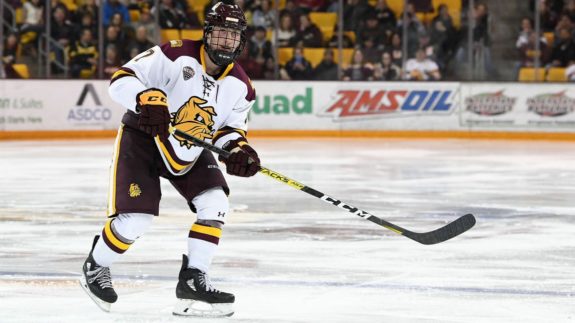 In 2019-20, Perunovich tallied 40 points in 34 games at Minnesota-Duluth and won the Hobey Baker Award for the top ice hockey player in the NCAA.
He could start the season with the Springfield Thunderbirds in the AHL if he doesn't make the roster with the Blues, as the plan for the AHL is to start on December 4th.
Perunovich is absolutely going to play in the NHL one way or the other over the next two seasons. It is Doug Armstrong's duty as the President of Hockey Operations so see what they have in this kid.
Honorable Mention Options: RD Mitch Reinke and LD Jake Walman
Final Thoughts
The Blues defense will take a step back without Pietrangelo, there is no way around it. He was the heart and soul of the defense.
Getting Krug is huge though, as if you can't get the best defenseman on the market back on your club, getting the second best is a good job by Armstrong.
I have hope that the defense can be good enough to make a run in 2020-21, but for a team built on defense, it is hard for me to believe that this defense will be good enough to win another Stanley Cup in 2021. I hope I'm wrong.
---
---