Up until the 2019-20 season, we had only the murmurs from Russia telling us tales of the mythical brilliance of Igor Shesterkin. We had seen footage of split and stick saves that made our jaws drop but had no clue if the New York Rangers fourth-round selection would ever make the jump to the NHL.
Then, it happened, as Shesterkin signed with the Rangers and made the leap, suiting up in the Traverse City Prospect Tournament for the Rangers. (from 'Rangers prospects struggle at Traverse City Tournament,' New York Post, 09/06/2019) With all the anticipation surrounding his debut, the Russian netminder would get peppered in his debut, surrendering six goals on 31 shots in a loss.
He was open and honest about his struggle to adjust to the smaller ice surface in North America and was ultimately sent to Hartford so he could properly adapt. There, he shined, compiling a 17-4-3 record, with a 1.90 goals-against average (GAA) and a .934 save percentage (SV%) to go with 3 SO.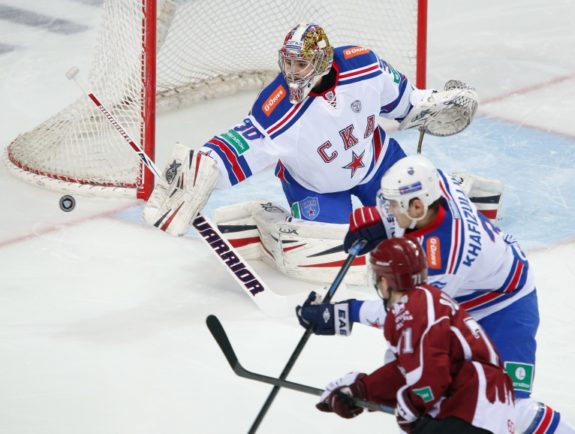 His brilliance in Hartford resurrected the murmurs, allowing fables both new and old to once again coarse through the veins of the Rangers fanbase. Shesterkin's ability to adjust so quickly should have come as a shock to no one. He had done that consistently over his young career, both at the KHL and International levels.
Shesterkin's Numbers Always Trend Upward
Shesterkin had been a fixture in the Russian leagues since 2012-13 but didn't play in over 25 games in the KHL during the 2016-17 season. That year, playing for SKA St. Petersburg, he amassed a record of 27-4-6, with a GAA of 1.64, a SV% of .937, and 8 shutouts (SO).
The following season Shesterkin's numbers remained steady, tallying a GAA of 1.70 and a SV% of .933, with 7 SO. In his third and final campaign with SKA, he again put up gaudy numbers, recording a 1.11 GAA, a .953 SV%, 10 SO.
When playing internationally, Shesterkin's stats stay constant, showing improvement as he matures at each level. In 2012-13, he backstopped six games for the Russian U18 team at the WJC, finishing with a 2.26 GAA and a .937 SV%. Two seasons later, he played five games for the U20 team, recording a 1.98 GAA and a .938 SV%.
His brilliance and improvement on the international stage continued to the World Championships in Denmark during the 2017-18 season. He won two of his four starts (both shutout victories) and compiled a 1.46 GAA and a .942 SV%.
Shesterkin has a larger sample size than most in regards to his performance against elite competition. During his time as a Rangers' prospect, his numbers have continued to rise, demonstrating his ability to make adjustments and continually perform at the highest level.
A Dive Into Shesterkin's NHL Stats
Shesterkin continued his track record of success to his brief stint with the Rangers during the 2019-20 NHL season. He went 10-2 with a 2.52 GAA and a .932 SV%, despite missing several games after a freak car accident. (from 'Rangers' Igor Shesterkin, Pavel Buchnevich involved in car accident,' Newsday, 02/26/2020) It was brief, but he catapulted the Rangers on a playoff run during his 12 games, solidifying his position between the pipes next season and making veteran goaltender Henrik Lundqvist expendable.
Shesterkin faced many shots, particularly of the high danger variety during his time with the Rangers. Out of the 424 shots he faced, 119 were considered high danger attempts, and he stopped 101 of them for a .849 SV%, per Natural Stat Trick.
That save percentage was good for a tie with Boston Bruin's goaltender Tuukka Rask for the NHL's eighth-best. Shesterkin also had a goals saved above average (GSAA) of 9.35 during his 12 games, a number which would have surely climbed had he played more games.
Shesterkin's brilliance didn't stop at those high danger opportunities, however. He recorded two 40-save victories in his first six starts. He also recorded a quality start (less than three goals, higher than a .917 SV%) 75% of the time. The only goalie in the NHL with more games played and a higher QS% was Darcy Kuemper (75.9%).
As impressive as those stats are, Shesterkin was only getting his feet wet in the NHL while putting them up. So what could we expect from the Rangers' new number one goaltender next season?
Igor's Brilliance Can Carry Rangers
Shesterkin's continued success season after season leaves little doubt that he will be able to not only sustain but improve his level of play next season. Expectations should be tempered given his brief experience, but his ability to move lightning-fast yet silky-smooth laterally while being in control and position breeds quality performance.
The Rangers have committed to the rebuild, but after sneaking into a 24-team playoff this past campaign, the 2020 season's start will carry playoff expectations with it. For the Rangers to get there, Shesterkin will have to be the backbone that Lundqvist was in goal for so many years.
During his rookie season, Lundqvist went 30-12-9, with a GAA of 2.24 and a SV% of .922. The Rangers were swept out of the first-round by their rivals in the New Jersey Devils that season, but the rookie netminder's brilliance is what got them to that point.
2020-21 will hold a similar scenario for Shesterkin, who will have to put up comparable numbers to that of his predecessor in his first full rookie campaign. If he can bail out the Rangers' inevitable defensive lapses, then New York will have a chance at reaching the postseason.
Head Coach David Quinn said it best during a post-game press conference after a 4-1 win over the Los Angeles Kings in which Shesterkin recorded a win.
If you are going to be great, you better know you are great. And he [Igor Shesterkin] knows he is great. And for good reason. He has a track record that is pretty impressive and at a high level.

New York Rangers Coach David Quinn, Post-Game Press Conference – 2/9/20
As demonstrated throughout his career, Shesterkin has risen to the occasion regardless of the moment's magnitude. That history allows the young Russian to exude confidence in every facet of his game.
There is a very serviceable backup in Alexandar Georgiev, who will certainly eat into some of Shesterkin's time in goal, but the 30-win plateau still is within reach for the 24-year old goalie. Both fans and the Rangers alike hope that his success history is just the prologue for a long success story.
---
---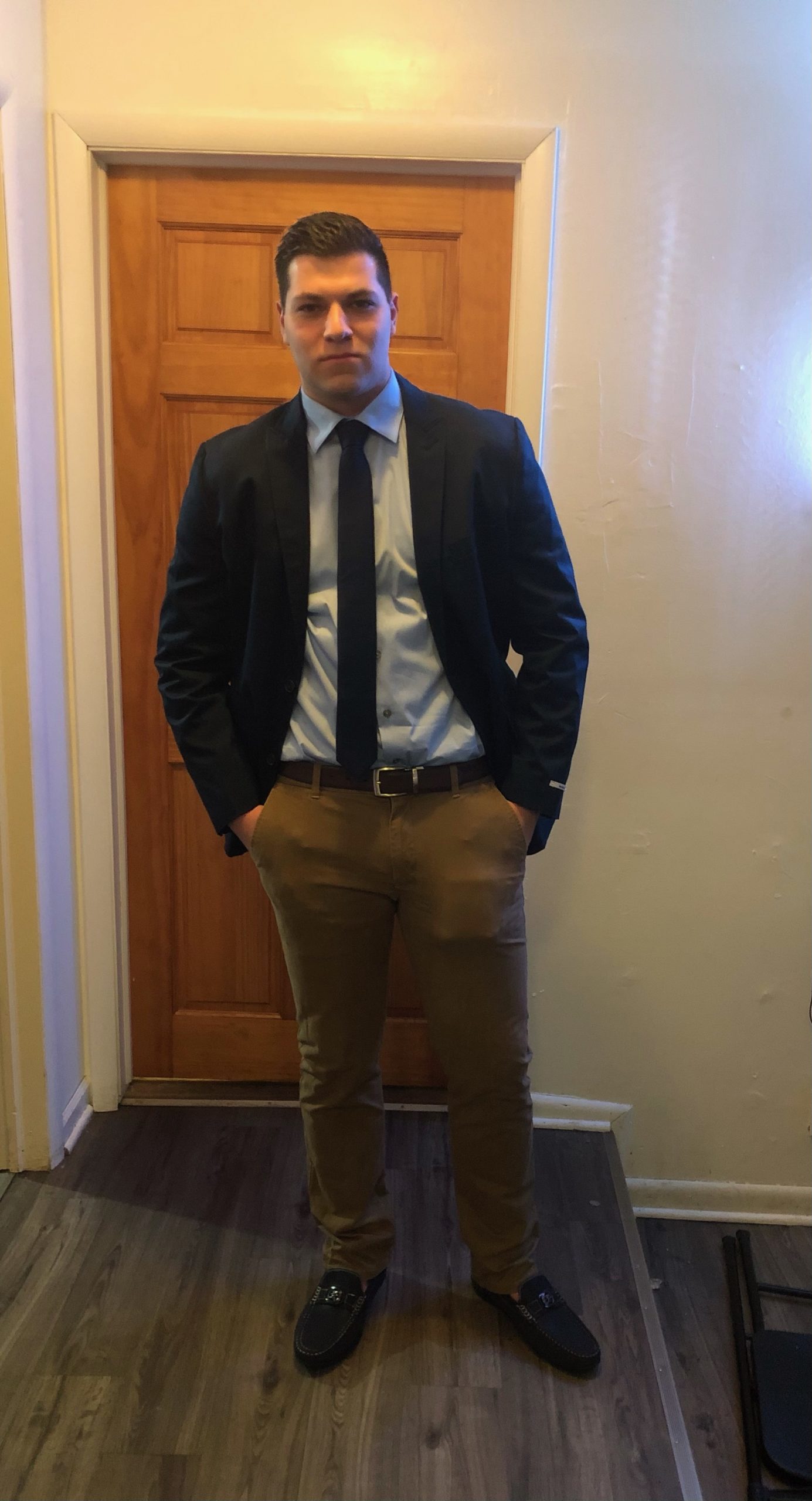 Brendan Azoff is a THW contributor and podcast host dedicated to covering the New York Rangers. His passion for hockey started when he first laced up the skates at three, growing into his love for writing and talking about the greatest sport in the world. His podcast, The Backcheck, breaks down the Rangers, Islanders, and NHL news and can be found on The Hockey Writers Podcast Network and Belly Up Sports. Brendan has been writing about the Rangers and the NHL for over two years, with his content also found on Puck Prose, Blue Line Station, and E2G Sports. If you want to connect with Brendan and stay up-to-date on his posts, follow him on Twitter. He is always available for content ideas and interviews, don't be afraid to ask!