It may be the end of an era.
The 43-year-old captain of the Boston Bruins, Zdeno Chara, has yet to sign a contract for the 2020-21 season. There has been no definite word on if he's ready to retire or thinking of signing with another team, though there are plenty of rumors and speculation.
Related: The Value of Zdeno Chara's Leadership
It's fair to think that he may just be waiting to see what the NHL's COVID-19 plan is for the next season and that may have some influence on his final decision.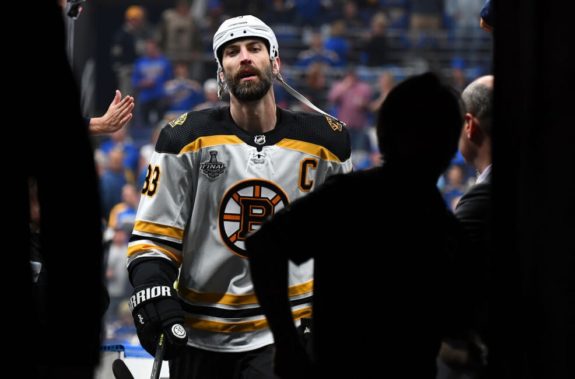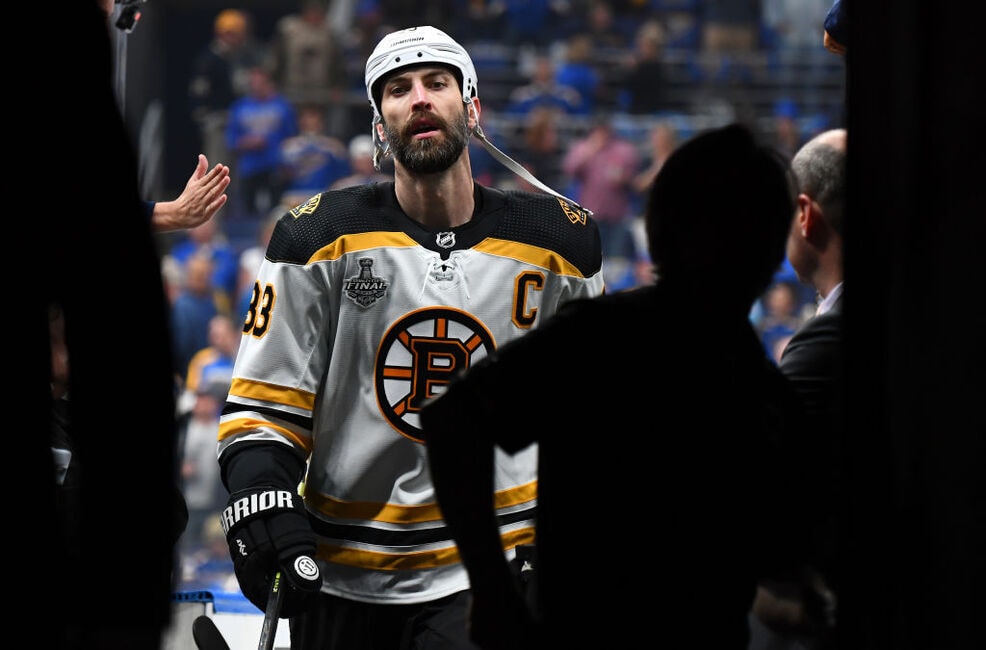 Chara will be a tough act to follow. Whether this is his last season or not, the Bruins are going to need to select a new captain in the near future. He has been the ultimate leader in Boston, a hardworking team player on the ice and an admirable individual off of it. But there are a few options currently on the roster who could be ready to step up to the plate.
Patrice Bergeron
Patrice Bergeron is a bit of an obvious answer. On almost any other team in the NHL, he would have been selected as a team captain long ago. 
His talent on the ice is undeniable. He's one of the best two-way centers of the past decade and a four-time Selke Trophy winner. Most likely, he will be in the Hall of Fame and he carries himself as a professional on the ice. He's consistently one of the hardest working guys.
Off the ice, he's one of the first people to reach out to new pick-ups and gives his cell phone number to team prospects so they can connect with him if they need advice. He's frequently involved in Bruins community events and doing things for the larger Boston community.
Related: Bruins & Sweeney Still Have Roster Work to Do
The only reason for not giving Bergeron the "C" if Chara leaves is his own age. He's 35, though you wouldn't be able to tell from watching his play over the last few seasons. He also only has two years left on his current contract, and for a team that has had the same captain since 2006, they may want someone with a little more guaranteed term. 
Charlie Coyle
If the team does want someone with a little more term on his current contract, Charlie Coyle would be a solid option. Coyle is signed through the 2025-26 season, the longest of anyone currently on the roster. Since being traded to the Bruins from the Minnesota Wild in 2019, he has quickly become a favorite around Boston.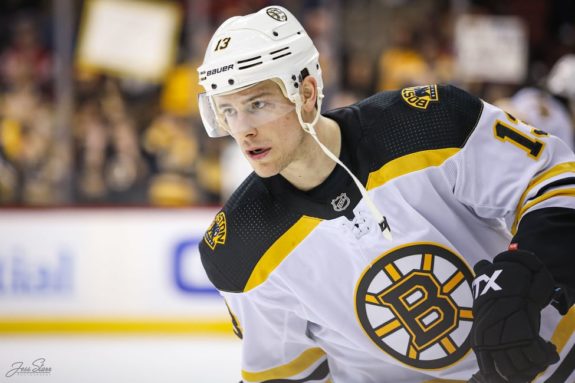 He is not the same elite player as Bergeron or Chara in his prime, but he's been a reliable middle-six center and shows up in the big games. Off the ice, he quickly integrated well with the team after his trade and has become a positive presence around TD Garden.
Coyle brings the added bonus of being a local kid. There has been no shortage of stories about his ties to his hometown, Weymouth. He also played his college hockey at Boston University. There's an endearing, feel-good story in the local kid who gets to not only play for his childhood team, but be its captain as well.
Charlie McAvoy
If you're looking for someone to replace Chara's leadership position, why not take a look at the guy taking over his on-ice roles? Charlie McAvoy is the youngest person on this list and if the team is looking for someone who could fill the roll for even close to the same amount of time as Chara, McAvoy would be the best bet. 
Related: Bruins' 5 Best Contracts for 2021
The 22-year-old has definitely become a leader on the ice. He plays the most minutes and is undeniably the number one defenseman on the team. Earlier this month, the NHL Network ranked McAvoy number nine on their list of the 20 best defensemen in the league.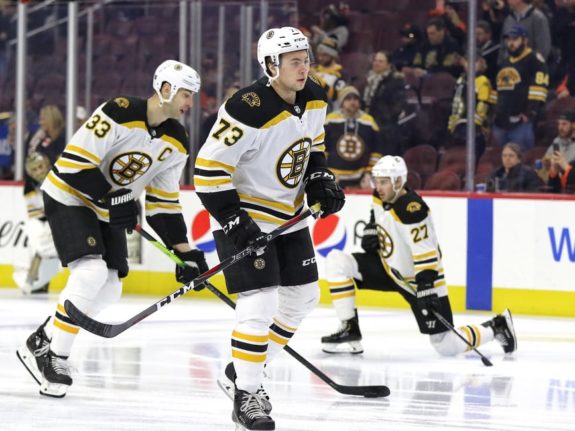 He's currently only signed for three more seasons, but the Bruins would be foolish to let him go. McAvoy is the future of the team and will be an important piece to build around going forward.
Predictions
If I had to guess, Bergeron will be and should be the next captain with Marchand, Coyle, and McAvoy as alternates. He has all the qualities a team would want in a captain and even if the organization only gets a few seasons, it would be worth it. This would also allow young players like McAvoy to continue to mature and develop before taking over leadership roles.
Related: NHL Rumors: Bruins, Maple Leafs, Senators, Kings, Blackhawks, More
Chara has been an incredible captain these last 14 seasons. Signing him for another season would be ideal, but if he's planning to retire or sign with another team, then Bergeron is more than ready to step into the position.
---
---